My dear friend's daughter is getting married in October. They are planning an outdoor wedding on the lovely grounds of their church. But they are running into a bit of a snag–the costs of everything have gone up far beyond their initial budget. While they can't cut back some costs, they decided to save money on the wedding decor with some DIY ideas. They asked me to put on my crafty cap, and I came up with these three toilet paper roll crafts.
The bride and groom initially planned a 2020 wedding, but thanks to 'rona lockdowns, they rescheduled. Little did they anticipate the cost of so many goods skyrocketing…and so fast! Now the catering, cake, florist, and even the limousine that was to take them to the airport after the reception has risen in price by thirty percent. Fortunately, the young couple knows that they need to prioritize and scale down the budget.
So while they can't cut out catering, florist, and cake, they can skip the limo ride to the airport. Plus, they decided to go with a rustic theme of "love has bloomed," which perfectly fits the venue as the rural, little white church. They also trimmed back the guest list, deciding to invite only family and their closest friends. The couple is quite fine with this. After canceling the wedding in the earliest days of the pandemic, they are just eager to tie the knot.
The bride's mother reached out to me and asked me to put on my crafty cap and help her come up with solutions to trim down on the tabletop decor costs. We scrounged through our combined craft supplies between the two of us to see what we could find.
What we had on hand
Between my friend and myself, we had a motley assortment of usable supplies:
Several rolls of 1/2″ red ribbon.
Red roses – The mother of the bride had the ribbon and roses leftover from the bridal shower, which was over a year and a half ago now. Lol.
A large trash bag of toilet paper rolls (I saved them for a friend who teaches art, but she never picked them up – 'rona)
Really, the toilet paper rolls got the wheels turning. I'll share with you what we made–with zero dollars out of pocket, just using our noodles and a little bit of creative thinking.
From these few supplies, plus a few random things we found around the house, I came up with three ideas for the bride and groom. Best yet, each thing takes only a few moments to assemble.
Here are the things that we came up with.
Toilet Paper Roll Craft #1 – Napkin Rings
The bride and groom chose black, white, and pops of red for their wedding colors. In this picture, I inserted a napkin I had on hand. They rent white table linens and have a friend simply slide these napkin rings over the white napkins on their wedding morning.
So please excuse the green napkins… Consider this a prototype.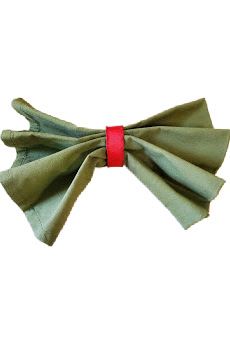 This was so simple to make! I slightly flattened the cardboard tube, marked it off in 1/2 in segments, and cut it down (it made six). Then, I cut the ribbon to length and hot glued it to the tube, leaving a slight overlap.
So cute.
The best part is that after the reception, the clean-up crew can just toss these, so my friend does not have to tote them home!
Now that I thought of this, I will be making some using seasonal ribbon for my house! My only preference would be a wider, more substantial ribbon. But hey, we made these with literally items that we had on hand!
Toilet Paper Roll Craft #2 – Placecard Holder
Next, we wanted to make a place cardholder. Although they have a relatively small guest list, the bride wants to make sure that everyone is seated with their friends and family.
The base of the sweet little thing is a toilet paper tube. And the place card will attach with a plain old clothespin. I had a giant amount of them in my laundry area, but I rarely line dry my clothes. So I donated them to the cause.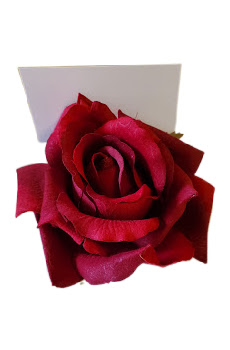 I cut the cardboard tube into a one-inch section and hot glued the same red ribbon around it for this craft idea. The rose covers it, but in case one peeks through, I did not want anyone to immediately see the cardboard–because the ribbon is only 1/2″, it took two separate lengths.
Then, I cut down the stem of the silk roses my friend had and dotted a bit of hot glue to the inside of the cardboard. Finally, I tucked the clothespin behind a red rose and popped a business card into the clip part. In fact, I didn't even glue the clothespin. It stands right up, so someone can reuse them later.
Besides that, someone can pull the roses off of the cardboard after the party–my friend intends to make them into a lovely wreath for her daughter's front door. What a sweet sentiment!
Toilet Paper Roll Craft #3 – Favor Box
Finally, the tabletop will feature sweet little party favors for the guests. Like everything, pillow box prices are creeping up in price. However, I had a trick up my sleeve for this.
The bride purchased a giant, bulk container of wildflower seeds at the hardware store. She envisioned putting them into small snack-size zip-top bags then placing them into a pillow box.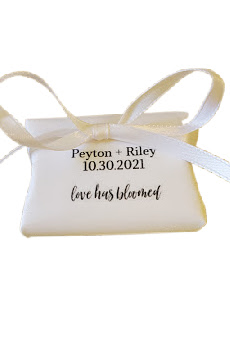 But instead of paying for pillow boxes, I printed off their names, wedding date, and love blooms on plain white printer paper. I cut it to the proper size, dotted hot glue to affix it to the cardboard, and inserted the wildflower seeds and a slip with planting instructions. Finally, I folded in the ends to form a box shape and sealed it with a bit of hot glue. It still needed something, and I, fortunately, found a large spoon of thin, wedding-white ribbon in my craft cabinet.
Printing black on white paper was perfect for them, as that is their wedding color. However, if you like this idea, you can envision how excellent this would look with your own colors!
If this process sounds familiar to you, I did a YouTube video on making a pillow box to wrap a small jewelry gift in a couple of years ago. This video shows the same process using a different paper.
The Takeaway: Use Your Imagination and What You Have on Hand
My friend's daughter might have to shave back on a few wedding costs, but she will still have a few of the amenities she thought she might have to sacrifice. We will make these sweet favors and tabletop wedding decor with plenty of time to spare.
When we don't have unlimited funds, we always have unlimited imagination–as these sweet toilet paper roll crafts prove. Try some of these to decorate your table. They are fun and easy to make. Have a happy DIY day!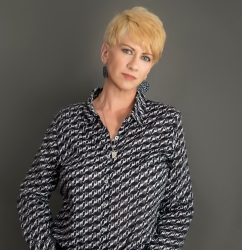 Latest posts by Deborah T
(see all)