With those still rising food costs–and economists predicting the grocery inflation to hang on for a while–you might be looking for ways to cut your weekly food costs. Who isn't, right? If you dehydrate apples when they come into season or when you can find them at a reasonable price, you can shave back a few dollars.
I know what you are thinking.
Dehydrated apples? What the heck do you do with those?
Here are some delicious ways that I use them:
Make overnight oats with peanut butter and any dried fruit
Stir them into a bland bran cereal
Chop and add them to oatmeal cookies (instead of, or alongside, raisins)
Fix apple pancakes with cinnamon and sugar topping for breakfast
Make a custom-blended healthy trail mix
Rehydrate the fruit for baking
Snack on them as chips – just remember you can overeat easily on dried foods.
Really, you will think of many ways to use these natural treats.
Are you ready to learn more about how to dehydrate sliced apples?
Kitchen Items You Need to Have Ready for This Project
Here are the things you need to grab from your kitchen cabinets to start the drying process.
One large bowl for soaking the apples
A wooden spoon
Cutting board
Sharp knife for cutting the fruit
Clean, lint-free towel
As a means of drying, you can choose one of three methods: your oven, air fryer, or electric dehydrator.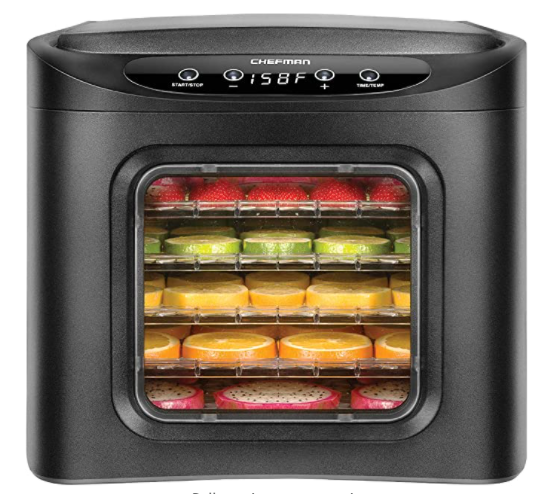 The dehydrator unit pictured just above is the exact same model that I use. Before I had this, I oven dehydrated most things. However, this has been so worth the investment since I put up so many fruits, vegetables and even make venison jerky. Everything comes out great in this electric dehydrator.
How to Dehydrate Apples
Additional Time:
15 minutes
Total Time:
7 hours
30 minutes
Take advantage of in-season fruits! Dehydrate apples when they are in-season and at peak flavor. You'll enjoy them in the down-season.
Materials
Electric dehydrator or air fryer
Large bowl
Lemon Juice (or Ball Fruit Fresh)
Apples (at least a five pound bag)
Cutting board
Wooden spoon
Instructions
Prepare a cold water bath with one tablespoon of lemon juice to every one cup of water, or prepare Fruit Fresh bath, according to the directions on the canister.
Wash and then cut the apple wedges into 1/4 slices, discarding the seeds and core. Leave the peels on for extra nutritional value. Drop the apple wedges into the cool water and stir them so the water covers each slice. The citric acid in the lemon (or Fruit Fresh) stops them from turning brown. Soak for about five minutes.
Patting the apples dry with a clean, lint-free dish towel, line the dehydrator trays with the slices in a single layer. Don't stack or over crowd them, or the air will not circulate properly.
Set the dehydrator to 150° for seven hours. Check them at the timer to make sure they are dry and slightly brittle. If they still have too much "give," then they are holding water. Dry them for an additional thirty minutes.
Open the door to your dehydrator and let the fruit cool for at least fifteen minutes before packing them into storage bags or a mason jar.
Notes
Storage:
Store the dried fruit in a mason jar with a tight lid or vacuum seal them. They keep for about six months. Do not pack them if they are still warm - they must be completely, totally cool first!
Rehydrating the Apples
As mentioned earlier, you can swap dried apples for raisins in any recipe. However, if dried fruits are not your cup of tea, you can also reconstitute them. Here's how to do that.
Put equal amounts of warm water and dried apples into a saucepot.
Pop the lid onto the pot.
Place the pot on the heat, just until it simmers.
Turn off the heat and wait about ten minutes. You'll see the fruit begin to plump up again.
I have a friend who successfully made homemade apple butter from dried apples last fall. She did not have a recipe. She just tried it–much to her surprise and delight, it worked. So to make a long story short, don't be afraid to experiment or get creative with this process.

Flavor Variations When You Dehydrate Apples
I prefer to dry my fruit "plain," with no spices, seasonings, or frills. That's because I don't know how I will prepare and serve them. However, some food preppers like to do things in advance. Here are some seasonings you can dust onto the slices before you add them to the dryer.
Cinnamon sugar blend: Add one teaspoon of cinnamon to a half cup of granulated white sugar and blend. Pat the spicy, sweet mixture into the fruit.
Apple pie spice: Dust this yummy blend across the sliced apples. Perfect it you love apple pie but want to cut down on the calories!
Ginger: I prefer ginger to cinnamon in many cases! This would be delicious, too.
The Bottom Line: Dehydrate Apples When You Can Get Them Fresh in Season
Like most seasonal treats, apples are tastiest, not to mention most affordable, during their peak season. If you can score a nice big basket of them at a farmer's market or an orchard, one way to preserve them is to dehydrate the apples. You'll lock in excellent flavor and enjoy them during the down-season.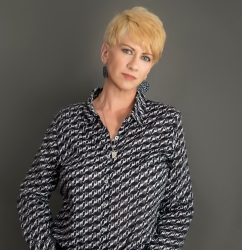 Latest posts by Deborah T
(see all)