This Ricotta Cheese Bread recipe is so easy-to-follow. You'll find no complicated steps, just a clear path to a heavenly loaf of bread in about three hours.
This recipe bakes a loaf of bread that has a very pleasing texture. It is dense with a bit of chewiness. However, it's saved from being too heavy by lots of satisfying air pockets, which form as the delicate and moist ricotta cheese melts into the bread. The crust has a bit of bite to it, but it's easy to cut. It slices beautifully and is excellent served with along with your favorite breakfast. And the smell as you bake–out of this world, to say the least.
Ricotta cheese is, in my humble opinion as a home cook, an often-overlooked ingredient. We tend to toss it into lasagna or stuffed shells. But it also adds flavor and volume to everyday items, like scrambled eggs or mashed potatoes. Of course, in this case, we are using it to bake Ricotta Cheese Bread. When you cook one of your favorite cheesy dishes and have a bit of ricotta left in the bottom of the container, don't waste it! Use it in a recipe for adding delicate, mild cheese flavor.
What Is Ricotta Cheese?
It's worth understanding how traditional Italian cheesemakers perfected the art of ricotta to understand better how it gets the delicate flavor.
Ricotta's not technically a cheese. Instead, it's actually a cheese byproduct. The term itself, ricotta, translated to recooked in the Italian language. Traditional cheesemakers in Italy did not want to waste anything. So they used the whey that remained after crafting provolone or mozzarella and recooked it. The cheesemakers used the dairy of any animal, including not only cows but also goats and sheep to craft this wonderful cheese. That said, most ricotta in your local supermarket hails from cow milk.
It's also worth noting that ricotta and cottage cheese might look similar, but they are not the same product. Cottage cheese has lower fat content but often more salt. On the other hand, ricotta has higher fat content, more calories, and less salt. You should not substitute cottage cheese in this recipe. However, I do have an excellent cottage cheese bread recipe I'll share soon.
Do I Need a Bread Machine to Bake Ricotta Cheese Bread?
No! I do not have a bread machine. I mix this using my KitchenAid Stand Mixer. However, if you do have a bread machine, you can use the mixing and rising settings, then turn this into the pan to bake–or try baking it in the machine all the way through.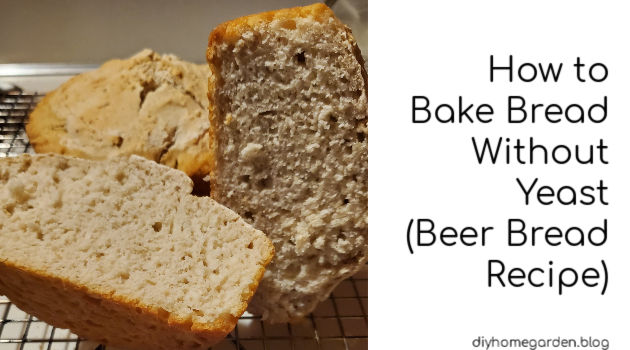 How to Make Ricotta Cheese Bread
Here is how you can bake a fragrant and delish loaf of bread.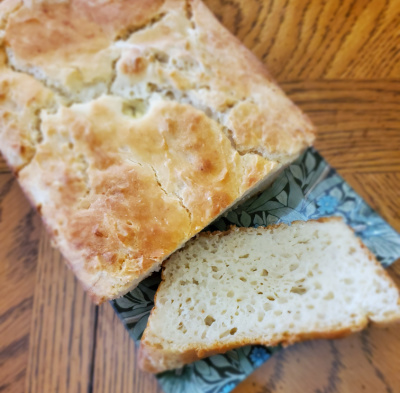 Heavenly Ricotta Cheese Bread
Yield: 14

Prep Time: 10 minutes

Cook Time: 30 minutes

Additional Time: 2 hours

Total Time: 2 hours 40 minutes

Ricotta cheese bread has a heavenly fragrance, slices beautifully and is excellent served with your favorite breakfast foods.
Ingredients
1 cup of warm tap water
1 tsp of sugar
1 1/2 tsp of fast-rising yeast
2 1/4 cup of all-purpose flour
1 tsp. of salt
1 cup of ricotta cheese (do not drain the liquid!)
Non stick cooking spray for metal or glass bread pans
Instructions
Proof the yeast by placing the yeast, sugar, and water into the bowl of your stand mixer. Once it bubbles, it activates. So you are ready to move on to adding other ingredients. If it fails to bubble up, try one more time; if it still doesn't work, you need to open a fresh container of yeast.
Add all the remaining ingredients to the stand mixer bowl. Use your dough hook to mix it together on a medium speed until you form a soft ball. Note: this dough is very moist, due to the fat content of the ricotta. Turn the dough into a greased pan if you use glass or metal bakeware. If you use stoneware, you can skip the cooking spray. Turn the dough into a greased pan if you use glass or metal bakeware. If you use stoneware, you can skip the cooking spray.
Loosely cover the dough with plastic wrap and let it rise for about two hours. Put it in a warm, draft-free spot; it will double in size.
Heat your oven to 400°. Bake the bread, uncovered, for 30 minutes. It will become a lovely golden brown color on top.
Remove the bread from the oven, turn it onto a cooling rack and cover it with a clean, lint-free tea towel. Slice into 12 to 14 slices after it cools completely. Enjoy!
Now that you know how to make ricotta cheese bread, you'll have an excellent go-to recipe you will want to make over and over again. Please connect with us on social media. You can find us on both Facebook and Mewe, and we love hearing how your recipes turn out. Until the next blog post, have a happy DIY day.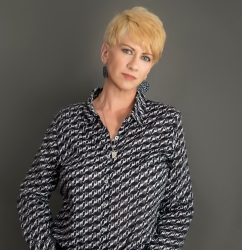 Latest posts by Deborah T
(see all)