Are you looking to bake bread but you don't have yeast on hand? This scrumptious beer bread is soooo delicious and only uses three ingredients.
As the pandemic spreads across the world, shoppers rushed to the grocery stores. They laid in large caches of supplies to feed their families for the lockdown. Perhaps you're an essential worker or heeded the warnings to stay home until a store trip was essential. You likely found the shelves barren of essentials, including bread. You decide to make your grandma's old bread recipe but found no yeast available (apparently everyone decided to become a baker).
Enter my mother's classic beer bread recipe. I cannot take credit for this. Truth be told, I do not believe this is her recipe, either. The only thing I do to distinguish it from similar recipes is to bake the bread in two 1-quart round Pyrex casserole bowls. This makes me two smaller loaves to help me with portion control. Plus, I can make a loaf and share a loaf with a friend or neighbor.
You can bake bread with beer instead of yeast
I know. Not everybody likes beer or keeps alcohol in their household. But to for fluffy, nicely-textured bread, you need something to leaven (make it rise) the bread.
Technically, then, you do have yeast in your bread. However, you're not scooping the yeast from a jar or shaking it out of a packet. Instead, the yeast inside the beer itself serves as your leavening agent.
When my little local grocery store ran out of yeast, I checked out the beer section. It was well-stocked. In fact, the beer guy was re-stocking and mentioned that the stay-home orders made his company post record earnings.
Here's what beer bread tastes like…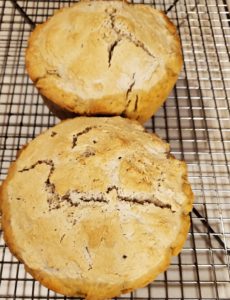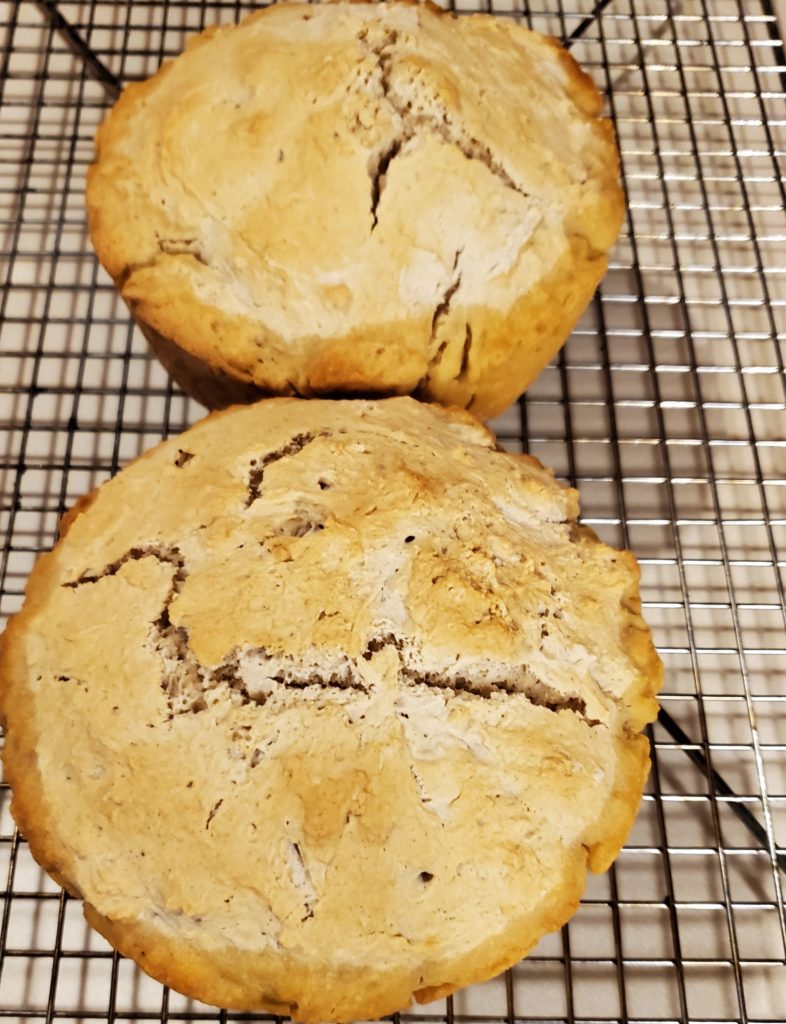 Do you enjoy sourdough bread? Then you will enjoy beer bread! The beer gives is a slightly sourdough-like flavor. It also gives it a similarly dense, moist texture–probably because you start with a liquid base.
It slices well, making excellent sandwich bread. Slice it a little thicker and layer on your favorite meats, veggies, and cheeses. It's a real treat.
Besides that, it toasts beautifully! You can cut thinner slices if you like a super crunchy toast or thicker if you like the toast squishy in the middle.
One caution…
When you bake beer bread at home, it (like all scratch made goodies) contains no preservatives. After you've baked, let it cool completely. Then, slice it while it's fresh and wrap it up tightly with plastic wrap. I store mine in the fridge and pull out individual slices as I need it. And…that is why I do two loaves, one to use right now. I either share or freeze the second loaf.
Tip for freezing beer bread
If you make the two small loaves as I suggest, slice that second loaf while it's fresh. Grab your waxed paper and insert a sheet between every two slices. This allows you to pull out two slices from your freezer at a time instead of defrosting an entire loaf. Then, wrap tightly in plastic and insert it into a large freezer bag. The loaf freezes well for about a month.
Recipe for 3 Ingredient Beer Bread (without yeast!)
I reshared my homemade dinner rolls recipe a couple weeks ago, and so many of you clicked over that I decided to share this classic recipe.
WW Points for this bread
As most of my regular readers know, I am on WW. Recently, I switched from WW blue to WW purple. That's due to the shortages of so many zero points foods.
I ran the points and find that my method of baking two loaves, then slicing into 10 – 12 thin pieces, equals 2 points per slice on either purple or blue! Yay! That's awesome because I can't find my low-point bread. Can you?
Ingredient list
Here are the pantry items you need to get baking. Please note that I am an Amazon affiliate. If you choose to purchase these items online using my links, I receive a small compensation, for which I am very thankful. These monies enable me to continue to produce this blog. There is no additional fee for you.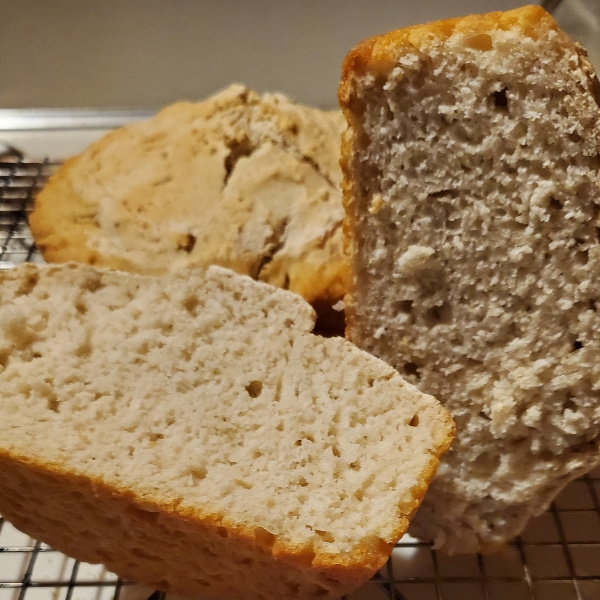 3 Ingredient Beer Bread (no yeast recipe)
Additional Time:
30 minutes
Total Time:
1 hour
15 minutes
You can bake bread with no yeast following this three-ingredient beer bread recipe. Easy and delicious--it's a classic recipe.
Ingredients
3 cups of self-rising flour
3 tablespoons of sugar
12 oz. room temperature beer
Instructions
Add the flour and sugar to a glass mixing bowl. Do not use metal.
Prepare two one-quart glass baking dishes or one 1.5 quart glass baking dish by spraying with non-stick cooking spray. (The shape does not matter, I like the look of the round loaf).
Pop the top on your room temperature beer, and pour it over the flour. The beer is your bread yeast! Use a wooden spoon to stir until you have no lumps of flour or sugar. Dough will be very sticky and somewhat lumpy. That's okay, as it adds to the finished texture.
Divide the beer bread dough in half and place each into one of the two prepared baking dishes. Cover the batter (I use the glass lids that go with my bowls. If you don't have lids, you may use plastic wrap).
Let the beer bread batter rise for about 30 minutes; it will roughly double in size.
Preheat your oven to 350 as the bread leavens.
After rising, bake the bread for 30 minutes at 350. Set a timer. At the 30-minute "ding," crank the heat up to 400 for the last ten minutes.
Your bread will become light brown and the crust will crack a bit as steam escapes during baking. That's normal.
Remove your bread, cool, and enjoy! You have successfully baked bread without any separate yeast purchase.
Notes
Hints:
If you'd like a browner or softer top, you can melt a couple of tablespoons of butter and brush the top of the bread with it when you up the heat to 400 degrees.
Find yourself without self-rising flour? 3 cups of flour plus 6 teaspoons of baking powder will be your substitution.
The beer must be fresh and poured into the batter at room temperature for it to activate the yeast and make your bread rise, no exceptions!
For the calorie info attached--I typically cut each loaf into 12 slices to control my portion sizes. Of course, this count changes if you slice thicker pieces of bread.
Nutrition Information
Yield

24
Serving Size

1
Amount Per Serving
Calories

68
Total Fat

0g
Saturated Fat

0g
Trans Fat

0g
Unsaturated Fat

0g
Cholesterol

0mg
Sodium

187mg
Carbohydrates

14g
Fiber

0g
Sugar

2g
Protein

2g
All information and tools presented and written within this site are intended for informational purposes only. I am not a certified nutritionist and any nutritional information on diyhomegarden.blog should only be used as a general guideline. This information is provided as a courtesy and there is no guarantee that the information will be completely accurate. The nutritional labels are a product of online calculator apps. Even though I try to provide accurate nutritional information to the best of my ability, these figures should still be considered estimates. If you believe you have a medical condition, food allergies, or other concerns, please consult a doctor.
Self-rising flour substitution
If you visit your grocer's baking aisle and find the shelves cleared of self-rising flour, here is a substitution:
3 cups of regular flour (or bread flour) + 6 teaspoons of baking powder = 3 cups of self-rising flour.
So pick up that baking powder (caution: not baking soda) and keep it on hand. Because you are going to LOVE this recipe.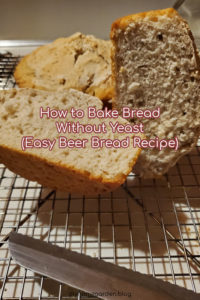 Now–go bake bread for your family!
Now that you know how to bake bread without yeast, you can enjoy bread again–even as you see shortages of baked goods at your local grocery store. Let's all hope that this does not last much longer.
Looking for other yummy baking recipes? Lockdown is the ideal time to master baking. Try using leftover grits from breakfast to make grits bread.
Enjoy your beer bread. And if you have any bread recipes, please post them on our Facebook group as a resource for others. Stay safe and healthy!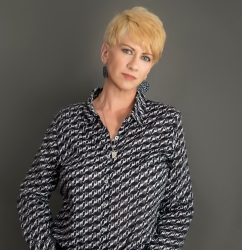 Latest posts by Deborah T
(see all)