Last week, we talked about gardening trends that are a definite must for this new year. It was fun and definitely enlightening. But the simple truth is no one's going to march into the garden and start implementing those ideas right now. It's winter, snow abounds, the ground is frozen solid, and serious gardening is not in the cards. So, while we are waiting for the ground to thaw and the blessed arrival of spring, here are 7 fun and valuable kitchen DIY projects to conquer this winter.
RELATED POST: How to Prepare Your Home for Winter
Today, we're going to show you how to utilize this enforced indoor stay to do something interesting and beneficial both for now and later in the year. Get ready to get inspired with these kitchen upgrade ideas.
1. Install a new backsplash
Backsplashes are multi-functional. Firstly, they protect your walls from water splashes (especially those from the sink). Secondly, they eliminate the possibility of mold and mildew (eww) growing on said walls. Lastly, if done right, they provide a stunning visual display that enhances the aesthetics of your kitchen.
In this day and age, any material can be used for your backsplash. For example, popular and oft-used tiles (mosaic, concrete, limestone, or ceramic) and elegant glass mirrors. Also, glittering metal panels (steel, tin, bronze, or copper), and even stone and wood. So, this winter, get your DIY tools ready and install a new and trendy backsplash for your kitchen.
Photos courtesy of DIY Network
2. Upgrade to contemporary light fixtures
An eye-catching lighting fixture strategically placed in the kitchen can add to the overall design of the aforementioned space. This year, exchange your old staid light fittings with something a bit more stylish and still practical. There are thousands of options to choose from. For instance, fancy track lights, under-cabinet lights, pendant lights with varying designs and styles, chandeliers, and several recessed lighting fixtures.
Photo credit: DIY Network
3. Replace older vinyl flooring with laminate
Maybe your kitchen features vinyl (plastic) flooring (especially the old and ugly tile version). If so, then this is your chance to revamp it with a newer, prettier, and more durable laminate flooring. Like its vinyl counterpart, laminate flooring is cheap and easy to install.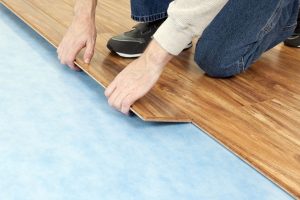 Photo Credit: The Spruce
4. Repaint kitchen cabinets
This year, get set to give your kitchen cabinets a brand new look with a bucket of paint, a paintbrush, and a handy roller. Whether you're adding a fresh coat of the same old color or trying out a whole different hue, repainting your kitchen cabinets can be fun, extremely messy, and entirely rewarding. Seriously, try it!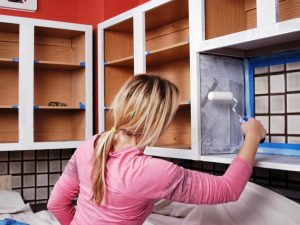 Photo Credit: DIY Network
5. Punch up the walls with fantastic colors
But don't restrict yourself to the cabinets alone! Be a bit more daring (think large-scale DIY) and take on the walls themselves. It's a long and freezing winter, and there's nothing that cheers one up like having something worthwhile to keep you busy and entertained. Not to talk of getting your creative juices flowing, 'cuz the truth is splashing paint on your wall is definitely not the only way to make your kitchen look pretty. Draw inspiration from other DIYers with a unique kitchen upgrade: kitchen walls with murals, floral wallpapers, accents, and lots of other creative designs. Let your kitchen be the talk of the town this year, and it all starts with how fantastic your walls are…..really.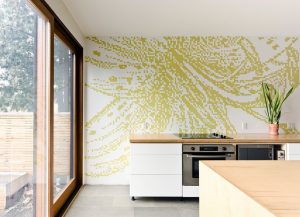 Photo Credit: Home Designing
6. Add crown molding
Now that I've started with all these intense DIY workouts in the kitchen, I can't seem to stop. Sighs…oh well, here we go. This one's for those who love a bit of architecture, measurement, cutting and joining, with a dash of craftmanship thrown in. We've been talking about walls a lot, but here's a fun idea for those who want their kitchen ceilings to feel some of the DIY love. Crown moldings add a touch of elegance to your kitchen, and what's more, their installation is not strictly restricted to the edges of the ceiling as they can also be added to the boundaries between the ceiling and the cabinet for an even classier look.

Photo Credit: DIY Network
7. Upgrade kitchen hardware
While we're focused on the big-sized DIYs in the kitchen this winter, let's not forget that small changes also go a long way when making a huge upgrade. Yes, small kitchen hardware do count, from beaded cabinet drawer pulls to glass knobs and uniquely-designed hinges. Don't forget that the color of the season is purple, and the best way to incorporate such a bold color is through these little hardware upgrades.

Photo Credit: Pinterest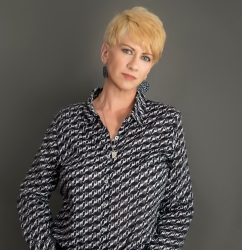 Latest posts by Deborah T
(see all)