Are you looking to set up the perfect patio to entertain your loved ones during the pandemic?
You likely spend a lot of time in your backyard when the weather is pleasant. It's not only lovely to enjoy that patio for entertaining when you invite guests. Indeed, you have the perfect outdoor spot to gather with family and friends.
You may not love your backyard as it stands now that the temps are cooler. But that doesn't mean you have to settle for mediocre. There are tips you can apply that will help you create the perfect outdoor entertainment space that will have you spending more time outdoors. You'll feel proud and excited to invite people over and will look forward to the opportunity to throw a fun party.
How to Set up the Perfect Patio to Make Your Guests Feel Special
Let's review four ideas that will help you have the perfect patio to have over your friends and family during the pandemic. Shall we?
1 – Gather Ideas
Your first order of business when trying to create the perfect outdoor entertainment space is to gather ideas. Do your homework and research different designs to get a better idea of what might look the best and what you like the most. There are plenty of blogs and images online to click through and home and garden magazines to page through to help you figure out what you want to do with your backyard.
2 – A Perfect Patio Provides Enough Seating Areas
It all starts by creating a focal point, such as installing a new brick patio. There are many patterns, designs, and colors to choose from, depending on your taste and style. You want it to be the right size so that you have enough space for seating but also enough grass and yard left to enjoy. Once the patio is in, you can work on getting comfortable and cozy furniture to sit and relax on. Consider a table and chairs where you can eat food and lounge furniture where you can sit and converse. Bring some color and texture to your backyard entertainment area by getting bright or bold pillows for your furniture and putting down an area rug.
3 – Spruce up Your Landscaping
Create the perfect outdoor entertainment space by sprucing up your landscaping. Keep your lawn well-maintained by cutting and fertilizing it and plant some trees and flowers to make the area more beautiful and peaceful. You can set fresh plants around the patio and create a vertical hanging plant wall for a different look and feel. Be sure to pull any weeds that pop up and water your plants often to keep them looking attractive and lively.
4 – Set the Right Mood
You can improve your outdoor entertainment space by setting the right mood. For instance, you'll want to have lights you can turn on when the evening rolls around. Better lighting is an affordable and effective way to transform your outdoor area and make it more appealing instantly. Also, consider setting up a speaker or sound system that you can play background music out of to keep the party going.
The Bottom Line on Creating a Perfect Patio for Entertaining Family and Friends
These tips will allow you to create a welcoming and appealing outdoor entertainment space–the perfect patio. You'll want to have people over to your house and will look forward to hosting future barbecues and cookouts when you have your outdoor space in order. Have fun personalizing it and making it unique and comfortable and then remember to sit back and enjoy it.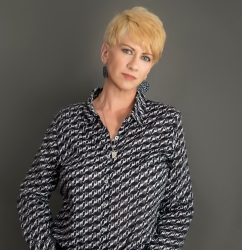 Latest posts by Deborah T
(see all)