Outdoor spaces are a reflection of your style. You can use this outer space for entertainment during vacations, for dining, or relaxation in your free time. As you decorate the interior of your home, do not neglect the outdoors. Whether you have a small or big outer space, style is something you shouldn't sacrifice.
9 Ways to Spruce up Your Outdoor Spaces
If you want to decorate your outdoor space or patio like a pro, here are a few tips you can follow:
1 – Add elegant decorations
To decorate your outer space or patio, imagine it as an extension of the indoor space. You can raise and surround the area with bricks to form a curve. If this space is partially or fully sheltered, there is a perfect opportunity to add decorations such as flower baskets to add life to it. With your patio standing against the home, use the external walls to incorporate texture, decorations of your choice, and color.
For modern home designs, you might enjoy a rustic charm by hanging decorations on the walls. Add comfortable chairs, either foldable or cushioned, coffee tables, rugs, and pillows. At night, sculpted and sconce candle holders will make a big difference. The weather should not worry you, as there are waterproof cushions, pillows, and fade-resistant rugs.
2 – Add lighting
The small details will set your outdoor space apart. Use globe string lighting that looks festive and elegant. LED lighting bordering stair treads or landscaping edges increases safety by focusing attention on these features. You can craft lanterns, stuff them with candles, and hang them to give your outer space a magical effect during the night and day. Place spotlights on shrubs and trees to give it a manicured look. Use colored lighting carefully to give the space a classy look.
3 – Clear the area
If you have a cluttered or small outer space, clear it to make more room. Shrubs and tree removal can give you the adequate space you require for furniture and decorations. To increase curb appeal, clear leaves, trim the grass and keep your lawn looking neat. Consider minimal details, such as removing random items and garbage from sight. While clearing your yard may seem overwhelming, tackling one area at a time will help you manage it.
4 – Coordinate furniture
A coordinated set of furniture will assist in creating a singular, unique theme. All furniture doesn't need to be of the same color, shape, or material. However, all the pieces should work well together to give you a desirable look. If you have furniture that doesn't match, add a uniting element instead of tossing it out. This can be a pillow of the same fabric, stain, or color.
5 – Create separate spaces
To create a luxurious outer space, create distinct areas for all activities like playing, eating, or lounging by the pool. If you don't have these luxuries, make your space fancier by grouping furniture in a way that defines the purpose of each area. For the entertainment and dining area, add landscaping details such as flowers or bricks. Similarly, a rug can define these areas.
6 – Make repairs
Your outdoor will look rundown and pose safety hazards if the stonework is loose or cracked. Replace these loose stones or cement them. If your patio is wooden, remove any dirt or debris that might have accumulated over time by pressure washing it. Give it an update by repainting or refinishing it. Consider stone stencils, cement stains, and DIY bricks to give your outer space a classy, high-end look if masonry is not in your budget.
7 – Pick a style
There are many styles to pick from; whether Tuscany, boho, Industrial, or chic, stick to the one you choose. Mixing too many styles will seem chaotic and confusing. Create a cohesive color and décor theme to enhance better relaxation and overall beautiful scenery. Use a minimal amount of color to create an eclectic style.
8 – Privatize it
Outer spaces equally provide privacy and comfort like indoor spaces. To make this possible, build a garden gate against the railing or behind the bench. Attach sheer fabrics with hooks and hoops to overhang the porch. Hang colorful pots and wooden trellis.
9 – Create a central point
A focal point creates an area where family and friends can hold discussions and share stories. Where a pool or small water features such as fountains, birdbaths, or ponds are absent, a fireplace is a budget-friendly and beautiful feature to get family together as you roast marshmallows and play games.
The Bottom Line On Enjoying Your Outdoor Spaces
Outdoor spaces are excellent areas to enjoy comfort, relax, and have fun with family and friends. To decorate it like a pro, pick a style of your choice, make repairs, coordinate furniture, add lighting and decorations. Create separate spaces, mow your lawn and trim shrubs to clear your yard, privatize the area, and create a central point to decorate it as you get family and friends together.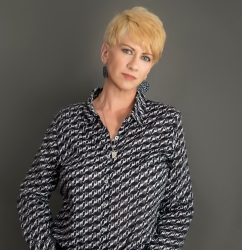 Latest posts by Deborah T
(see all)