Thanksgiving is just around the corner, y'all. Of course, that means one thing: baking season! Also, time to share my secret recipe for Peanut Pie. It's so rich, so decadent.
In the South, we have a saying when something's this good: "Slap Yo Mama!". This pie is so rich, so decadent, and so satisfying it makes me want to cry when I take a bite. However, I don't really recommend that you slap your own Mama. Because, you never know–she might hit back!
About This Peanut Butter Pie
First, there is one crucial thing you need to know before we dive into this dessert. This is not one of those really sweet and fluffy peanut butter whip cream pies. Rather, this is a real stick-to-your-ribs, decadent dessert that you'll fall in love with.
In fact, this dessert is a spin on a pecan pie. The next statement sounds un-American. But I hate pecans. So I despise pecan pie, pecan rolls, pecan cookies. Ugh. They are on my "yucky food list." Yes, I am a picky eater. As a young child, I started a "yucky food list." It contains a lot of things I hate. For example, lima beans…and pecans.
Peanuts, however, I love, love, love! So instead of pecan pie, I turn out peanut pies. But not often enough, my husband claims.
In fact, I'll often chop and toss a half-ounce of peanuts over a salad to replace croutons. This is because they add nutritional value and cut the carbs. It makes them a great trade-off in so many recipes.
I have been baking this pie since before I moved to North Carolina. In fact, this PA native baked this recipe since she was a teenager. It's one of the first recipes that my mother taught me to bake. But by some strange coincidence, fast forward 30 years…I'm married to the son of a peanut farmer in the NC peanut belt and used to work as the sales manager at a peanut packing facility for my full-time job.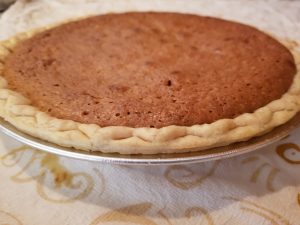 A childhood recipe
So, I guess you could say this pie pieces together a childhood recipe from my Yankee family and my life today. But mostly, you should just say, pass the fork and a big ole piece of peanut pie! It truly is to die for, y'all!
I have modified this recipe a little bit over the years. That's because, primarily, I wanted to use local NC all-natural peanut butter instead of a store-bought version that already had peanuts in it.
So, this version is the most current take on it. Of course, it uses my favorite brand of peanuts by Bakers' Southern Traditions. You've seen me use this brand in past recipes such as my Carolina Cajun Cheeseball. As a result, I always get fantastic results!
PEANUT BUTTER PIE RECIPE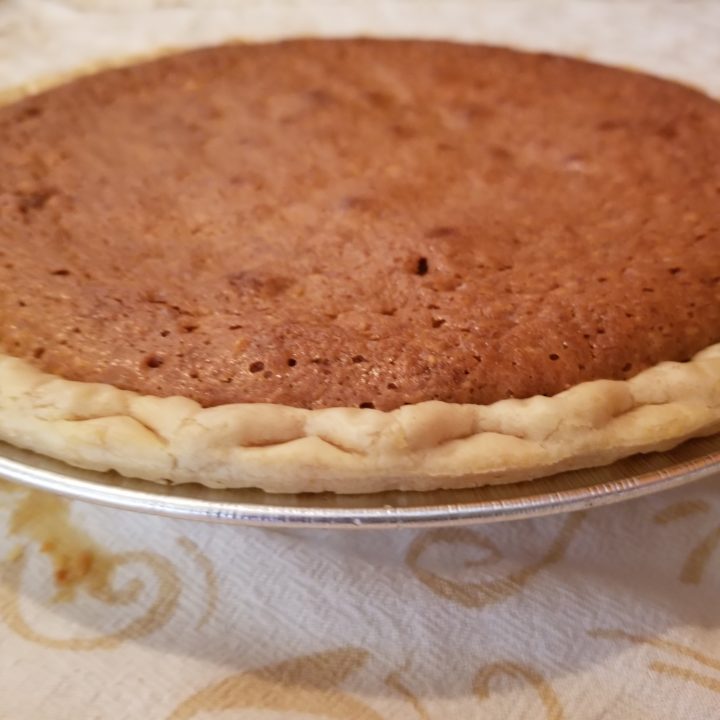 Peanut Pie (featuring non-GMO peanuts)
Total Time:
1 hour
10 minutes
This peanut pie is a fall favorite in my home. Sweet, rich, and more memorable than Pumpkin Pie (even for this pumpkin-geek).
Ingredients
two 9" prepared pie crusts (or bake 2 of your own)
1 1/2 cup light corn syrup
1 1/2 cup granulated sugar
4 eggs, slightly beaten
1 tsp pure vanilla extract
1 jar (14 oz.) Bakers' Southern Traditions Peanut Butter (all-natural, non-GMO)
1 cup Bakers' Southern Traditions unsalted blister fried peanuts (non-GMO)
Instructions
Finely chop (I used the Pampered Chef Manual Food Processor) the peanuts into smaller pieces. Put them in the bowl of your stand mixer.
Add the remaining ingredients. Mix with the metal bladeof your stand mixer for about 3 minutes.
Pour the mixture into the two 9" pie shells. These are NOT deep dish pies, just regular 9" standard pie shells. The mixture is fairly wet-looking, which is what you want.
Bake at 400 degrees for 15 minutes.
Reduce heat to 350 degrees and bake for 30-35 minutes. The top will be golden and lovely.
Allow to cool, cover, then keep the pie chilled until you're ready to serve it.
Notes
Top pie with home-made whipped
cream, or vanilla ice cream. A drizzle of bourbon on top is a boozy addition
that I personally adore!
Recommended Products
As an Amazon Associate and member of other affiliate programs, I earn from qualifying purchases.
Nutrition Information
Yield

12
Serving Size

1
Amount Per Serving
Calories

924
Total Fat

43g
Saturated Fat

12g
Trans Fat

0g
Unsaturated Fat

27g
Cholesterol

62mg
Sodium

752mg
Carbohydrates

126g
Fiber

5g
Sugar

63g
Protein

13g
All information and tools presented and written within this site are intended for informational purposes only. I am not a certified nutritionist and any nutritional information on diyhomegarden.blog should only be used as a general guideline. This information is provided as a courtesy and there is no guarantee that the information will be completely accurate. The nutritional labels are a product of online calculator apps. Even though I try to provide accurate nutritional information to the best of my ability, these figures should still be considered estimates. If you believe you have a medical condition, food allergies, or other concerns, please consult a doctor.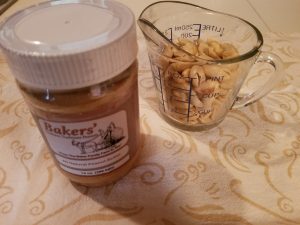 If you want to share a super cute printed version of this peanut pie recipe, click over to our free printables page. You can then right-click and file save as there as an alternative.
The Bottom Line on Baking a Peanut Pie
Certainly, this is one of the easiest pies you can ever bake. After all, it's a fresh take on the pecan pie, which every baker has done a million times over. In fact, it's impressively delicious, moist, and impressive-looking. But your friends will think you spent hours and hours baking it!
To me, there's no better way to end my Thanksgiving dinner than a teeny slice of pumpkin pie and a teeny slice of peanut pie. OK, who am I kidding? So I think I'll eat a big slice of each. WW points be damned on Turkey Day! But it's Thanksgiving, right?
If you want another delicious peanut butter, be sure you don't miss our peanut butter fruit and pretzel dip--it is so decadent!
Finally, please let me know if you tried this pie, what kind of peanut butter you used, and how it turned out for you!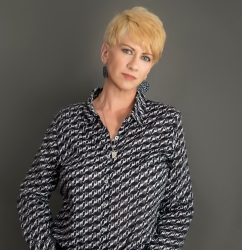 Latest posts by Deborah T
(see all)