Do you use outdoor space as an extra living room? If so, you might wonder how to freshen up or update the patio.
If you have a patio, then you will probably agree that it is one of the most important parts of the home. The patio can be a useful and important community gathering place for the family, and it is likely going to be the first part of the garden you see when you step outside the back door.
For these reasons and more, it's a good idea to try and make your patio as good-looking as possible and to give it the kind of life that will really bring it alive. In this post, we will take a look at some of the ways you might be able to do just that.
6 Ways to Add Some Personality and Update the Patio
Try one or two of these ideas to freshen up your outdoor living spaces.
1 – Change Hues
Sometimes you can achieve a great deal of difference with your patio just by changing up the hues that you use. Many people fail to realize that they can easily do this with a patio, but it really is quite a simple thing to achieve. You can simply use patio slabs of different kinds, or you can even change up the color of the furniture you are using on the patio for the same kind of effect. However you do it, playing around with the hues is going to make a lot of difference in the long run, so it's something that you are going to want to think about.
2 – Deep Clean It
When did you last properly deep clean your patio? If you are like most people, it was probably quite a while ago, and it's something that you are going to want to think about to bring new life to your patio. It is quite a simple matter to deep clean your patio, but you require the right kind of equipment. In most cases, using the services of the likes of Sharp Exterior Cleaning with their pressure washing capabilities could be all you need to do, and you will end up with a patio that is just so much more beautiful to look at.
3 – Add Some Plants to Instantly Update the Patio
Very few patios will look the part without some plants on them, so this is something that you are probably going to want to think about too. This is a simple case of adding some potted plants to the patio and dotting them around to see how they look. You might be amazed at how much of a difference this can make to the patio area's overall vibe, and it's something that you can also change around as and when you need to. Bear that in mind, and do whatever you can to make the patio area come alive with your favorite plants and flowers. You might find this is a joy to do.
4 – Use Outdoor Lights
Many times, you will want to use your patio at night, which is why it's such a good idea to install some outdoor lights around the patio area. With these lights in place, you will find it so much easier to enjoy the patio, and you will be able to use it for entertaining guests and so on. If you are looking to really make the patio a much more central part of the home, then this is one of the simplest and most powerful ways to do just that.
5 – Display A Rug
If your patio is covered, you might want to think about decorating it with the likes of a rug. You can get outdoor rugs designed specifically for use on patios, and these are a wonderful way to make your patio look new while also ensuring that it fits in well with the overall decor of your home. By choosing your rug carefully, you can ensure that this is really going to happen, and before you know it, the patio could become a much more important part of the home in no time.
6 – Install A Fire Pit
Who doesn't love to sit around a fire in the garden? Having a patio in place means that you have the perfect opportunity to do just this, and all you need to do is build a fireplace in the right spot. You can make one from stones very easily and could even make it to match the patio itself pretty easily if you like. In any case, it's something that is going to update the patio and garden area much more homely and enjoyable to spend time in, so it is worth it for that reason alone. It's something all gardens can benefit from.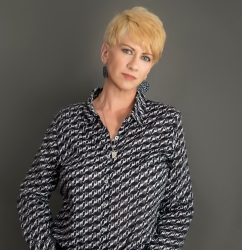 Latest posts by Deborah T
(see all)