This weekend is the best weekend of the year. NFL Kickoff! Woot-woot! The first game day is a big deal in my house. In fact, it's such a big deal that I did a trial run of the menu last Sunday. Playing around in the kitchen, I thought of an easy way to make one jar of local NC peanuts into three super tasty game day snacks.
RELATED POST: 5 Best College Football Snacks
So today, bear with my longer blog post. But you get some great game day menu ideas!
I live and work in Bertie County, North Carolina. It's the heart of NC's peanut country. Although we are in North Carolina, we grow Virginia style peanuts. They are the large variety of peanuts.
For today's game day treats, I used one 18 oz. jar of Bakers' Southern Traditions Carolina Cajun Peanuts. They are blister-fried in peanut oil for a rich, authentic peanut flavor and coated in a proprietary blend of peppery (but not too hot) Cajun spices. These things are addictive. They are grown, cooked, and packaged by a local family here in Bertie County.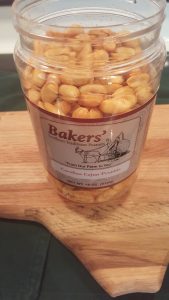 These three snacks can feed a decent sized crowd on game day. Want to know how to serve this one jar of peanuts three ways? Here's how.
FOOTBALL GAME SNACK 1
Well, this is kind of a cop out. But stick with me. Scoop out one cups of peanuts and put them in bowls to snack on throughout the day. They are great munchies while you're fixing up the rest of the snacks.
I serve them in a couple of small, clear glass bowls in several areas of the den. Our football guests can help themselves as I put out the rest of the food.
FOOTBALL GAME SNACK 2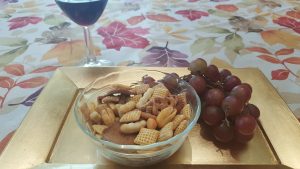 We love to snack on party mix while we are watching football, but they were always missing a little something. Scoop out two cups of peanuts (8 oz) and mix them with your favorite flavor of party mix. The Carolina Cajun peanuts add a peppery zing that rounds out the flavors.
We use the "bold" flavor because we love the savory garlic flavors. Naturally, you can choose your own favorite flavor. The Carolina Cajun peanuts go great with the bold mix, cheese, original, or any other savory flavors.
By the way, please note that I created the graphic below to represent my team, the Pittsburgh Steelers.
CAROLINA CAJUN SNACK MIX RECIPE: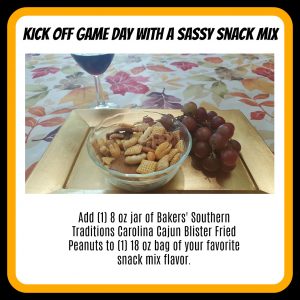 FOOTBALL GAME SNACK 3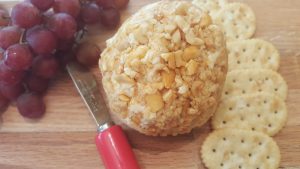 Finally. We are at the bottom of that peanut jar. You'll see at the bottom that there's a good bit of Cajun spice that has fallen off. We aren't letting that flavor go to waste! This recipe is the piece d'-resistance of the 3 peanut snacks. In fact, this is the recipe in the photo, it's the reason you clicked this blog post. I saved the best for last.
CAROLINA CAJUN PEANUT CHEESEBALL RECIPE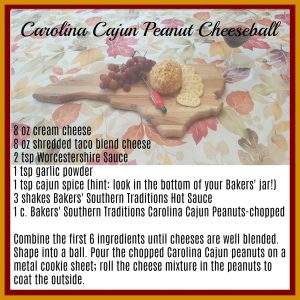 I love to serve this cheeseball with a tray of fruits, crackers, and good friends. Cheese on anything is always a big hit for my guests.
I bet you're expecting an affiliate disclosure here, right? Nope. I really, honestly love these peanuts. I have NOT been compensated to write this post. Isn't that refreshing?
Honestly, I know with the Baker family and use their products often. My husband is from a local farming family so I like to support the local community whenever possible.
In fact, I'll even share a link to their products page, where you can go online and buy a jar. They have a super variety of flavors available.
So, folks, I leave you today with one question. Are you ready for some football? I know I am!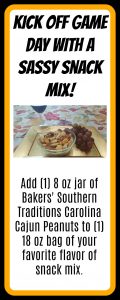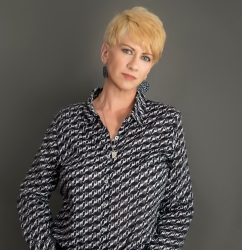 Latest posts by Deborah T
(see all)