A friend or a relative calls to inform you they are in the area and would love to drop by, presumably to check on you, ask about your welfare, or just engage in a simple chat. And just like that, panic sets in! Why? Your house is not exactly presentable. Everywhere's looking cluttered; there are toys on the floor, unwashed dishes in the sink, and let's not even talk about the state of the bathroom right now. This is when an excellent scenario for a speed-clean.

RELATED POST: House Cleaning: Make it Less Tricky
If the visitor is a nosy one, eh, that's double the bad luck. So, yeah, everywhere's gotta be clean, or at least, give the appearance of being clean. Just for clarity sake, I'm focusing on the latter, simply because the honest-to-God truth is you can't thoroughly clean your house within such a short time frame. What you truly need is something quick and effective, a proven speed-cleaning recipe that portrays the appearance of a well-kept home.
So, how can you speed-clean your home in 20 minutes tops (enough time before your guest shows up)? Stick with me, as we run through the steps below:
Get your speed-cleaning tools
This speed-clean tool list is in no way limiting or exhaustive; you can add to it. On the other hand, do not fret if you don't have everything listed here. Do what you can with the little you have, plus, you would have enough room to improvise, and that's the beauty of DIY.
Disinfecting wipes

Cleaning cloth

Duster

Multi-purpose spray cleaner

Glass cleaner

Air freshener

Laundry basket (highly recommended)

Vacuum, broom and dustpan
You have very limited time to accomplish a somewhat daunting task. Therefore, it's important you prioritize. Your guest isn't gonna visit every room in your house. So you've got to ask yourself: which rooms would your visitor most likely enter? Nine times out of ten, it's usually just three rooms: the kitchen, the bathroom and of course, the living room. So, shut the doors to all other rooms (you don't want them peeking at that mess) and focus on these three.
We're starting with the living room, as it's usually the first room visited.
De-clutter: Remove items from surfaces where they do not belong: toys on the floor, books on the dining table, clothes on the sofas, etc. Flat and uncluttered surfaces make a space look clean and well-kept.

Stash the offending items: Remember the laundry basket I recommended earlier? Here's where it comes into play. As you pick items from the floor or other surfaces, rather than wasting time keeping them in their appropriate locations, just stuff them into the basket. Hide the basket in a closet or spare room where it can't be seen. Granted, it's sneaky, but you know what they say: drastic times…..drastic measures.

Neatly stack your magazines on the coffee table and straighten any awkwardly-placed item like pillows and cushions.

Dust the furniture and all other upholstery.

Lightly vacuum or sweep the floors (whichever is faster).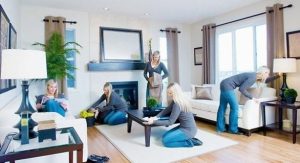 Stack all unwashed dishes into the dishwasher and leave them there. No enough space in the dishwasher? Use the oven.

De-clutter your counter.

Spritz the cleaner on the counter, sink and faucets, and then wipe.

Also wipe the surfaces of the refrigerator, dishwasher, stove and any other kitchen appliance.

Lightly vacuum or sweep the floors.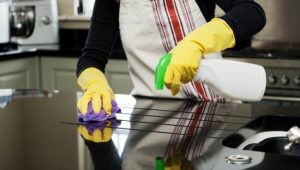 Your bathroom – the final port of call
Your shower is not-so-clean? Cover it up with the shower curtains.

Spritz the cleaner into the toilet bowl and let it sit.

Also spritz the toilet seat, sink, counter, faucets, handles, and mirrors and then wipe.

Ensure a roll of tissue is placed in an accessible position, as well as hand soap and clean towels.

Wash the toilet bowl and flush.

Spray the air freshener to get rid of any chemical or otherwise unpleasant smell.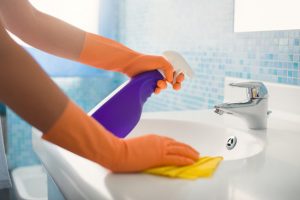 A delightful scent adds to the decor
Nothing says 'welcome' than an inviting smell. Air fresheners are a great idea, but if you're allergic to those, an interesting alternative is to have some frozen cookie dough you can easily throw into the oven. Everybody loves the smell of freshly baked cookies. Heads up, this alternative works if your oven is not cluttered with dirty dishes.
Final Tips: If you have an entrance hall or a foyer leading into the living room, ensure you devote a bit of time to that space at well. First impressions matter!
If your visitor is the nosy type, I'm sorry, but you might have to pay a wee bit of attention to the bedrooms. De-clutter just like you did in the living room. You can also bribe the kids into helping you out with that in their own rooms.
Last but not least, once your guest leaves, don't forget to attend to everything you stashed. Especially those dirty plates in the dishwasher (and oven)!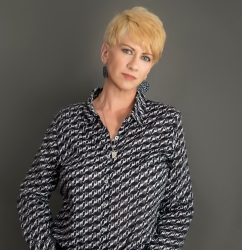 Latest posts by Deborah T
(see all)