A couple of days ago, we treated ourselves to cool DIY projects for our backyards. But today, we will focus on the kitchen. When we say 'kitchen upgrades', we don't necessarily mean a serious overhaul of the current design.
RELATED POST: Kitchen Upgrades (5 Essentials You Need To Know)
Of course, it could be something very obvious that gives your kitchen a whole new look. But most times, it's just that personal touch made into your crockery. Or perhaps even the unique placement and of cooking utensils.
Whichever of these ideas you decide on, just remember that kitchen upgrades can be fun. Moreover, the end result is a DIY-customized kitchen you'd be proud to show off to your friends and visitors anytime, any day.
To get the ball rolling, check out these unique DIY projects you can implement in your kitchen for some serious upgrades this weekend.
This weekend, you can add a whole new backsplash design for the walls behind your sink, stove or countertop. In fact, there are several beautiful options to choose from.
You can go with this unique tin-tile backsplash design that is easy and relatively cheap to implement. This design style adds a bit of reflectivity into the room, making it seem brighter even on the most dreary of days. The tiles are also easy to clean and can be gotten in a variety of finishes to match your kitchen's hardware and fixtures.
The simple peel-and-stick tile option is an amazing alternative. It's easy to install, as the backsplash kit comes with a pre-mixed grout and every tool you'd need to achieve this classic look.
If you'd prefer something bold and dazzling, then this mixed mosaic tile wall may be more to your liking:
After installing a new backsplash or any other kitchen fixture or fitting, adding new light sources can help to emphasize these cool DIY projects and also increase their overall aesthetic appeal. If you're not so good with electrical stuff and can't afford to hire an electrician to help you in installing the new lighting points, then it is highly recommended that you add light sources that do not require electrical work. Never add more fixtures to the same source if it can't carry that extra load. Failure to do so results in an overloading of electrical components which in turn leads to the very high possibility of an electrical fire.
One of the recurring complaints with kitchens is the not-enough-storage-space theme. That is why in all our kitchen-storage related articles, we always advocate that kitchen utensils be hanged rather than stored in containers or cabinets. We can use bare walls by installing open shelves for storing a variety of gadgets. Also, there are several hooks or rails flooding the market capable of holding your cooking equipment successfully while still enhancing the kitchen decor.
Pegboard racks can also be mounted on the wall for hanging bulky items like pots and pans. Can't get a pegboard rack? or even worse, your landlord is not a huge fan of nails on his wall? Get an old closet door, clean it up, paint it, and then add hooks. This way, you can still make use of your walls without getting on your landlord's bad side.
Another awesome alternative to the closet rack idea is the use of a pallet. Just sand, paint, add a few hooks, and if you like, a magnetic knife holder.
A cutting board can be transformed into a hanging rack for your spices. Wooden cheese boxes serve as the shelves or spice holders.
Usually, we make use of the walls for hanging. But, this weekend, how about you construct a rack suspended from the ceiling? It adds a unique style to your kitchen decor and also maximizes the available space.
Instead of the usual design, add an old dresser or an oak side table as your kitchen island. This DIY project is not as hard as it looks. Firstly, paint the body of the dresser or table. Then sand and prime the top for a better look, or cover it with a more suitable material. Add wheel casters for mobility.
Upgrade your refrigerator
The fridge is a key component in every kitchen. So really, a kitchen upgrade without a corresponding upgrade to the fridge is sadly not a true upgrade.
For instance, you can polka-dot your fridge. No fear, this is totally reversible.
For irreversible upgrades, you can either paint the fridge:
Chalkboard-paint it:
Or wallpaper it: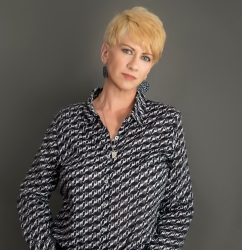 Latest posts by Deborah T
(see all)