Freezing sweet potatoes without them turning brown can be challenging. There's nothing worse than doing all the work of freezing, only to have your lovely potatoes turn from that gorgeous sunset orange to the color of rust by the time you serve them.
RELATED POST: Freezing Sweet Corn Without It Getting Mushy!
I have friends who grow sweet potatoes and they share a bushel or two with me every autumn. But I have a small chest freezer and need to make every inch count! I find that the easiest way to conserve space is to freeze the sweet potatoes as mashed potatoes so that I can lie them flat in the freezer.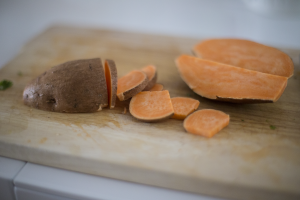 You may have heard that you can only partially blanch and cut up sweet potatoes for the freezer. Not true! With the aid of some Ball Fruit Fresh, you can load your freezer with freshly mashed sweet potatoes, and they will carry you through the year.
SERVING IDEAS FOR FROZEN MASHED SWEET POTATOES
Obviously, you can serve mashed sweet potatoes with butter
Spice them up with cinnamon, brown sugar, and walnuts for a delicious sweet potato casserole
Bake a sweet potato pie
Make the ultimate comfort food–sweet potato gnocchi
Pipe sweet potatoes into individual ramekins to create individual twice baked sweet potatoes. Awesome presentation and easy!
Don't worry…over the next few weeks, the recipes will follow.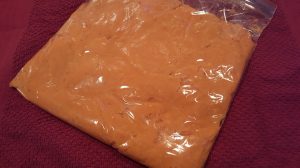 FREEZING SWEET POTATOES
There are several steps involved, but they are really very easy.
PREP WORK:
Put a large pan of water on the stove and get it boiling. It should be large enough to hold a big old load of sweet potato. If you have many potatoes, you will need to make several batches.
Scrub your sweet potatoes and peel them. Then cut out any brown spots or marks. This is the longest and most boring job on the planet. Lastly, cut them into large chunks. It's tedious but necessary.
COOKING SWEET POTATOES FOR THE FREEZER:
After your water is boiling and you have cut up the potatoes, boil the potatoes until they are able to be broken apart easily with a fork.
Drain the sweet potatoes, then place them back into the pot for mashing.
For every cup of potatoes in the pan (eyeball it, close enough!), add 1 tbl of Ball Fruit Fresh to the pot. There is enough moisture in the potatoes for the Fruit Fresh to dissolve.
Then mash the sweet potatoes. They will be lumpy-ish because we are not adding water to smooth them out. Water will crystallize in the freezer and you don't want the potatoes to turn runny when you defrost them. If you want a smooth mashed potato, you take care of thinning them when you cook them later on!

FREEZING SWEET POTATOES:
Prepare your food storage bags or vacuum sealer bags while you are boiling the potatoes. I write the date and contents (so I don't mistake them for squash…it's happened). on the outside. I prefer a vacuum sealer for longer storage. They resist freezer burn and they will completely flatten for the freezer. When I fixed the batch in the photos, I ran out of vacuum bag material.
Place your sweet potatoes in the bags and seal them. You can use whatever size you will need for your family. I do about 4 cups of potatoes per bag.
Set the bags of potatoes flat in your freezer. They can easily be removed as needed and take up very little space!

These sweet potatoes do take a little bit of work. But the rewards are so worth it. Frozen mashed sweet potatoes are versatile, budget-friendly, and absolutely delicious!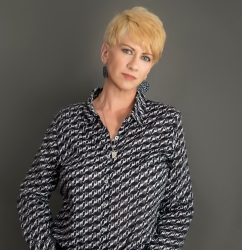 Latest posts by Deborah T
(see all)