Hearty Vegetable and Turkey Chili is a delicious way to get that taste of chili you crave in the fall without the fat and calories of beef. This is a perfect way to have a balanced meal in a bowl.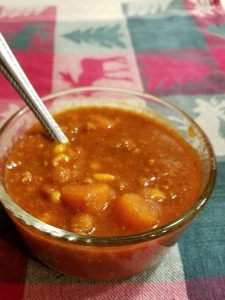 The temperatures have finally dropped here in North Carolina, allowing me to pack away my beloved flip-flop collection and pull on my favorite boots. I'm making other transitions into fall, also. I have found myself longing for hot soups and stews.
I've "relaxed" my Weight Watchers a little bit, as I have dropped about 65 pounds and reached my goal weight. Nevertheless, I'm still trying to cut down fat and replace beef with low-fat alternatives. My ongoing struggle with weight loss leaves me missing my favorite foods. Weight Watchers is awesome, and it has taught me a lot about how to change my eating habits. This time, I am committed to keeping the weight off–for good!
Thus, I have been diligently re-working heavier meals. The transformations from comfort food classics into healthy variations leaves me able to eat "normally" while continuing to maintain. This Veggie and Turkey Chili's a prime example of such a makeover.
It's delicious and quite easy to make, like all chili. It's very forgiving and you can make it sweeter, spicier, or smoky flavored with a variation in the ingredients. I will show you these variations, as well as the way I made it.
You will notice that this is a chili without beans. I'm not a huge bean fan. However, beans would definitely work in here with some adjustments in the seasoning (ie, add more as you please).
Here's how I made this.
HEARTY VEGETABLE AND TURKEY CHILI
2 lb. 97% extra lean ground turkey (or grind an all-white meat turkey breast in your KitchenAid grinder if you can't find this product)
1 small bag of baby carrots
1 small yellow onion
14 oz. can of corn (or 2-3 ears of fresh, if you have it!)
14 oz. can of diced tomatoes
28 oz. can of tomato sauce
1/4 cup of sugar
1 1/2 cup of water
14 oz. can chicken stock, low-sodium
2 heaping teaspoons of homemade chili seasoning
salt and pepper, to taste
Instructions for making Vegetable and Turkey Chili
Drop the turkey meat into a hot skillet and start browning it, stirring and breaking it into small bits every couple of minutes.
While the turkey is browning, cut the baby carrots into small rings and dice the yellow onion. I like baby carrots because they cook quickly and are easy. You could also peel and cut up regular carrots.
Drop the cut veggies, the can of corn, the can of chicken stock into a chili pot.
Add the now fully cooked ground turkey meat into the pot. Simmer the veggies and turkey (with the lid on the pot) for about 10 minutes to get the vegetables to start cooking down.

Keep the lid on the pot while you're simmering these veggies. They'll cook faster!

Add the chili seasoning, water, sugar, tomato sauce, and diced tomatoes to the chili pot. Stir to mix the seasoning throughout. Your chili will be fairly loose looking at this point. Taste and adjust the seasoning to your liking with salt and pepper or even extra chili seasoning.

After the veggies start to soften, add in the chili powder and then your tomato products.

Add the tomato and liquids. Your tukey chili will be fairly loose.

Bring to almost a boil. Then cut the chili back to a simmer without the lid for 2 1/2 to 3 hours, depending on how thick you like your chili. Stir it occasionally. I let mine reduce by almost 1/3. I can tell when mine is ready when I stick in a plastic spoon and it stands straight up!

In fact, I like to cook my turkey chili down until the spoon will stand straight up on its own.
RELATED CONTENT: Tomato Soup in the Pampered Chef Deluxe Cooking Blender
Variations of Hearty Vegetable and Turkey Chili:
Sweet Turkey Chili: Add 2 sweet bell peppers to give the chili even more veggies and a sweeter flavor profile.
Spicy Turkey Chili: Add 1 seeded, finely diced jalapeno pepper plus 1/2 tsp of ground cayenne pepper to the pot.
Smoky Turkey Chili: Add two dashes of liquid smoke, 1 tsp. of smoked paprika, and 1/2 teaspoon of ground cumin to the chili for a super smoky flavor.
Y'all, this couldn't be easier to make. Once I put it on the stove on Saturday, I sat on the couch and watched a Hallmark movie while it simmered. Of course, I got up and stirred it during commercials to prevent it from sticking. At the end of the movie, I had a nice hot supper waiting for me.
I hope you get to try this healthy chili makeover recipe. It really is very sinfully delicious, and you won't even miss the beef! Please shout at me if you've given this a try, I'd love to hear your comments.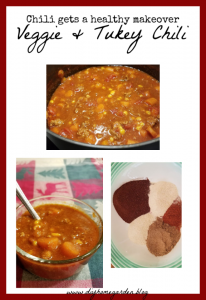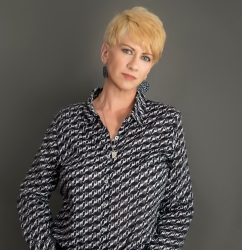 Latest posts by Deborah T
(see all)