Artwork is often an afterthought in home decor, but it shouldn't be. If you want your home to look amazing and really show off your personality, you should be using artwork to create a more joyful home decor and it should be one of the first things you consider when decorating or redecorating.
Here, we're going to go into more detail about how you can use artwork to create a more joyful home decor. Take a look and see what you can use in your home to make it look incredible!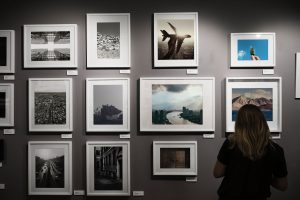 Five Tips to Create Joyful Decor
Here are five easy ways to get started.
1 – Choose The Right Wall To Hang Your Artwork
First of all, you need to have a good idea of where you want to hang your artwork. Usually, for instance, artwork can be the focal point of a room, this is especially true when you place it behind the sofa, above your bed, or above a mantlepiece. However, you're not limited to these locations if you want to hang your artwork and make it look awesome.
The best wall for your artwork can be pretty much any wall, providing there's nothing too distracting on it. It should usually be free of windows and doors. Before hanging a piece, make sure you test it on different walls in different spots to ensure that it looks great. You don't want to go making holes in your wall only to realize you prefer the piece somewhere else!
2 – Know Where To Find Pieces That You Love
Finding artwork that you love is key to creating a more joyful home. You might not consider yourself an 'arty' person, but there's a style out there to suit everybody! Make sure you shop around to find pieces that you love. Never just buy artwork for the sake of it! If you take your time and buy pieces you know you'll love forever, they will be with you for life. So, where can you find pieces like this?
Start by looking at markets and fairs. You will get independent sellers here selling one of a kind pieces that you won't see anywhere else. You can also look online on sites like Etsy, but make sure you check out the artist's reviews first, and that you do your measurements so that your 'big' art piece doesn't end up arriving too small! Pictures can be deceiving.
The artwork you pick doesn't necessarily have to be painted or drawn. Photography can be a great choice too. Peter Lik Photography and similar photography styles are great for your home. Alternatively, if you're just not finding anything out there that you like, you could find a local artist that you like and commission them to do a piece for you. It probably won't be as expensive as you think, and you'll have something that has been made especially for you.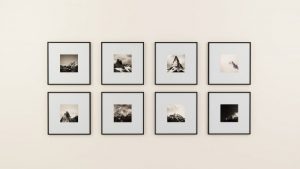 3 – Create Your Own Artwork
You don't have to rely on somebody else to create amazing images for you. How about creating your own artwork? Again, you don't need to put loads of effort into this, as you can do all kinds of things that will work well on your wall. You could frame pages from books that you like, or frame patterned pieces of wallpaper. Or you could put up your kid's artwork for a bit of an abstract look, or even something you've created yourself. You don't have to consider yourself an artist to do this well.
There are all kinds of tutorials online too if nothing here grabs you, so take a look. The great thing about creating your own artwork is that you'll feel a sense of satisfaction whenever you look at it.
4 – Create A Joyful Display That You Love
Don't make the mistake of thinking you have to stick to one piece of art per wall, either. You can create a display that you love with multiple pieces of artwork of different shapes and sizes. This is called a gallery wall, and anybody can make one! Below are some tips you can use to create your own:
Decide if you'd prefer an eclectic gallery wall with pictures of different shapes and sizes, or a more uniformed wall where you place pictures of the same sort of size and shape neatly on your wall.

Whichever type of gallery wall you choose, try to leave equal spacing between each piece.

Make different pieces match by choosing one thing that brings them together, such as a color.

Test out where you want your pieces to go first by using cardboard in a similar shape, or by laying out your pieces on the floor.

Don't rush your gallery wall. It'll take time to build a wall that you love!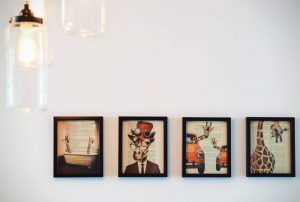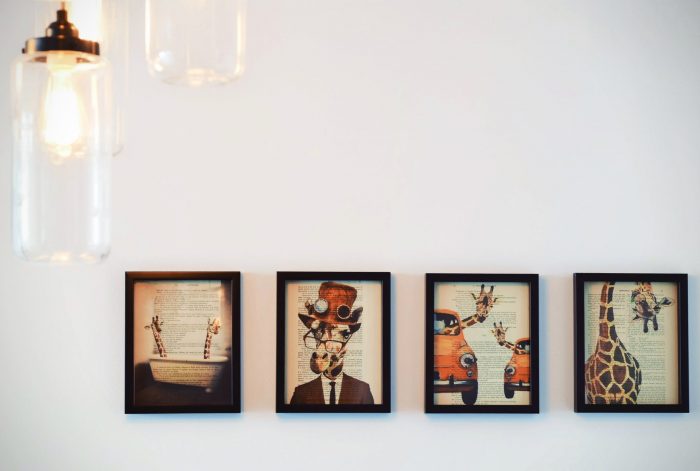 Final Thoughts on How to Create that Joyful Home Decor
Now that you have some hints, I hope you set out to create a more joyful home decor in your own home. Whether you live in a grand home or a cute and teeny studio apartment, you deserve the luxury of living in style. What do you do to add customized artwork to your home?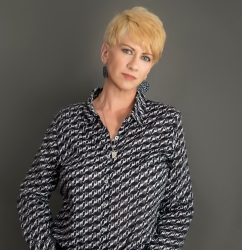 Latest posts by Deborah T
(see all)