This easy taco soup offers you hearty and perfectly balanced flavor in a flash! Days are getting hectic as we count down to Christmas. We need meals that are flavorful, nutritious, and comforting. And, we want a soup that will warm us up after hanging up all those outdoor Christmas decorations. Right?
This soup checks off all those needs!
I like to fix a pot of this on Sunday, and portion it up to take to work a few days of the week. It's especially fragrant when reheated in the microwave at work. In fact, it will pique the interest of all your co-workers while you're heating up your lunch.
Here's how to make it.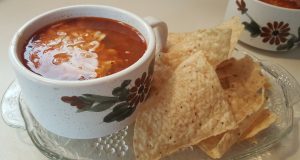 EASY TACO SOUP
Ingredients:
One pound of 93/7 ground beef
1 – 32 oz. box low-sodium beef broth
1 small Vidalia onion or sweet yellow onion
2 tsp. extra virgin olive oil
1 – 15 oz can low-sodium corn
1.5 tbl of taco seasoning ( make it homemade, but you can also use a packet)
1 – 28 oz. can petite diced tomatoes
2 tsp garlic powder
two tsp black pepper
2 tsp ground cumin
8 oz. pizza sauce
2 cups of white rice (cooked)
shredded cheese for topping
Recipe Directions:
Cook the ground beef in a large skillet, crumbling into small bites as it cooks.
While the beef cooks, drizzle the 2 tsp. of olive oil into a 4 or 5-quart pot and heat it up. Dice the onion into a small dice, and add it to the olive oil. Cook the onions through until translucent.
Drain the ground beef well. You don't want the grease in the soup. Add the ground beef to the onions.
Also, add to the pot: the beef broth, can of corn, diced tomatoes, and pizza sauce, taco seasoning, garlic powder, cumin, and black pepper. Bring to a low boil, then reduce to a simmer for about 30 minutes.
Cook the rice while the soup simmers. You need about 2 cups of cooked white rice, depending on how thick you'd like the soup. I like a lot of rice and a heartier texture to the soup.
After the soup is fully cooked, add it to the soup. You don't want to cook the rice in the soup pot as it will absorb too much of your liquid and become more a gumbo than a soup texture.
Top with shredded cheese to get a real "taco taste."
Variations of Taco Soup:
This soup is very forgiving. Feel free to make substitutions and create a variation to your own liking.
Swap out ground beef for ground turkey or ground venison.
Make a vegetarian taco soup by skipping the meat and adding two cans of drained black beans.
Add beans with the taco meat to double up your proteins.
Skip the rice in you're on a low carbohydrate diet.
Add salt if you'd like more seasoning…I'm on a low-sodium diet, so I don't add extra salt. I find the taco seasoning has enough salt for me.
Please let me know how if you try making this soup. Leave me a comment and let me know how much you love it and if you tried any variation!
Happy cooking!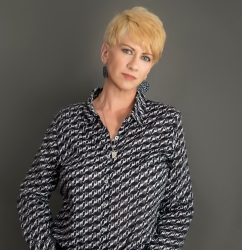 Latest posts by Deborah T
(see all)