We're halfway through the holidays. Thanksgiving is a week or two behind us and Christmas is just three weeks away from today. So in the south, 'tis the season for all things sweet potatoes. This is an easy recipe to make–peanut crusted sweet potatoes.
RELATED POST: 4 Creative Uses for Leftover Sweet Potatoes…The Nigerian Style!
In North Carolina, it's unheard of to gather around a dinner table at the holidays and not consume some form of sweet potatoes. In fact, sweet potato pies and casseroles are the majority winners. Moreover, you might also find baked sweet potatoes or even plain sweet potatoes. Because they are a tradition.
I live in Eastern NC. Sweet potatoes are grown just east of I-95, primarily in Johnston and Harnett County. Moreover, here in Bertie County, we grow peanuts. We North Carolinians are proud of our access to all these delicious locally-grown items. As a result, this recipe combines these two local flavors that we are proud of here in NC.
Here's how to make this wonderful dish.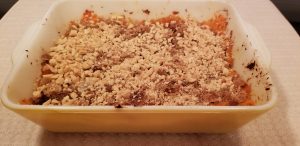 PEANUT CRUSTED SWEET POTATOES
Ingredients:
4 large sweet potatoes
1 cup light brown sugar
1/2 stick of butter
pinch of salt
2 tsp cinnamon
1 tsp ginger
1 tsp pumpkin pie spice
1/2 cup of Bakers' Southern Traditions Unsalted Blister Fried peanuts
Instructions:
Wash the sweet potatoes. Then remove the skins and cut into large, evenly sized chunks of potato. Place in a microwave-safe casserole with about 1/4 cup of water. Cover loosely with plastic wrap. Microwave on full power for 12 minutes, or until the potatoes are steamed all the way through.
While the microwave is cooking the sweet potatoes, coarsely chop the unsalted peanuts. Then set them aside. Preheat your oven to 350 degrees.
After the sweet potatoes come out of the microwave, let them sit with the plastic wrap on for 3 or 4 minutes. Because you can get a steam burn if you remove it too quickly! Gently remove the plastic, then drain off the water. Leave the sweet potatoes in the same casserole… no need to dirty up another dish to wash.
Use a large fork to mash the sweet potatoes. Then add 1/4 stick of butter, salt, ginger, cinnamon, and pumpkin pie spice and mix well.
After all the spices are mixed into the mashed sweet potatoes, evenly sprinkle the brown sugar across the top of the sweet potatoes. Then take the remaining 1/4 stick of butter and place little pats of butter across the top of the brown sugar. Lastly, add the layer of chopped peanuts.
Place the casserole, uncovered in the preheated oven for 20 minutes. The brown sugar will melt with the butter and caramelize. The peanuts will get just slightly toasty looking, giving off a mild and nutty aroma.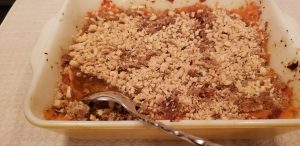 Final Notes
This dish is also great when you prep it ahead of time. If you do this, keep it covered until ready to bake. Then store in the fridge, and increase the heating time in the oven if you do this from cold.

I hope that you'll give this dish a try. It really is a pleasing balance of sweet and nutty flavors. If you give it a try, please comment and let me know how it worked out for you.
Happy cooking!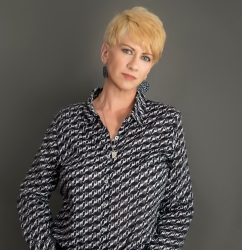 Latest posts by Deborah T
(see all)