Engage in amazing DIY projects for your bedroom this weekend because it totally deserves a makeover. You might not really think much about it, but your bedroom is your safe haven; it's like your place of refreshing when the world takes its toll on you. For me, it's where I go to regroup whenever I'm out of steam. The bedroom is truly a pretty special place. Now that we've established that, I got a question for you.
RELATED POST: 5 DIY Bedroom Decor Your Kids Can Make
Is your bedroom pretty? Is it welcoming? When last did you lie on your bed and simply admire the room's decor and overall appearance, and let it soothe your tired muscles? I bet you can't remember. We've been focusing on other areas of the home from our kitchens to our backyards for the past few weeks. So, when Deborah asked me to write on DIY projects for the bedroom, I was excited about it, 'cuz the bedroom is like my favorite place. What can I say? I love my privacy…..and sleep (errm….beauty sleep)
On a more serious note though, get ready to explore your creativity with these wonderful DIY projects that would enhance the look and feel of your bedroom:
Do something unique with your headboard
Excuse my tendency to exaggerate matters a little bit, but I've always seen the headboard as my personal canvas where I can display those creative ideas teeming in my brain. But it's your bedroom and you are free do whatever you want in it. For instance, some people use pallets. On the other hand, others implement steel, glass or vintage DIY project ideas for their headboards.
All these DIY project ideas are cool, but have you ever considered the wall above your bed? Yes, it can serve as your headboard too and this is where that canvas-thingy comes into play. Thick foam sheets can be cut into different sizes, painted and then mounted on your headboard wall, and the result is this fantastic-looking piece.
Pink too girly for you? Then this blue-themed headboard-wall design should suit your tastes perfectly. Get real canvas pieces from the store, mount them on your wall, then use skinny floral tapes with different hues to tape your canvas in a criss-crossing manner. Lastly, paint the spaces between the lines and ta-da!

The side table is another key furniture in your bedroom and this is your chance to do something different with it. So why not make it the subject of your next DIY project? For example, you can either go rustic and traditional with this wooden stump idea:

Or take on this absolutely gorgeous DIY hack. Build a shelving unit and attach wooden legs to it, and there you have it: your own personalized side table + shelf.

Alternatively, you can upcycle a vintage wicker cat into a side table. It adds a touch of uniqueness to your bedroom. Moreover, it comes with an added bonus of extra space to keep more stuffs within easy reach. Notice the space in the bottom shelf in the picture below.

How about a cinder block side table? Pure genius, I tell you.

Another great place for DIY projects. Re-decorate your drawers with bold, bright beautiful colors or a more muted design; whichever is your fancy. The geometric square design on these drawers would keep you busy this weekend.
Your dressers need some love too
Yes, they do. If they are looking old, re-paint them. In fact, they are some of the best choices for DIY projects. Tired of their usual appearance? Then redesign their overall look with this snazzy paint job. Gold is a great color, more so with the new knobs and drawers pulls.
Don't forget your closets!
We've gone through so many decorating and designing ideas for DIY projects for the bedroom. But we cannot underestimate the importance of a well-organized closet. It gives an uncluttered feel to the room, and let's be honest, it would be way easier to search for stuff once everything has its allocated place. Deborah gives great ideas in her closet-storage articles for your bedroom. Hanging your clothes with hangers and storing your shoes in shelves and racks are great ways to achieve an uncluttered space in your room.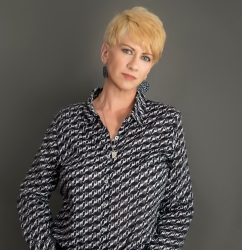 Latest posts by Deborah T
(see all)