Let's talk about how to dehydrate carrots.
Carrots are wonderfully sweet, go great in soups and stews, and offer excellent nutritional benefits.  Also, they are easy to dehydrate. And when you are ready to cook with them, they rehydrate beautifully.
Carrots are ideal for planting in your garden, especially because you can turn them about twice a year, spring and autumn.  Plant more than you will use for salads and dipping, and you can dehydrate the rest for longer-term storage.
Five best benefits of dehydrating vegetables and fruits
So why should you learn to dehydrate carrots? Here are 5 excellent considerations.
1 – Save money on escalating grocery costs
We did a video and blog post the other day revealing that food inflation is predicted in the next few months. This stems from a Russian export tax on wheat; the United States relies heavily on this supply.
If you can grow some of your produce, you can help to offset the cost of those rising costs on other products at the store each week.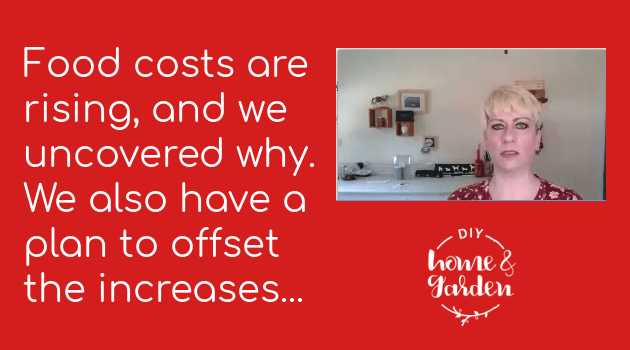 2 – Have an emergency food supply on-hand
Whether you live in a hurricane zone in the Carolinas or experience wildfires in California, you know that weather events can cut off supplies at your local grocers. In February of 2021, Texans found themselves short because of an unexpected cold snap and power outages.
We are very reliant, confident that we can pick up everything we need at our local big box stores. Well, then. Hopefully, 2020 taught us that this might not always be the case. We need to own responsibility for our families. From a virus that temporarily shut down food production to other unexpected events, let's hope we all act now to prevent this dilemma again.
Running your home-grown veggies in a dehydrator offers you an affordable way to put up food for use in such an emergency.
3 – Wonderful nutrition
When you dehydrate vegetables, they retain much of their nutritional value. You lose "some" through processing. Nevertheless, this method retains more nutrients than canned carrots off the grocery store shelf.
According to the United States Department of Agriculture (USDA), one cup of carrots provides the following nutrition:
52 calories
46.6 grams of carbohydrates
3.6 grams of dietary fiber
2.6 grams of fat
Vitamins in one cup of carrots:
A – 428%
C – 13%
E – 4%
K – 21
Thiamin – 6%
Riboflavin – 4%
Niacin – 6%
B6 – 9%
Folate – 6%

4 – Dehydrated veggies take up less storage space
When you pull the humidity out of any fruit or veg, you shrink its volume down by over 2/3. For this blog post, I dried six pounds of carrots (which a neighbor dropped off to me kindly and unexpectedly). This five pounds now occupies a one-pint jar in my dry storage space.
5 – Food retains the good flavors
Dehydrated carrots taste delicious after you reconstitute them! They lose their "snap," but the flavor remains fresh and delicious.  Don't hesitate to give this project a try!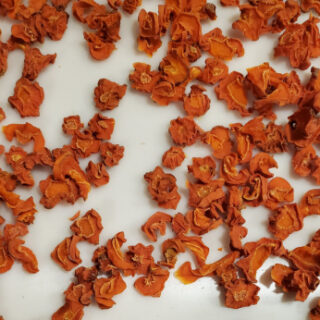 How to Dehydrate Carrots
Yield:
6 pounds (raw carrots)
Total Time:
6 hours
30 minutes
Learn how to dehydrate carrots that you grow fresh in your garden to keep them on hand all year long.
Materials
6 pounds of fresh carrots
electric dehydrator
ice
large bowl (for ice bath)
pot for blanching
Instructions
Wash and peel the carrots. Washing first will ensure you clear any bacteria, so you don't drive it into the flesh of the veggie as you peel them.
Boil a pot of water.
Cut the carrots into 1/2" thick discs. On the wider end, you might cut them in half to ensure even drying. Don't make them too small, or they will fall through your drying racks.
Blanch the carrots for three minutes
Prepare an ice bath
Use a slotted spoon or spider to remove the carrots from the hot water and place them into the ice bath.
Set your dehydrator to low (158 degrees).
Spread the carrots onto the drying racks.
Set your dehydrator for a five-hour cycle. Drying times may very depending on moisture content, humidity of your location. If it needs additional time, continue drying. Check for dryness every 15 minutes.
Notes
Carrots are ready when they are small, curled, and completely dried. My six pounds of carrots shrunk down to fit into one pint jar.
How to rehydrate carrots for cooking
When you are ready to rehydrate carrots, remember that they are going to fill with water. It's easy to overestimate how many carrots you need.
Boil a small pot of water, roughly double the number of carrots that you need.  In other words, if you're reconstituting 1/2 cup of veggies, boil one cup of water. After the water comes to a boil, shut it off. Add the carrots. Let them sit in the hot water for about 20 minutes. They will soak up the moisture and be ready to use.
The Takeaway: Learn how to dehydrate carrots for healthy veggies any season of the year
If you love gardening, please consider adding these orange beauties into your offerings. You can grow them twice per season in most US climates and dry them for later in the year. Once you learn how to dehydrate carrots, you will have a nutritious staple ready to have on hand for an emergency.  And of course, you can cook with them as you please.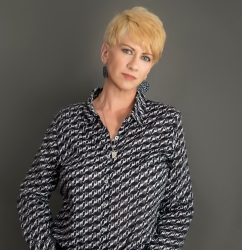 Latest posts by Deborah T
(see all)