When you type a letter "c" into your phone, is the first phrase that pops up, "coffee shop near me?"
Then all signs point to the fact that you might be a cafe-a-holic
Is your favorite spot to relax your local coffee shop? If so, why?
Do you love the casual, congenial atmosphere? Perhaps you enjoy the fragrance of coffee wafting through the air? Or do you prefer the warm wood tones and organic decor?
The great news is this–you can take your favorite coffee shop design elements and work them into your home decor.
Coffee Shop Designers "Layer" the Elements
If your favorite local hangout seems super-casual and lived-in, you can rest assured that the vibe is intentional.
Designers achieve this look by using a technique called "layering." In other words, they create charming vignettes throughout the coffee shop, and incorporate several pieces at one time to give that organic, almost-cluttered, but not too messy, look that you love.
I cruised through Pinterest today to get ten stunning design inspirations that you can work into your home decor with relative ease. Now, you can have your own Starbucks look at home!
Take a look.
1 – Burlap tablecloth
We've all seen the burlap bags that hold the whole beans. They are an iconic part of the coffeehouse experience, and they decorate with them lavishly. After all, they are a free resource for the cafe owner.
You might not be able to get your burlap for free, but it remains a very inexpensive item to purchase, regardless.
Here, someone cleverly turned rolled burlap into a full-length tablecloth. The neutral color will work for any season and add casual elegance to your home decor.
This image provides a great example of "layering." Tablecloth, nicely arranged stemware and plates, all attractively arranged.
2 – Burlap bulletin board
Love the idea of using burlap to get the coffeehouse look more casually? Try covering a plain bulletin board with burlap instead.
So many people work from home these days, so why not add this touch to the home office or work space?
This bulletin board is both chic and utilitarian–what a great use of the burlap! The hobnail finish adds something extra special.
Notice that the decor creates a multi-layer effect? You see, the bulletin board is a focal point with a nicely accessorized desk that ties together the whole look.
While you can purchase this bulletin board pre-made, you can also purchase the burlap, here, for a fraction of the price.
3 – Coffee Shop Inspired Burlap Curtains
Until I was researching decorating ideas for this article, I had never thought of burlap curtains. But do you know–they really work!
You notice how these curtains are a perfect, neutral backdrop for the room. Very organic and homey. And the fabric definitely reminds me of a bag of whole beans!
4 – Coffee shop table and chairs
It seems like all coffee shops have the iconic high wood-top tables with the skinny, high stools. Those warm wood tones add a very homey feeling that makes you want to hang out and meet new friends!
This look works especially well if you live in an apartment or have a small kitchen. The backless stools tuck neatly under the table for storage.
What a charming look!
5 – The iconic round coffee table
Another hallmark of your favorite cafe is the low, round coffee table. We love this one, with its hardwood, organic table top, and the cool metal legs.
Why a round coffee table?
Great question! Cafe owners want to make their shops places where customers are comfortable enough to stay, mix, mingle, and make additional purchases.
The round shape has an advantage over a square or rectangle in that it permits a free-flow of traffic physically. And psychologically, customers feel more comfortable without the harsh edges of a linear design.
6 – Jute rug
You'll notice at your favorite hangout that they place natural-fiber area rugs, such as jute or sisal, strategically throughout the area.
This helps to create a cozy, snug conversation zone. In your coffee shop inspired home, this will provide your visitors with that same experience.
7 – Offer a brewing station
Setting up a brewing station seems like a stroke of genius! Not only does it show off your love of java, but it also keeps family members out of your way in the kitchen!
Notice the layers of design elements? They started with a humble kitchen cart, then invited guests to help themselves by placing the Keurig coffeemaker, coffee, mugs, and other supplies within reach. They even thoughtfully hung a tea towel at the end of the coffee table to encourage people to wipe up droplets.
This setup even somewhat resembles a service station at a local cafe. Right?
8 – Countertop coffee station
Even if you cannot carve out space for a freestanding brew station, you can still dedicate a small bit of countertop to meet your brewing needs.
This homeowner put the coffee machine, cups, and several stunning accessories out to invite the family to help themselves to their shot of caffeine.
9 – Display your coffee mugs proudly
Don't hide your coffee mugs away from the world. Save up precious inside the cabinet space by hanging the mugs on the wall of your kitchen or dining room.
Mismatched mugs? Even better! Nothing says home more than a collection of mismatches. This look is so adorable and inviting.
10 – Make your Keurig k-cups part of the display
Finally, add to the intentionally cluttered with all things Java-related by putting the k-cups for your Keurig out on display, as well.
This crafter used two cake pans, a candlestick, and adhesive to stack her coffeemaking essentials: k-cups and toppings. It leaves a smaller footprint when you use the vertical space. Very clever!
The Takeaway: You can have a coffee shop inspired home with a little creative thinking
With a small investment of time and some very creative thinking, you can find ways to bring your favorite coffee shop decorating ideas into your home.
Do you love java as much as we do? Sign up below to receive our newsletter.
[contact-form][contact-field label="Name" type="name" required="true" /][contact-field label="Email" type="email" required="true" /][contact-field label="Website" type="url" /][contact-field label="Message" type="textarea" /][/contact-form]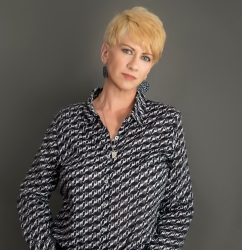 Latest posts by Deborah T
(see all)