Trying to watch your weight? Then the next time you feel like reaching for a bag of unhealthy potato chips, try this recipe instead. This a healthy, crunchy chickpea snack that cooks up in just a few minutes in your electric air fryer.
If you are on WW (formerly Weight Watchers), this is a ZERO POINT SNACK, as long as you select point-free seasonings to sprinkle on top.
And that's where you can get super-creative with flavors.
Seasoning Suggestions to Top This Chickpea Snack Recipe
Some toppings I use to satisfy whatever I'm craving are the following:
Cinnamon-sugar, using powdered stevia or another zero-calorie sugar substitute. If you don't like stevia, a little bit of sugar works, too. If you are on WW, just count your points.
Taco-flavored chickpea snack when I want something savory with just a little bit of heat.
Dill chickpeas, topped with garlic powder, salt, and dried dill weed.
Pumpkin spice. Everyone who knows me personally knows that I have a soft spot for pumpkin spice. It's a year-round indulgence for me. Please don't judge.
Garlic salt-free seasoning, like Mrs. Dash, to reduce sodium intake due to my blood pressure issues.
Cajun-seasoned chickpeas.
Sesame seed topped chickpeas for when you feel the Asian inspiration hit you.
Salt and pepper, the traditional blend. Pink Himalayan salt adds an enjoyable flavor.
Chili seasoning, this blend is delicious when I crave spice.
So as you can see, the possibilities can be endless. The main thing is to learn the air fryer technique included in this chickpea snack recipe, and then you can take it from there.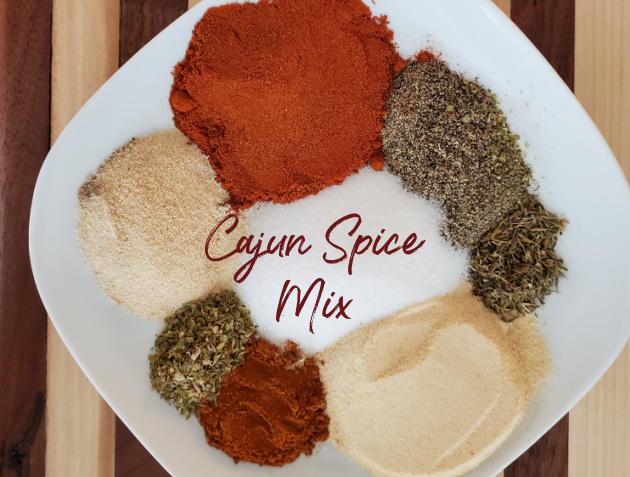 Five Healthful Benefits of Eating Chickpeas
You might best know chickpeas as the basis of hummus. But besides being a tasty dip, these versatile legumes provide these healthful benefits.
My admission. I don't like beans. Except these. The very soft texture of legumes leads only to epic disappointment in my book. But when I air fry garbanzos and crisp them up, they transform into something delicious that I actually enjoy.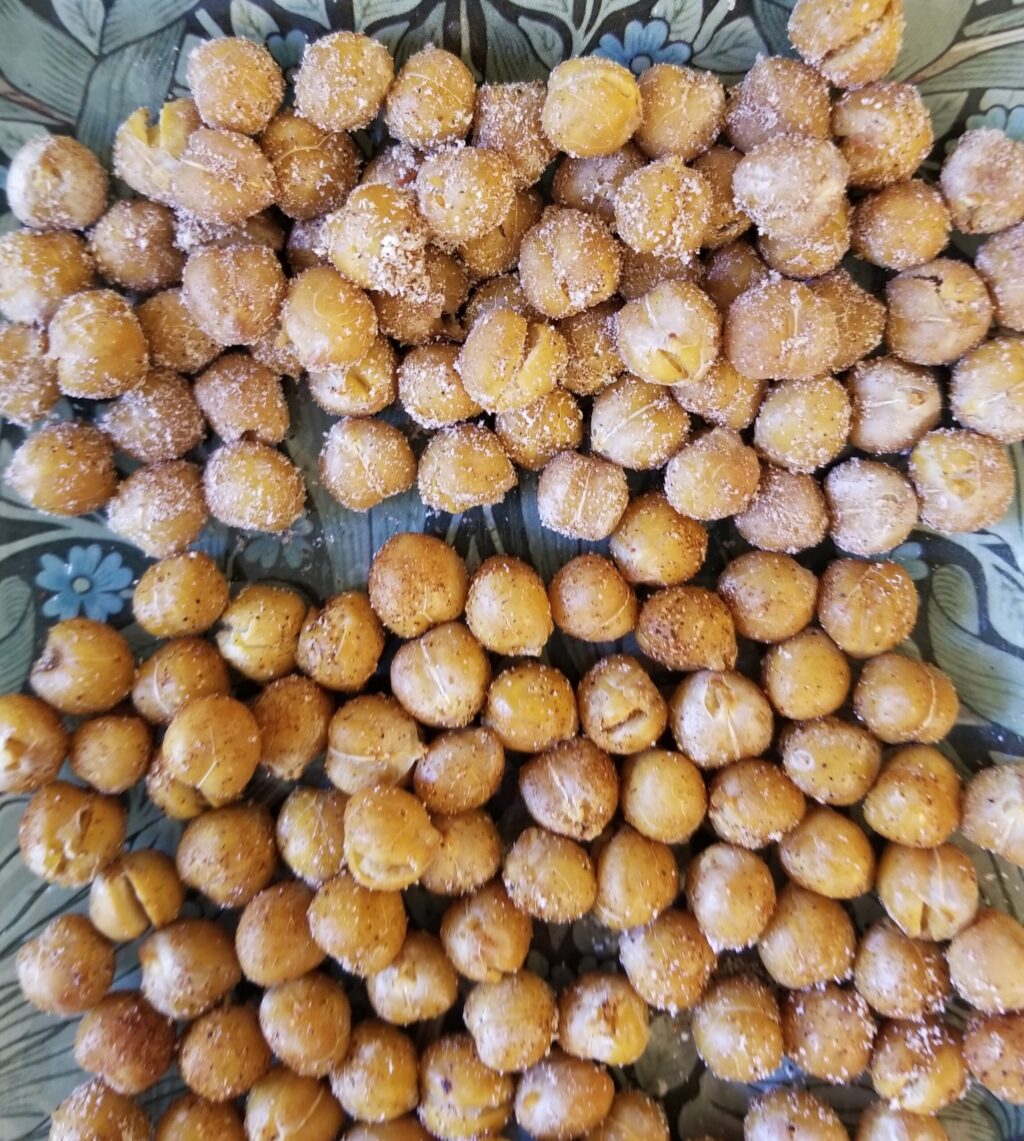 1 – Add Fiber to Your Diet
Chickpeas, aka garbanzo beans, add much-needed fiber to your diet.
Eating enough fiber improves the quality of your bowel movements, thus boosting digestive health.
One Australian research team observed a group of 42 people over twelve weeks. The study participants consumed 104 grams of chickpeas daily and reported better digestive health by the end of the observation period. As a bonus, they also reported that they ate fewer unhealthy snack foods during the study.
2 – Manage Your Weight More Easily
Garbanzo beans provide a relatively low-calorie density. Meaning…
They are low in calories when compared to the number of nutrients they provide.
Scientists agree! In 2016, an article published in the American Journal of Clinical Nutrition studied people who consumed legumes at least once daily. These participants shed 25% more pounds than the group of people who did not eat garbanzos. While this study included only a small sampling, it suggests that eating more chickpeas is worth a try!
3 – Enjoy a Plant-Based Diet
More and more people are turning to a vegan or plant-based diet. If you are one of those folks, you understand that getting sufficient amounts of protein and amino acids presents a challenge. In fact, every ounce of chickpeas delivers 3 grams of protein.
Better yet, a UK study published in the British Journal of Nutrition suggests that garbanzo beans provide a better quality of nutrition than other beans, as it contains more amino acids than the others. However, another study cautions that garbanzos lack the amino acid methionine, so be sure to source that in other food choices.
4 – Control Your Appetite
The combination of protein and fiber means that eating a chickpea snack can help you control your appetite with relative ease!
A 2017 study published in the Journal of Food Science and Technology agrees.
Their researchers asked twelve women to enjoy two separate meals. They instructed the women to consume two slices of plain white bread before one of the meals and a cup of chickpeas before the other. The women reported feeling fuller, for a longer time, after the garbanzo bean meal.
5 – Chickpeas Are Heart Smart
Chickpeas provide you with potassium and magnesium. These essential minerals help prevent hypertension (high blood pressure), a significant cause of heart disease.
Moreover, the soluble fiber helps lower your LDL (aka "bad") cholesterol, which can help you lower your risks, as proven by scientific research.
How to Make Crunchy Air Fryer Chickpea Snacks
Okay. Now that you know why chickpeas are so darn healthy let's move on. This is how I make this snack to enjoy when I want some crunchy treats–but I don't want to waste and ww points.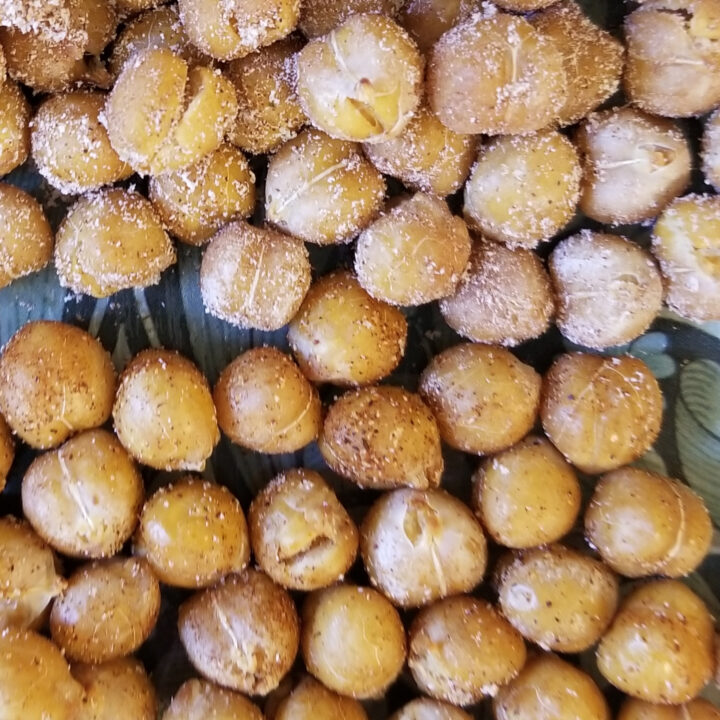 How to Easily Make a Healthy, Crunchy Chickpea Snack
This healthy and crunchy chickpea snack recipe is easy to make, and deliciously addictive!
Ingredients
On 15-oz can of chickpeas - do not use dry chickpeas for this recipe
Olive oil in the pump spray bottle
Seasoning of your choice
Instructions
Heat the air fryer to 400°F. It takes five to ten minutes to warm up, depending on your model.
While the fryer heats, open the can of chickpeas. Pour them into a colander and rinse them well. Roll them onto a clean towel and pat them dry. Discard any loose skins. ALTERNATE: If you have a salad spinner, give them a whirl in there to try them thoroughly. They must be dry to the touch.
Put the dry chickpeas into a mixing bowl. Add three pumps of the olive oil spray (not the aerosol kind, it ruins you air fryer!). Add your seasoning and coat the garbanzos. EXCEPTION: If you are frying with sugar or a sugar substitute, roll the chick peas in at the END of the cycle - doing them ahead of time will cause the sugar to burn.
Add the chickpeas to the frying basket. Air fry them for eight minutes. Check for crunchiness. Continue to fry for additional two-minute intervals and check frequently.
Add an additional dusting of seasoning if you wish. If you withheld sugary flavors, add them while they are HOT so the sugar melts and sticks to the beans.
Serve right away. These don't travel or store well, best eaten immediately.
Notes
HINT: Try replacing high-calorie croutons with this yummy treat over a salad.
Nutrition Information
Yield

8
Amount Per Serving
Calories

67
What Is the Best Air Fryer?
I have two air fryers. I like each one for different reasons.
The main one I use is my Cuisinart combination toaster/toaster oven/air fryer. It's convenient, and it sits on top of the counter.
I also have a Ninja air fryer that doubles as a dehydrator. I find that when I do a very "wet" food (like my chickpea snack), this outperforms the Cuisinart.
Ultimately, the best air fryer is the one that's most convenient for your household. Since many have multi-purpose uses, choose the one that will suit your lifestyle.
The Bottom Line: This Crunchy Chickpea Snack Recipe is Satisfying and Tasty
If you are on WW, remember that garbanzo beans are zero-point foods. However, the seasonings you add might not be, especially if you try a pre-packed seasoning. For example, a pack of dry ranch dressing might contain one point (I don't know this, it depends on whether you follow the purple, blue, or green plan).
And even if you are not on WW, but you keep your eyes open for yummy ways to eat healthier, then this recipe will become a go-to for you.
Once you see how quick and easy it is to make this chickpea snack, you will find many ways to play with the flavor profiles. See… You can indulge your desire for a healthy snack without feeling guilty. You're welcome.
If you try making this air fryer chickpea snack recipe, please connect and let me know on Facebook. I'd love to hear how it works out for you! (Because I know you will love it!)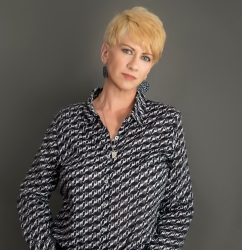 Latest posts by Deborah T
(see all)