Fresh fruits and vegetables are always the best. Of course, you know this! But we all face days when we reach into the produce drawer to find we let our carrots go moldy. Or, we merely think we lack time to get a hot meal ready. This Savory Chicken Soup fits the bill on just those days.
This recipe lets you take your canned veggies out of the pantry, add frozen chicken breasts, and create a wonderfully savory soup. It's an unfussy recipe. So if you prefer to use frozen vegetables, feel free to do so.
WW Smartpoints
This recipe creates a generous batch of soup–about eight to 10 cups.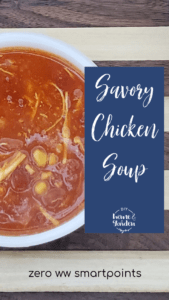 Soups work wonderfully with the WW (formerly Weight Watchers) plans because they are satisfying, well-balanced, and this one has wonderful savory flavors. You won't feel at all like you "missed out" on a delicious meal.
For those who are not on WW yet, they offer three flexible points plans: green, blue, and purple. This allows members to choose the number of points and zero-point foods they wish, according to their lifestyles.
Universally, zero point foods are most fruits and vegetables. In other words, load up on these so you won't feel hungry. (Soup is an incredible way to do that!).
Here is your ww smartpoints breakdown per one-cup serving:
WW green plan: 2 points;
Blue plan: 0 points;
Purple plan: 0 points.
About canned pantry foods
A couple of notes, here, on canned pantry foods.
They are not necessarily "bad" for you. However, some lose flavor and nutrients during the canning process. A notable exception–tomatoes. Canned tomatoes contain more nutrition than fresh! It seems the canning process concentrates the nutrient lycopene.
But here's why canned foods really get a bad rap–the sodium content. To create a demand for canned foods, they must taste good. So manufacturers add salt to the vegetables–and lots of it!
To eliminate that extra sodium, choose "reduced sodium" and "no sodium" products when you can find them. Canned pantry foods really are essential to keep on hand. Knowing you have an easy dinner solution at the end of the day can help you avoid those fast-food drive-thrus
Electric pressure cooker, slow cooker, or stovetop?
I used my electric pressure cooker for this Savory Chicken Soup. But you can also use a slow cooker or even make it on the stovetop. Cook it low and slow over several hours to allow the flavor to develop. When you have fully cooked chicken, you are ready to eat!
I do realize that not everybody shares my obsession with an electric pressure cooker. LOL.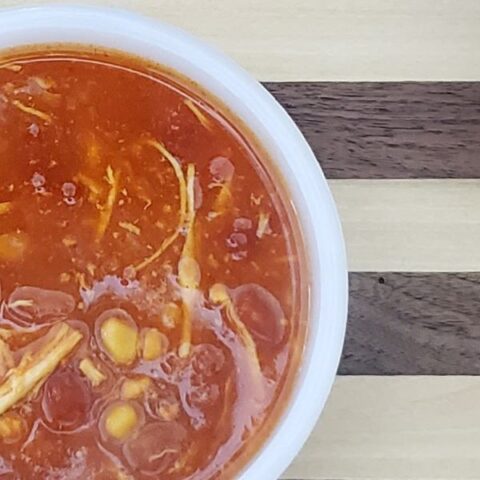 Savory Chicken Soup
Savory Chicken Soup delivers a big punch of flavor without the fat or calories. It has zero ww smartpoints for blue or purple plan and only two smartpoints for the green plan.
Ingredients
4 medium-sized boneless skinless chicken breasts
8 oz can of sliced carrots (or one cup frozen or fresh)
14.5 oz. less sodium chicken broth
14.5 oz. no sal added diced tomatoes
15 oz canned corn, with the liquid
29 oz. no salt added tomato sauce
2 packets of Goya Sazon Seasoning
Instructions
Add all the ingredients to the liner of your pressure cooker. Chicken breasts may start from frozen.
Close the pressure valve of your slow cooker, ensure a tight seal. Use the "chicken" setting. Default time is most likely 20 minutes. However, if you use frozen meat, override it to 40 minutes.
When the timer sounds, carefully release the pressure from the unit.
Remove the chicken breasts to a plate. Shred the chicken (it will be fork tender), then return the meat to the liquid. Stir and enjoy!
Notes
You may also cook this recipe on top of your stove or in a crockpot. Cook through until the chicken falls apart.
Always follow safety instructions, per your electric pressure cooker manual
Add any other veggies that you want to try, be creative.
Zero ww smartpoints for the blue or purple Weight Watchers programs; 2 points for the green plan.
Easy (and yummy!) variations on this Savory Chicken Soup
Feel free to get creative. You'll find it easier to stick with ww if you eat things you enjoy.
Here are a few fun twists, additions, or swaps you might make (just be sure to check out if it impacts your WW smartpoints)
Add black beans, red beans, or garbanzos (you will boost the protein content, helping you to stay fuller for longer)
Swap chicken for turkey (a great way to use leftovers!)
Use canned chicken meat (two cans) instead of frozen breast meat.
Wilt in some greens right before you serve the soup: kale or swiss chard would add wonderful flavor (don't pressure cook the greens. You'll get mush)
Add a can of green beans.
Instead of two packets of Goya Sazon, try a tablespoon of homemade taco seasoning or chili seasoning.
Spice it up with a pinch of cayenne pepper if you like the "hotter" flavor
Each of those is low-points or zero-points, depending on your WW plan.
Savory Chicken Soup pleases the palate without wrecking your weight-loss efforts.
Losing weight–or maintaining weight loss–is hard work. It takes time and commitment. But you are up for the challenge.
And fortunately, you can indulge your taste buds by cooking creatively and enjoy a healthy but still flavorful eating plan. Please follow on Facebook and let me if you cook a batch of Savory Chicken Soup for yourself!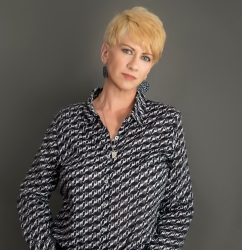 Latest posts by Deborah T
(see all)