Cheese Tortellini & Kale Salad has become a staple in my household.
Do you remember playing Never Did I Ever as a child? I can honestly say that as a little girl, I would never in a million years have thought that I would grow to love kale as much as I do.
Because I love it cooked or raw, I make a point of growing it. I pretty much eat kale in any form, as long as it's not cooked to mush.
I usually prepare a batch of this about once a week when the fresh ingredients are in season. This is a fantastic way to use up those end of the season vegetables.
The kale and tortellini have a softer texture. The cucumbers and carrots add a satisfying crunch. The grape tomatoes add a burst of acidic freshness.
This is a great dish to keep on hand for a light dinner or lunch.
---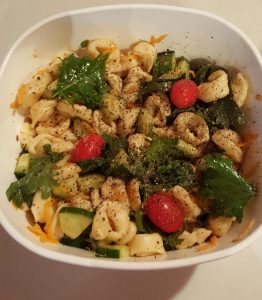 Cheese Tortellini & Kale Salad:
18 oz. bag frozen cheese tortellini
several handfuls of fresh baby kale leaves
cucumber, quartered and sliced
1 carrot, hand-shredded
handful of grape or cherry tomatoes
4 tbl basil & balsamic vinegarette dressing (recipe below)
Cook the tortellini to al dente texture. Drain and run under cold water to stop the cooking process.
Add the remaining vegetables and stir into the pasta.
Add the Basil & Balsalmic Vinegarette Dressing – I use 4-5 tbl but I like it lighter!
I sprinkle grated parmesan cheese over this just before I serve it. What's more, I like to serve this with pita chips for extra crunch. I have also stirred in pepperoni or ham to make this a full meal.
Please note: I don't add salt to my cooking due to high blood pressure. You can feel free to season with salt to your own taste.
---
Basil & Balsamic Vinegarette Dressing:
small handful of basil leaves, roughly cut
3/4 cup extra virgin olive oil
dash of crushed red pepper flakes
1 tbl. balsamic vinegar
1/2 c Basil Vinegar
2 tsp granulated sugar
1/2 tsp ground black pepper
1 tsp garlic powder
Place all ingredients in a bowl. Whisk together. Please note, this should be stored in the refrigerator. However, you will need to remove it from the fridge about an hour before using it as the olive oil will become solid in the fridge.
This is a wonderful, light vinegarette. You may adjust the amount of vinegar to your taste. Also, I am on a low-sodium diet, add salt if you desire.
Please let me know if you try this kale recipe, I hope you love it as much as I do!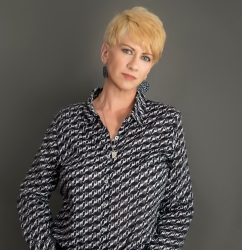 Latest posts by Deborah T
(see all)