Cheese Pepperoni Sausage Pizza Pasta is a Quick Cooker recipe that can get you from prep to served in under 30 minutes. That's right. If you live in an area where you can order food delivered, this is quicker than waiting for delivery!
You know when you have those days where you're craving Italian food but can't decide between pizza and pasta? This is a fusion of both Italian meals and solves that problem. You're welcome.
I have a new favorite kitchen tool. It's the Quick Cooker. It's lighter and easier to use than many other pressure cookers on the market.
Don't worry when you hear the word pressure cooker. This is not your Nana's pressure cooker that went rat-a-tat on the stove and looked like it would vaporize you at any moment.
I'll be honest. I'm also scared of stovetop pressure cookers. My mother still uses one. I hate it and am terrified of it!
The Quick Cooker has 3 safety mechanisms built into it, so I don't need to worry about killing myself using it. It looks like this: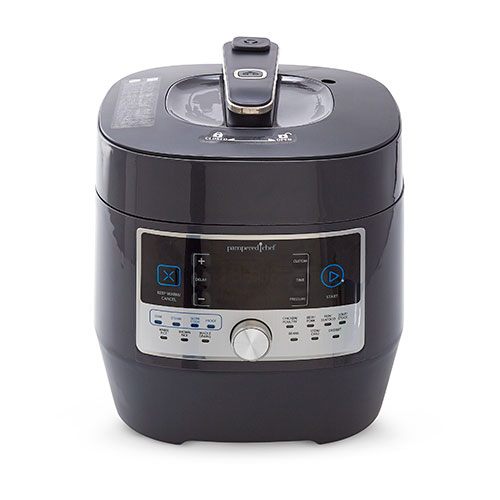 Anyways, I have grown to prefer this cooker over cooking methods because I love one-pot meals.
The concept of pizza pasta
The idea for a pizza pasta is not my own. When I first met my husband, he used to make rigatoni, top it with an awful jarred spaghetti sauce, stir in pepperoni and mozzarella, and serve it to his daughter. It was awful, but I always gave him credit for trying to feed her at home on weekends he had her rather than taking her for fast food.
All week, I was thinking about how to modify my hubby's old favorite pasta recipe and take it up a bit. I tried it yesterday, and I loved it. He loves it too, and he agreed it's better than that early effort of his.
Cheese Pepperoni Sausage Pizza Pasta
Ingredients:
1 lb. uncooked ziti
14 oz can of good pizza sauce. I used two half-pints of my home-canned pizza sauce
14 oz. can of reduced sodium chicken stock
14 oz. can diced tomatoes with Italian seasoning
2 cups shredded pizza blend cheese
14 oz pre-cooked sausage (so you don't need to worry about sausage grease or par-cooking to remove the fat)
1 cup mini pepperoni
1 tbl. oregano
1/2 sweet yellow onion. diced
2 cloves of garlic.
Making the pasta:
Prep all your ingredients first. This is very quick-cooking, so have everything ready. Dice your onion, cut your sausage into bite-sized pieces, and run the garlic through a garlic press.
Place all the ingredients, except the pepperoni and cheese into the Quick Cooker. Set it for 7 minutes. It will take a few minutes to pressurize.

Reserve the mini pepperoni and cheese until the cooker is finished. You'll stir them in last. Here. they are in my Pampered Chef Prep Bowls.

While you're cooking, you can make a nice healthy salad to go with dinner or enjoy a few sips of wine.
When the cooker is finished, release the steam and then the lid. Immediately stir in the cheese and mini pepperoni. Your pasta is perfectly cooked and should look lovely.
Serve this with some crusty Italian bread and watch your family lick the plate clean.
Get creative with the flavors, and choose the flavors your family will love. Love mushrooms or olives? Toss them in! Hate onions? Leave them out of the recipe. This really is a flexible recipe.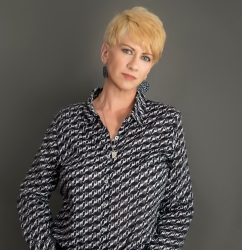 Latest posts by Deborah T
(see all)