Now that we've rung in 2018, many of us have made New Year's resolutions to lighten up on our poor eating habits, lose weight, or both! This quick and light Shrimp Fra Diavolo is the perfect way to get a big flavor that's so satisfying that you don't mind a smaller portion!
For the past 25 years, I thought I was allergic to shrimp. But after eating it my whole early life, I had two severe reactions to shrimp. Moreover, both times were after eating Chinese food. So after a recent round of allergy testing, it turns out that I'm not allergic to shrimp or shellfish.
Who knows what the culprit was? Who cares? Happy dance! Because I can eat shrimp…one of my favorite foods…again!
Plus, I just started Weight Watchers and shrimp are Zero Points. For those of you who don't know the Weight Watchers program, zero points foods are the Holy Grail. So with one cup of angel hair pasta plus the marinara, this sumptuous entree is only 8 points.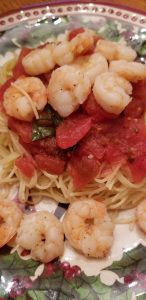 I made this dinner on New Year's Eve, so you will see it plated on Christmas plates. This would also be a fantastic Valentine's Day dinner, so keep that in mind for next month!
Fra Diavolo translates from Italian to English as "Brother Devil." It takes the name from the kick of peppery spices that you will feel from the red chili flakes. You can lighten up on the heat from this recipe if you'd like it milder. The sauce is also a great general marinara if you skip the red chili flakes.
---
QUICK AND LIGHT SHRIMP FRA DIAVOLO
Ingredients:
1 lb shrimp (I used medium so they would be bite-sized)
angel hair pasta
prepared marinara sauce (I used my home-made marinara from fresh produce)
1/4 tsp. red chili flakes
Black pepper
Salt
Instructions:
Clean the shrimp. Remove the vein and gently pinch the meat out of the tails. Then season with salt and pepper and set aside.
Put the marinara and chili flakes into a pan together. I like to put it in a skillet so it heats quickly. I also use the same skillet to cook the shrimp so I have one less pot to wash. Set it to simmer as you cook.
Cook the angel hair pasta to al dente texture. Drain it and plate it.
Place a good helping of marinara over the pasta.
Get the skillet the marinara was in screaming hot. Then add the shrimp and cook about one minute each side. They will curl up and become opaque. Remove them quickly so they don't turn to a rubbery, hard texture.
Place the shrimp over the pasta and marinara. You can sprinkle additional chili flakes over the shrimp if you want more heat.
Your serving portion is 1 cup of pasta and 1/2 cup of marinara for the 8 points. However, use your app to scan the barcode on the sauce to ensure your brand totals the same.
Final Thoughts on Shrimp Fra Diavolo
As always, feel free to experiment with this recipe. In addition to adjusting the number of chili flakes, you can play with the pasta. You can use a whole grain pasta, the green spinach pasta, or even zoodles if you like. In fact, I think the next time I make this for dinner, I will try the zoodles myself!
In case you are wondering, zoodles are zucchini noodles that you make with a KitchenAid spiralizer.
Please let me know how this recipe works out for you! I love hearing comments and learning how you adapt the recipes. If you love this recipe, we recommend you check out our delicious low-ww points shrimp and grits, also!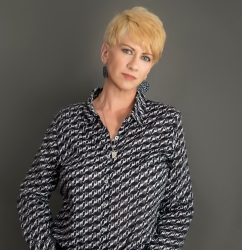 Latest posts by Deborah T
(see all)