Consider all of the following backyard ideas and don't be afraid to get creative with your gorgeous garden.
Your backyard is your pride and joy. You would spend hours on end out there every single day if you could. When it comes to getting your fingers green nothing brings more delight to you, but you are always looking for ways to go bigger and better than before. You want to make some much-needed changes to your backyard to make it look even prettier than it already is. Whether you install more perfect plants or you change up your outdoor furniture to match your new style, there are so many ways to boost your backyard game.
1 – Perfect Plants
When you have a sizeable property it can be very difficult to create the wow factor you are looking for without blowing your budget. The best way to make a huge impact outdoors is to fill your yard with gorgeous greenery and perfect plants. If you are new to the world of gardening then look into hydroponic kits. This setup will help you to get your garden plant systems up and running in no time. You will be able to create a stable environment to keep your new plants flourishing. As long as you maintain the temperature, nutrients, and water for your new outdoor additions you will have a stunningly picturesque backyard to admire in no time.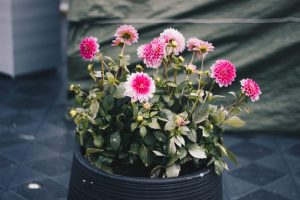 2 – Divine Decking
Adding some divine decking to your outdoor space will bring that extra touch of sophistication instantly. If you are the type of person who loves to host and invite guests around then decking is the ideal addition for you.
Choose a solid wood decking that is going to compliment your outdoor space; most people choose to have their decking installed as an extension from their patio or back door. This allows you to walk straight out onto the terrace smoothly without having to navigate through any grass or dirt.
Keep on top of the upkeep of your decking by hiring a power washer regularly and touching up the paintwork every year.
3 – Fabulous Furniture
Updated outdoor furniture is a must-have if you are a regular host; you want your guest to feel comfortable and relaxed outdoors so you need to find furniture to complete the entire look.
Depending on how much space you have to work with, you might want to invest in a large comfy corner sofa with vibrant colored cushions to make it pop. If you're working with a smaller space then a cute table with a few chairs can be just as comfortable.
In order to save space on storage, you could invest in rattan style garden furniture that fits neatly into a cube shape when it's not in use.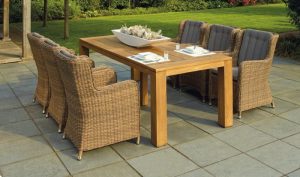 Wrap Up: Try These Backyard Ideas
So bring a touch of color to your outdoor space with gorgeous greenery and fabulous furniture. No matter what season it is, you will have an outdoor space to be proud of and your guests will always be impressed by your green-fingered skills!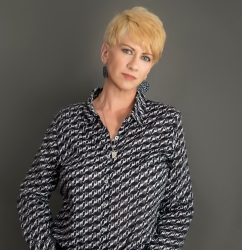 Latest posts by Deborah T
(see all)