After battling through yet another brutal winter and erratic spring, the summer months are your patio's prime time to shine. Is it ready to become party central for you and your guests? If the answer is "no," then don't worry. No matter what your budget, there are plenty of ways to give your patio upgrades it needs to become the envy of the entire neighborhood.
In fact, patio upgrades could be a smart financial decision that pays off in the long-term. According to Remodeling Magazine's 2019 Cost vs. Value report, the expected return-on-investment for a mid-range backyard patio is about 55 percent.
With that in mind, are you ready to give your outdoor living space a much-needed makeover? Take your patio from bland to beautiful with these budget-friendly backyard ideas.
Decorate with Cozy Furnishings
Let's face it. Patios aren't meant to be enjoyed in solitude. To make your space more inviting for guests and feel cozier, upgrade your mismatched lawn chairs with a stylish conversation set.
While conversation sets are super affordable and comfortable, you don't need to stop there. Here are a few more backyard ideas to enhance the coziness of your patio:
Floor cushions – Working with a small space? Floor cushion seating is perfect for tiny patios and comes in a bunch of fun patterns that will add a touch of personality to your backyard.
Blankets – It can get surprisingly chilly in the summer. Skip the expensive heaters and keep cozy blankets on hand for you and your guests instead.
Rugs – A chic rug can enhance your outdoor space while providing warmth underfoot. If you don't like your current patio flooring and aren't ready to install new outdoor flooring, rugs can also help disguise an outdated patio floor.
Punch Up Your Patio with Deck Tiles
Is your existing patio flooring looking a little worse for wear? If it's time for a replacement, consider using deck tiles to build a stylish new patio. Deck tiles are inexpensive and come in a variety of colors, patterns, and styles, from wood and composite to porcelain and natural stone.
To top it all off, they can easily be installed by DIY beginners and are even easier to maintain. If you love the style of deck tiles, you don't need to stop at your patio. Deck tiles can also be used for garden pathways, gazebos, hot tub surrounds—name any solid, level surface, and deck tiles can probably be used to enhance the space.
Grow Low-Maintenance Plants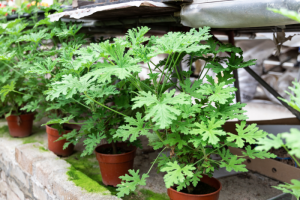 Potted plants are easy to care for; and, if you choose plants to repel mosquitoes, you'll enjoy your space even more.
Growing your own plants can provide a slew of benefits to not only your backyard, but your health as well. According to a 2010 study published in the Journal of Health Psychology, gardening for just 30 minutes was shown to reduce stress levels in subjects.
Despite these health benefits, investing your time and money into planting expensive blooms can be risky when you have a black thumb. The solution? Opt for low-maintenance plants instead.
Peonies, lilacs, hyacinths, and hydrangeas are just a few hard-to-kill flowering plants that will add color to your patio. Resilient hakone grass and dogwoods are also worthy additions to your landscaping and can add variety to your blooms.
Install Energy-Saving Lighting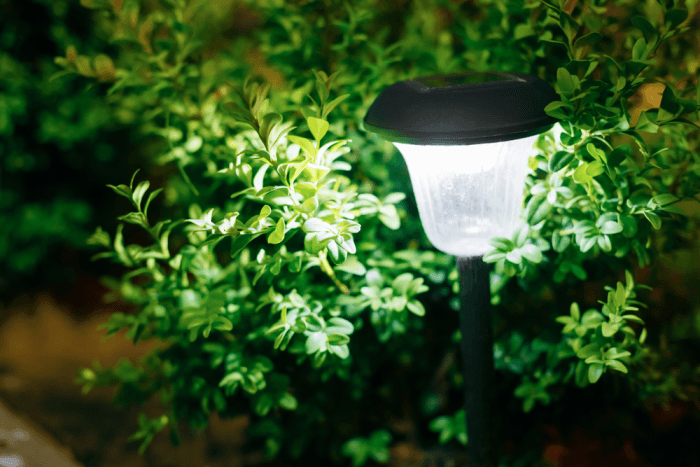 No patio upgrades are complete without mood-enhancing lighting. Skip the incandescent light bulbs and choose energy-saving bulbs instead to illuminate your stylish patio while reducing your energy costs.
Planting solar garden lights along your patio is a beautiful way to show off your landscaping. Best of all, solar landscape lighting is cost-effective and eco-friendly because it uses stored sunlight to power the lights after dark.
Additionally, think about installing motion-sensored lighting that turns off when you aren't in the area. Lights with motion detectors can also illuminate intruders, potentially scaring them off.
Build a Stone Paver Firepit
Patio paver or stone firepits won't rust away like their metal counterparts.
While portable fireplaces will do the job in a pinch, nothing beats the look of a decorative fire pit made with stone materials. Fire pits can heat up you and your guests on chilly summer nights while providing warmth and comfort well into the fall.
Creating a stone fire pit can be relatively inexpensive, especially if you decide to build it yourself and don't splurge on the fanciest stones you can find. Just remember to check local ordinances to ensure that you don't need a permit to build your firepit.
Install a Water Feature
If you want to transform your patio into a relaxing retreat, installing a water feature such as a fountain or pond is an effective way to make your patio a true backyard oasis. Listening to the gentle trickle of water can make you feel calmer and put you in a meditative state.
Water features can also serve as the focal point for your backyard and make a lasting impression on potential buyers down the road. The key is to choose the right water feature for your space. A fountain that may get swamped in a large garden will look right at home in a smaller space, while a pond is a perfect addition for a medium to larger-sized backyard.
This is a fabulous idea when researching patio upgrades!
Create Privacy
Nothing ruins a relaxing backyard retreat quite like nosy neighbors watching your every move. Give your outdoor living space some much-needed privacy by building structures to keep out peeping toms.
Planting shrubbery is perhaps one of the easiest ways to create privacy on a budget. If you don't have a green thumb, be sure to check with your local nursery to see which shrubs will work best for the intended purpose.
If tall hedges and shrubs aren't your thing, then consider installing a low-cost trellis instead. Buying a trellis is relatively inexpensive, but you can spruce it up further by painting it a bold color and adding plants to enhance privacy.
If you have a pergola, installing outdoor curtains can help shield neighbors from view. Just make sure that you choose curtains that are UV-resistant and weatherproof.
The Bottom Line: Get the Luxe Patio Upgrades You Want for Less
As you can see, you don't need to go broke while trying to spruce up your patio. With these DIY patio upgrades, you can easily transform a boring space into a luxurious paradise you've always wanted. Just remember to give your patio the regular TLC it needs so you can enjoy it for years to come!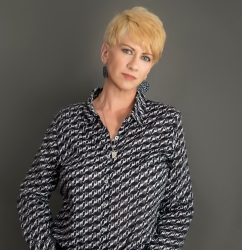 Latest posts by Deborah T
(see all)