If you are ready to redecorate and renovate your bathroom, you may have been putting it off because of the costs that can be involved. From having to change the plumbing, to getting new fixtures and tiles, the cost can really add up. But here is some good news; you don't need to spend huge amounts of money to be able to transform your bathroom into a relaxing and updated space. There are lots of ways that you can do a bathroom redesign on a budget.
According to a Remodeling Magazine's Cost vs. Value report, the average cost of a remodel can cost in excess of ten thousand dollars, but that can quickly rise if you are looking for luxury touches. But the thing is, through doing a lot of the work yourself, as well as looking for a local plumbing contractor, you can reduce that by more than half. So there will be something that you can do to update your bathroom, whatever budget you have. Plus, a bathroom renovation is something that can help to add value to your home, so that is something to keep in mind.
So with all of that in mind, here are some of the ways that you can renovate, but keep things within budget; is there anything else that you think you would add to the list?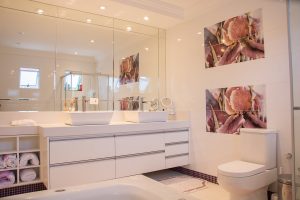 Reduce How Many Tiles You Use
Tile, and having someone to install them, can get pretty expensive, pretty quickly. So to save money, it can be a good idea to limit the number of tiles that you use in the bathroom. It could just be around the shower, rather than the whole bathroom, for example. You could also choose an alternative material for flooring, instead of tiles. When there is a large surface to cover, it will really add up. You could always mix up some more expensive tiles with some cheaper ones if you have your heart set on a particular design.
Paint (the cheapest bathroom redesign!)
If you don't have a lot of money to spend, then repainting the bathroom is going to be one of the cheapest ways to make it look like new. There is something to think about, though; it may take quite a while to paint it all. The reason being is that you will need to paint slowly and carefully around the bathroom fixtures. So it might take more than just a weekend to get it done (if you are doing it alone and yourself). Another thing to think about is the kind of paint that you choose. Make sure that you choose specific bathroom paint, as it will really help to reduce any mold and mildew that can so easily develop in a bathroom. As such, the paint may be more than regular paint, but it will be worth it in the long-run.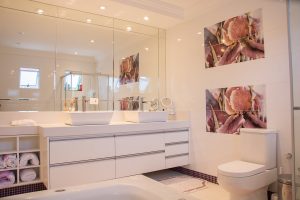 Updating Fixtures
No doubt one of the main reasons to update your bathroom is so that you can update the fixtures and fittings, from sinks to lighting and mirrors. But the good news is that there are things for all budgets. Make sure that you shop around, and look for sites online, so that you can compare prices and get the best deal for what you need.
It is important to remember that you don't need to get things from the same place either. Again, shop around. You could also find vintage fixtures like towel rails or mirrors and lighting in secondhand stores, for a really unique look. Every time you use something old instead of something brand new, you will be saving money but also helping to reduce waste. Don't forget to give anything back too. Things that you take out of your bathroom can be donated to charity stores.
Fresh Caulk and Grout
A simple way to make a bathroom look like new is to make sure that the grout and caulk are updated and fresh. It can easily show grime and mold, as in most cases, grout and caulk are white. And it looks bad when it is dirty and stained. Cleaning could be all that you need, but there are also other things that can make a difference, like giving it all a fresh coat. They are both cheap and inexpensive, but can leave the bathroom looking bright and fresh, with no mold in sight.
Have you recently thought about redoing your bathroom? From large to small bathrooms, these strategies will all help to keep your budget down. Do you have any money-saving ideas that can be used for redesigning or redecorating a bathroom?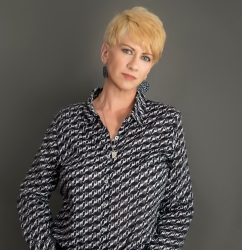 Latest posts by Deborah T
(see all)