Many times, people choose to avoid home improvement projects because they think it means shelling out hundreds (or thousands!) of dollars. That doesn't have to be the case when you tackle a DIY bathroom remodeling project and have a few tricks up your sleeve.
When it comes to remodeling your bathroom, there are many ways to save money without cutting corners. Making home improvements on a budget doesn't have to mean settling for something low-quality.
So, whether you want to replace your bathroom vanities (and, you can check out some great ones here: https://www.uniquevanities.com/black-bathroom-vanities.html), redo your floors, or just change up the decor, here are a few DIY tips you can use on your bathroom that won't break the bank.
3 DIY Bathroom Remodeling Tips for Any Budget
1 – Update Your Walls
If you really want to change the look of your bathroom, change the walls. It's a weekend project that can give your bathroom a completely different feel. If you have an outdated wall texture, smooth it out. Old wallpaper cramping your style? Rip it off or install more contemporary paper.
Even a fresh coat of paint can go a long way toward a different look. Lighter colors with less contrast will help the bathroom to seem bigger. So, if you have a small space and you want it to appear less-cramped, choose brighter colors that coincide with your appliances.
2 – Upgrade Your Fixtures
Changing out your bathroom hardware is a quick and easy way to upgrade your look. Nowadays, rustic and farmhouse looks are very trendy, but you can also go for something sleek and modern. Changing out your faucets, showerhead, and other wall fixtures will take less than a day. These changes can stand alone, or be used as a finishing touch or inspiration to do more later!
It's easier than you might think to do something like changing a showerhead fixture. Take the time to do your research on bathroom remodeling before you get started, and you can save a lot of money by doing it yourself instead of hiring a plumber.
3 – Add Fashion to Function
The bathroom is one of the most functional rooms in a house. It serves specific purposes, but that doesn't mean it can't be a room you enjoy spending time in. It should still feel like your space and showcase your personality. So, by adding a few personal touches, you can really upgrade your bathroom to feel more like a special room in your home, rather than just a "functional" space. Try some of these details when you are remodeling the bathroom:
Hanging wall art

Replacing/updating shower curtains or towels

Adding shelves for personal items and more storage

Laying down a decorative rug/bath mat
The Takeaway: Try These Bathroom Remodeling Tips
Don't be afraid to get creative with your bathroom, no matter how big or small the room is. You don't have to blow your budget to update your bathroom and make it a place that feels more like a home spa experience for you, your family, and guests. You only need a few hours of time and a little "DIY hacking" know-how to create the bathroom space you've always wanted.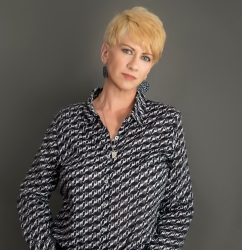 Latest posts by Deborah T
(see all)