What's your favorite room in your home? Is it your living room, a place for all the family to get together to talk and play? Or perhaps your bedroom, a haven of peace and rest. For many though, it's the bathroom – a place where you can take long hot showers or soak in a bath while the rest of the madness carries on around you.
But if your bathroom is more stressful than tranquillity, how can you transform it into a sanctuary of clean lines and calming curves? We take a look at how to get your bathroom on point.
Think Simple
Bathrooms don't have to be fussy. You don't need lots of little gadgets or ornaments, think clean, neutral colors and a collection of clutter-free shelves. They don't have to be bright white, as so many bathrooms tend to be, perhaps create a feature wall with a pale grey or green and find some bath towels that match.
The same goes for your bathroom suite. What are you focussing on most in your bathroom? Are you planning on creating an impressive walk-in shower with a huge shower head for that feeling of being in a tropical downpour or are you more at home in a warm bath with a face mask on and lots of bubbles?
Now is the time to think about your style and whether you're going to opt to remove your bath completely or instead make it a stand-alone feature in your room.
Plan Around Your Budget
As ambitious and exciting as your plans are, ultimately they have to fit around your budget. Avoid disappointment by planning early enough for what you want and don't rule out second-hand sites online or even antique shops and vintage furniture reclamation yards.
Get your bath and shower essentials first and build everything around them, including your basin and toilet.
For beautiful but cheaper shelving consider buying some scaffolding planks and having them sanded down ready to grace your beautifully painted walls.
It may be that you have to work on your bathroom a little at a time, from month to month but that's just fine. Consider it a monthly investment that's well worth your time, money, and patience. At the end of the process, reward yourself with some new bathroom linen for that polished effect.
Enjoy!
Even if it's your bedroom that currently features as the room's focal point, the chances are that when you've transformed your bathroom from cluttered shambles into a chic, haven of peace and calm your loyalties are going to shift quite dramatically.
As with all areas of DIY, plan ahead, do your research, and carefully plan your budget before you start stripping any wallpaper or buying any paint. Create a logical order to your jobs, usually getting anything out you don't need first and then you'll be ready to get underway. A little touch here and a matching towel there and you'll be fighting for bathroom time with the rest of your family, eager to take advantage of your brilliant handiwork.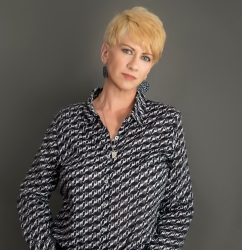 Latest posts by Deborah T
(see all)