This recipe might prove to be the moistest, best walnut banana bread method you'll come across online.
Not only will you turn out a wonderful, light-textured, satisfying loaf, but you'll also make three loaves in one batch. This quantity allows you to enjoy one loaf now and freeze the other two. Moreover, this bread retains its moisture in the freezer. Some banana bread recipes dry out in the freezer, but this one does not disappoint.
My hubby loves walnut banana bread. I was (past-tense) purchasing it for him at the local grocer in the form of a national brand that makes several flavors of breakfast bread and bagels. The cost of the loaf was always $3.29. However, it always carried a buy one, get one free price. That's no longer the case. Using two slices per morning as toast, we use a loaf every few days–two loaves weekly.
As a result of the current food inflation, I decided to go back to my favorite banana bread recipe, trim down the cost of almost $7 a week on bread (after tax), and make it myself. After I baked it, I sliced off a beautiful slice and bit in. Immediately, I remembered why I love this bread–it's so flippin' good!
Variations of Walnut Banana Bread
If you love banana bread but don't love walnuts, you can use this basic batter to come up with some delicious varieties on your own.
Consider swapping out–or adding–some of these delicious alternatives:
Pecans (pecan banana bread is so good)
Peanuts
Almonds
Cranberries
Raisins
As always, I'd love to hear about your success stories, so be sure to share your creative ideas with us on social media.
Walnut Banana Bread Recipe
Other than saving money, why would you want to make three loaves at one time?
In my case, it comes down to ease of cleaning up. If I want to bake something, then I can make the mess in my kitchen just once instead of three times! This recipe not only saves you money, but it also saves you time!
Best Banana Bread for the Freezer (Stays Moist!)
Additional Time:
10 minutes
Total Time:
1 hour
25 minutes
This Banana Bread recipe makes 3 loaves in one baking session (36 slices). Enjoy one fresh loaf and put up two for the freezer. Stay moist, slices beautifully!
Ingredients
12 ripe bananas
1 1/2 cup of white, granulated sugar
3 large eggs, beaten
2 sticks melted butter
3 teaspoons of vanilla extract
3 cups of bread flour
8 ounces of chopped walnuts
Three teaspoons of baking powder
Three teaspoons of baking soda
3 generous teaspoons of cinnamon
1 1/2 teaspoons of table salt
Instructions
Preheat the oven to 350° F. Grease three 9x15 bread loaf pans with cooking spray, shortening, or butter.
Put the bread flour, baking soda, baking powder, cinnamon, and salt in a medium bowl. Whisk them until you combine them. NOTE: If you don't have bread flour, you can use all-purpose, but your finished loaf will have a slightly denser texture.
Peel the bananas put them into a large mixing bowl, and mash them until they are relatively smooth. Add the sugar, egg, melted butter, and vanilla extract. Mix these together.
Slowly add in the bowl of dry ingredients. You want to stop when everything is combined.
Stir in the chopped walnuts.
Pour the banana bread batter into the three prepared bread pans, splitting the contents evenly.
Bake the bread for one hour. Sides will pull slightly away from the pans. Test by inserting a toothpick - it should come out clean.
After you remove the loaves from your oven, let them cool in the pan for ten minutes. Firmly, quickly flip the bread out onto a cooling rack. After it cools completely.


Notes
I use my KitchenAid stand mixer to make this bread. However, a hand mixer will work equally well.
Once baked, use within two days - I keep mine in the fridge, as the high moisture content means it grows mold quickly!
Nutrition Information
Yield

36
Serving Size

1 slice
Amount Per Serving
Calories

220
Nutrition data is approximate.
Preparing the Loaves for the Freezer
Here are the tips for freezing your baked goodies. Did I mention how moist these remain in the freezer? They freeze well for about three months–if they make it that long!
Be sure to cool the loaves completely before you freeze them. Trapped humidity in the freezer bags turns to ice crystals later.
Keep the loaves whole, do not slice them before you freeze them; this helps them retain their moisture.
Wrap each loaf of banana bread in plastic wrap. Ensure snugness, but don't smash them.
Next, place the bread into a freezer-safe bag, marking the date. If you use a vacuum sealer, stop sucking out the air before you mash the bread–go easy!
When you are ready to enjoy, remove the banana bread from the freezer about four hours in advance, and thaw it at room temperature.
The Bottom Line: Make Three Loaves of Walnut Banana Bread to Save Time and Money
When you find bananas or other baking supplies on sale, take the opportunity to stock up. Then, put your finds to good use by stocking your freezer with baked treats you can enjoy later. This recipe makes the best banana bread for the freezer that I've tried–and I have tried many! This retains its flavor, stays moist, and slices without crumbling. So put on that baking apron, and get to it. Have a happy DIY day.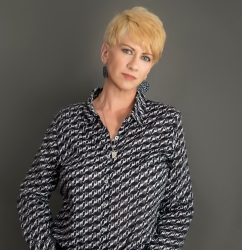 Latest posts by Deborah T
(see all)