Did you know that you can freeze eggs with just a few short moments of prep time? In fact, this project is so simple that even a novice to freezing and food preserving can pull it off!
In fact, people are looking today to save money on their grocery bills than at any time in recent memory. Not only are food costs skyrocketing at record pace, but supplies seem to be extra-short on the store shelves. Thus, more people are trying to shop for bargains and preserve foods when they find good deals than in decades past.
Eggs are one such staple food item. They are quick to make, super nutritious, and less costly than other proteins. Despite their relatively low cost, their price has also seen significant price spikes over the past six months or so. The 18-pack of eggs that many people rely on to feed their families jumped from $1.89 to $2.81 at my local store over the past several weeks.
One way to offset that rising cost is to purchase and then freeze eggs on weeks you find them at a better price. Conversely, you can buy a bulk package and make the costs even lower once you master this technique. Many supermarkets have them in two 18-packs shrink wrapped together. Other stores even sell five dozen packs–the most affordable option.
So are you ready to learn how to freeze eggs?
A Note About the Measurements
Each large egg measures to be about 1/4 cup. If you want to use your finished product for baking, use two full-size muffin tins to fit a whole large egg per muffin well. You will have six empty wells.
I had pulled out a mini-muffin tin because I did not have room in my freezer to spot two trays. That mini-sized tin perfectly fit 18 eggs into the 24 wells. So each frozen egg is about the size of a medium egg instead of a large one. Since I will only use them for making scrambled eggs, adding as a meatball binder, and making my favorite breakfast casserole, that works for me. However, the same method works for either size–just keep a mental note not to bake with the smaller sized ones.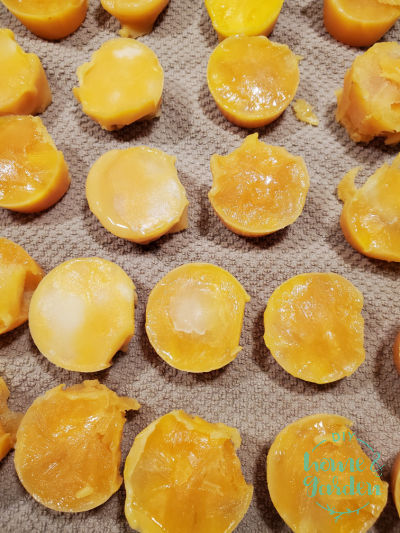 Kitchen Tools You Need to Freeze Eggs
Besides eggs, cooking spray, and canning salt, you need to get just a few other things ready:
A batter bowl with a pouring spout to easily transfer the eggs for freezing
A muffin tin (sized as you choose, as mentioned above)
Butter knife
Aluminum foil
Food storage bags
How to Freeze Eggs
Are you ready to learn how to beat those ever-rising grocery prices and freeze eggs? Here's how.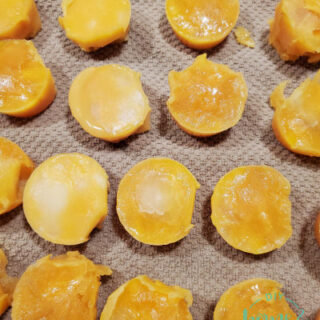 How to Freeze Eggs in 6 Easy Steps
Total Time:
6 hours
10 minutes
Beat the ever-rising food costs by learning how to freeze eggs. Purchase them in bulk and store them for later use.
Ingredients
Non-stick cooking spray, butter flavor
18 large eggs
1 1/2 teaspoons of canning salt
Instructions
Very lightly spray a muffin tin with butter-flavored cooking spray. Wipe out excess. You don't want the eggs oily, but you do want them to release easily.
Crack the eggs into a batter bowl, and add the canning salt. Do not skip the canning salt, as it prevents the eggs from freezing into a gummy or gritty texture. Although they are edible if you skip this, they will not be appetizing.
Whisk until you break up all the yolks, but don't over-whisk or you will create air bubbles. I like to use a batter bowl with a pouring spout.
Pour the eggs into muffin tins. If you want a whole large egg per muffin well, use regular-sized muffin tins. If you want them on the smaller size (more the size of a medium egg), use a 24-well mini muffin tin (mini sized are in the photos).
Lightly spray cooking spray on aluminum foil, cover and freeze the eggs for about six hours. It's helpful to create a flat spot in your freezer before you start.
After they freeze, remove the muffin tins from the freezer. Run a butter knife around the rim of each one to gently loosen--they will pop right out!
Notes
Other Kitchen Tools You Need:
Batter bowl with a pouring spout
Whisk
Muffin tins
Storage bags
Butter knife to release the eggs from the tin
Aluminum foil
Storing Your Final Product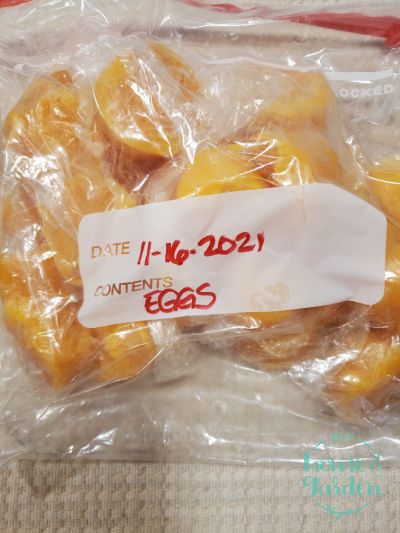 When you remove the frozen goodies, running a butter knife to loosen will help them pop out. But you must have the storage bags ready quickly, as they are quick to defrost. I placed four of my now frozen eggs in one small sandwich bag, for a total of six little bags. Then I placed all six little packets into a larger freezer bag and marked the date.
Once you freeze eggs, they are good in the freezer for about six months. However, once you are ready to use them, defrost them overnight in the fridge and use them right away. Enjoy this egg-cellent way to save money on your family's grocery bill.
If you want to learn another method of preserving, check out our article on how to dehydrate powdered eggs–no freezer space needed!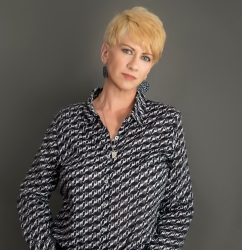 Latest posts by Deborah T
(see all)