Pecan bars are so rich and scrumptious, but they can be somewhat labor-intensive to prep and bake. However, this recipe makes it easier by using a semi-prepared method. That's because you will use a packaged chocolate chip cookie mix as the base layer of the bars.
About these chocolate chip pecan bars…
They have three distinct but flavorful layers.
The base layer contains a chocolate chip cookie layer, a familiar favorite that has a gooey texture that has just enough "weight" to hold up as you pop it into your mount. The next layer adds a pleasing, classic pecan crunch. And the top later has a brown sugar and vanilla layer with a buttery richness that keeps the entire pecan bar from becoming too sweet.
How I Developed This Recipe for Chocolate Chip Pecan Bars
This recipe came about out of necessity. I wanted to bake my hubby some pecan bars as a treat. But sadly the local store was out of all-purpose flour. Where I live, we have one grocery store in the entire rural county. So a substitution was needed–and instead of purchasing flour and chocolate chips separately, I picked up a bag of chocolate chip cookie mix.
What a happy adjustment these turned out to be. In fact, they turned out better than my original recipe.
What Is Semi-Prepared?
Semi-prepared or semi-homemade recipes gained popularity thanks to the Food Network show Semi-homemade Cooking with Sandra Lee. Lee's concept was to elevate packaged mixes and "helpers." Lee explained that a blend of 70 percent pre-mixed and 30 percent fresh foods. This concept made cooking at home easier for beginning home cooks and busy working people.
The show remained wildly popular for several years.
While food critics and healthy eating advocates scoffed at the show, Lee's followers loved all the tips for taking basic convenience foods –cooking at home and skipping the fast food lines. Perfectly healthy? No. Better than takeout every day? Absolutely, 100%, yes!
How to Make Chocolate Chip Pecan Bars
Are you ready to pop this delicious treat into the oven?
Kitchen tools you need for making chocolate chip pecan bars:
Gather these supplies before you start baking your goodies.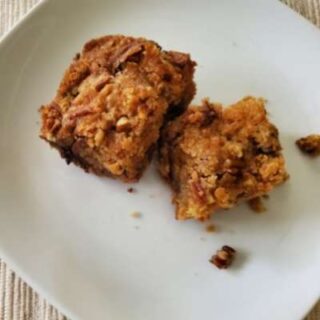 Buttery Chocolate Chip Pecan Bars
Additional Time:
10 minutes
Chocolate chip pecan bars taste rich and delicious, but you'll find them easy to make with this semi-homemade recipe. So buttery!
Ingredients
One 17.5 oz envelope of Betty Crocker chocolate chip cookie mix
1/3 cup of vegetable oil
One egg
Two tablespoons of water
One cup of chopped pecans
One cup of light brown sugar
1/2 teaspoon of pure vanilla extract
Two tablespoons of salted butter
Non-stick baking spray
Instructions
Preheat oven to 375°. Spray an 8" glass baking dish with baking spray.
Add chocolate chip cookie mix, vegetable oil, egg, and water to a mixing bowl. Use a wooden spoon to mix the dough until fully mixed. Break up any dry clumps as you mix this.
Spread the cookie dough evenly into the baking dish.
Chop the pecans and layer them evenly across the top of the cookie dough. Ensure that every bar has a pleasant pecan crunch!
Mix the top layer of the bar by putting the brown sugar and vanilla into the same mixing bowl you already used (no need to make another bowl dirty). Then cut in the butter, in small bits at a time. Drop the topping in a thin layer over the pecan layer.
Bake the pecan bars for 35 minutes. After the timer sounds off, leave the pecan bars in the oven for an additional 10 minutes--keep the door closed. Remove and place the pan on a cooling rack for a few minutes. Then you can cut and serve.
Notes
Prefer walnuts? You can make chocolate chip walnut bars instead by swapping out the nuts!
The Takeaway on Chocolate Chip Pecan Bars
These chocolate chip pecan bars are so easy to make that you will turn to this recipe over and again. Please connect on social media to let us know how it works for you–but I'm confident you will LOVE them. Until the next time, have a happy DIY day.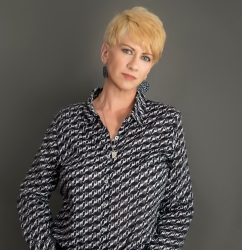 Latest posts by Deborah T
(see all)