I was recently approached by The Bedroom Place about a guest post on the Top 10 Bedroom Designs for 2018.
As I mentioned last week, my bedroom has serious need of a master suite makeover. So the author query caught my interest, and this article is the result. I love the information on what bedroom furniture is trendy today.
Enjoy!
RELATED POST: 10 Smart Ideas for Bedroom Decor
---
As a company, we specialize in complete and fully assembled bedroom design/furniture. With a wide array of choices giving you the ability to pick and choose an assembled unit that can suit your interior décor and theme.
Our large warehouse accommodates a large showroom that displays most of our designs. This lets you have a feel and help you make a choice best for your home.
Why Do You Want to Redesign Your Bedroom?

With the New Year coming along, certain designs tend to take the lead when it comes to trends. So, whether it's a new modern contemporary design or a rendition of a few classics you have a wide array of choices.
Many of us want something to change, and what place is better to re-create than your bedroom? In fact, this is the room where you spend most of your time reflecting on a lot of things. So to help you make a choice, here is a list of our Top 10 Bedroom Designs for 2018.
Knights Bridge Gloss Furniture

One of our best sellers. Its beauty and elegance are impeccable.
Finishes come either in high gloss or calming natural finishes.
Boasts exceptional durability using durable metal under drawer sliders/runners.
Drawers can either be bolted on or bolted together. Gives you a near endless choice of options.

Knights Bridge offers classic finish with clean lines, a blend of contemporary and vintage.
Monaco Bedroom Furniture-

A design solution with excellent benefits for organizing.
Offers either 9 gloss front finishes and or 9 natural finishes.
14 base options give you the freedom to find a perfect feel to your bedroom.
Durable accessories and hardware that lasts years.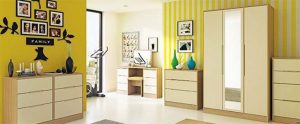 Victoria Bedroom Furniture-

Keeps the contemporary theme. Yet offers a soft, natural feel.
Cream Ash color with various finishes. For example, Modern Oak Tops, White Ash or Grey Matte.
With our excellent craftsmanship, you can expect it to last a long time.
Drawers can also be bolted on together. As a result, this gives you a fitted look with endless design choices.
Pembroke Bedroom Furniture-

The benefits of modern style. Simplicity touched with class.
6 color choices for the finishing. This gives you ample design possibilities and theme.
High-quality matching handles for all furniture enhance the finish.
Finest quality drawers, dressing tables to wardrobes. These options make this a fine choice.
Vienna Bedroom Furniture-

Mixing traditional design approach with a few modern accents.
Comes in Bordeaux Tops for that touch of traditional theme.
Base unit finish in either Kashmir Ash or Cream Ash.
Delicate drawer and door detailing highlighted by a linen feel on all drawers.
Dubai Bedroom Furniture-

One of the nicest designs that boasts simplicity and beauty.
9 base colors to choose from to set the tone and theme.
6 high gloss colors and 10 natural colors for drawer and door fronts. This enhances the base colors.
Wardrobes, chest drawers, stools, dressing tables, and mirrors are some of the many options.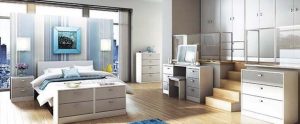 Sandringham Bedroom Furniture-

Hand-crafted quality that both expresses and offers excellent durability.
Choices from solid oak top finished in oil or lacquer, or just painted overall, it's up to you.
Large selection of painted chest drawers, wardrobes, dressing tables and bedding boxes.
All drawers are dovetailed jointed with a solid construction. Gives you durability for a lifetime.
Contrast Bedroom Furniture-

One of our unique design offerings that give you that designer look.
7 stunning finishes available for both your drawer and door front.
A choice of contrasting base finishes to give you that unique look.
Fully assembled with both the quality and durability that only we can offer.
San Francisco Bay Bedroom Furniture-

As with the name, it offers a unique feel and looks for great value.
Comes in a wide selection of colors. Also comes in easy open, durable under metal sliders/runners.
All doors are fitted with soft close hinges as standard to the design.
Large wardrobes in sections. Can also be bolted together to suit your room's needs.
Sherwood Bedroom Furniture-

Natural yet Modern beauty in a combination that is unique.
3 distinct choice finishes from Walnut, Oak, and Maple that give a natural look.
Brushed steel handles compliment the natural finish with a harmony that is unique.
Under metal drawers/runners provide a long, durable, smooth functioning benefit.

Sherwood furniture is timeless and classic. An investment in this trend won't go out of style!
Showroom and Warehouse
Our operation and warehouse is based in Orrel, Wigan Greater Manchester it has a large showroom that offers a real-time view of the furniture designs we offer. This gives you the ability to further benefit from choosing the perfect Top 10 Bedroom Designs for 2018.
We provide a fully assembled system anywhere in the UK, you can also visit our website to enjoy our gallery full of pictures of our bedroom design furniture offerings. A great set of quality pictures that show different types of finishes, quality designed handles and plenty of options when it comes to bolting on several drawers or wardrobes.
GUEST POST AUTHOR: The Bedroom Place has been providing bedroom furniture locally for over 15 years. Moreover, we have specialized in supplying bedroom furniture throughout the UK for over 10 years. We also provide handmade bedroom furniture which can be custom made to your sizes. 95% of our bedroom furniture comes fully assembled but if its flatpack, you have the option to have it assembled for a small additional charge. For more details, you can visit https://www.thebedroomshop.co.uk/ .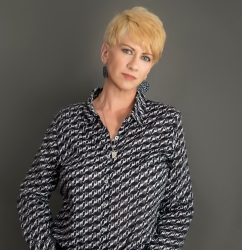 Latest posts by Deborah T
(see all)