Try one of these 3 easy dry rubs for your Thanksgiving turkey!
Ahh. It's that time of year again. I can almost imagine the smell of a succulent turkey roasting in the oven while pumpkin pies cool on the counter. It takes me back to when I was a little kid, and my mom would get up at 6 am to start preparing the Thanksgiving feast. I'd emerge down the stairs to the most wonderful Thanksgiving smells, just this one day each year.
Today, life is so fast-paced. The feast that my mom took several days to prepare for? Who has time? I need EASY turkey recipes. Plus, I deep fry my turkey to cut the time down to under two hours!
When you deep fry a turkey, you need to get the most flavor packed in as you lose the long cycle of roasting and basting. Dry rubs are the key to a flavor-filled Thanksgiving turkey.
If you do oven-roast your turkey, these are also delicious rubs for your preferred cooking method, so no need to worry about that.
3 EASY DRY RUBS FOR YOUR THANKSGIVING TURKEY:
Traditional Turkey Seasoning Rub
This is the traditional "Thanksgiving taste" that your mom probably used.
1 tsp sage
one tsp onion powder
1 tsp tarragon
2 tsp dried, crushed parsley
1 tsp garlic powder
2 tsp black pepper
3 tsp table salt
Run the dried herbs through a spice mill so you achieve a fine powder. The sage and tarragon lend that classic Thanksgiving aroma that I remember. Yes, I called my mom and asked!
Mexican-Inspired Turkey Rub
This is, perhaps, my hands-down favorite rub. I use this on pork, turkey, beef, and even venison. I love Mexican flavors and this gives a fun twist to Thanksgiving. Plus, you can make wonderful quesadillas with the leftovers.
1 tsp chili powder
1 tsp smoked paprika
3 tsp salt
1 tsp cumin
2 tsp black pepper
2 tsp onion powder
1 tsp red chili pepper (omit if you want a milder heat)
You can adjust the "kick" of this seasoning with the red chili pepper as it is the ingredient that brings the heat! Omit it if you like a mild flavor, or add more to increase the heat of this savory rub.
Herbs de Provence Turkey Rub
This rub is a classic, elegant, and subtle. The aromas are amazing and have a slightly "perfumed" element.
2 tsp salt
1 tsp black pepper
one tsp lavender
1 tsp tarragon
2 tsp rosemary
1/2 tsp marjoram
1 tsp thyme
2 tsp oregano
I normally advocate fresh herbs when cooking. This is one exception. I use my own oven dried herbs that I put up every summer for this job. You need to use dried herbs for your turkey as they must be finely milled. Fresh herbs will clog up your spice mill!
RELATED CONTENT: Inspiring Thanksgiving Tablescapes
Final Words on Using Dry Rubs for Your Thanksgiving Turkey
While I call these "turkey rubs" they really are great all-around rubs that work with almost any meat. They are forgiving, so don't worry about making mistakes. Focus on placing the rub under the skin of the turkey and inside the cavity. Use the remainder on top of the skin of your bird. These dry rubs will give you a tasty Thanksgiving, y'all!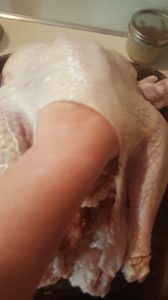 Keep these rubs prepared and on hand. Experiment with them, and have fun discovering new flavor combinations. Read here for more tips on how to deep fry a turkey this Thanksgiving!
Happy cooking and Happy Thanksgiving!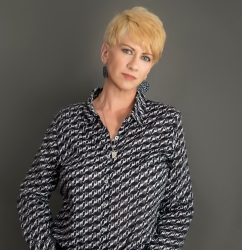 Latest posts by Deborah T
(see all)