This 10-minute meal of shrimp and grits is almost faster to make than waiting in line for fast food! And, I am certain that you will find it healthier and better tasting!
Because I am off to a great start on Weight Watchers (which I started on December 27th, 2017 while I was on a blogging break), I am looking for new and creative ways to cook and still stay on track towards my rather long away weight loss goal.
Shrimp are Zero Points, a bonus for me! Therefore, I am using the little tasty bites as much as possible. While there are points to the grits, they are ok to eat as long as I tally them up. In fact, when I tallied up the points in my WW app, it tallied up to a meager 4 total points for a rich and hearty and satisfying meal.
And, if you want to shave off a point, you can use just one package of grits and a little more boiling water. But, I wanted a bit more satisfaction than that!
10 MINUTE SHRIMP & GRITS
1 1/2 packet Quaker Instant Grits – Cheese Flavor
3 oz. medium frozen shrimp
1 tsp Old Bay Seafood Seasoning
1/4 tsp chili powder
Freshly cracked black pepper
1 1/2 cup of boiling water
Instructions:
Season the shrimp with a liberal dusting of Old Bay Seasoning. Put a skillet on the stove to pre-heat, no oil needed.
Pour the grits into a large bowl. Add the Old Bay to the grits.
Pour the boiling water over the grits. Stir and let the grits absorb the water.
Put the shrimp on the skillet. Cook them for about 1 minute each side, or until they turn opaque. Don't overcook them! I used medium shrimp because they are an easy spoonful. You can adjust to smaller or larger if you'd like to.
Toss the shrimp over the now perfectly creamy grits, crack a few twists of black pepper over the bowl, and enjoy!
Now, you may be wondering why the 1/2 packet of grits. Honestly, one packet alone just isn't enough of a serving for me, at least not for my dinner. I used the other half packet in my husband's bowl!
RELATED RECIPE: Shrimp Fra Diavolo
Although my husband is skinny and doesn't need to lose weight, he was very satisfied with this dinner. He is from the south and loves shrimp and grits. In fact, he was surprised because I'd never cooked them before. We keep grits on hand for quick breakfast, but I'm a Pennsylvania Yankee and had never considered it a dinner food. Either way, no complaints from him.
As a happy side bonus, this simple dinner required very little clean-up, just the shrimp skillet, two bowls, and the cup that I microwaved the water in. Little cleanup equals a good dinner, in my opinion, as we don't have a dishwasher! Unless you count me…
I hope you enjoy this recipe! It's so creamy and comforting; I'm confident you'll love this quick dinner as much as I do — WW member or not!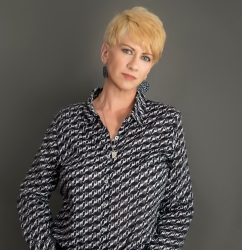 Latest posts by Deborah T
(see all)