Trend Alert! Ultra-Violet is Pantone's 2018 Color of the Year. Does this color leave you scratching your head wondering how to use it in your home? No worries! This rich purple is easier to use in your home than you think.
RELATED POST: Home Decor Trend: Sherwin-Williams 2018 Color of the Year is "Oceanside"
In fact, a few months ago, we here at DIY Home & Garden called this trend! To refresh your memory, we had a gut feeling about purple. On October 3rd, contributor Peculiar Erhis penned a post called "Purple Reigns in 2018: A Look Ahead".
So to say that our prediction was correct sends us purple-loving people into a happy dance! Because this color is a hot color in home decor, among other things. For example, hair color, clothing, and accessories. In fact. even my new computer is this color! Oh yes, I did. I asked Santa for a new purple computer and he brought it!
Still, it's a very bold shade. Does that make it challenging to use? Nope. In fact, we are in love with it and have some great suggestions to share with you on how you, too, can get on board with this purple.
GO BOLD!
If you really love purple, 2018 is your year! Because now you can paint entire an entire room in Ultra-Violet without reproach from others. But the key to achieving this look without making it feel overly ornate, heavy, or dark is to pair the purple with white or light gray trim moldings and ceilings. In addition, this works best with furniture in neutral color or whites.
For instance, the color in the room shown above is Sherwin-Williams' Kimono Violet, their take on Ultra-Violet.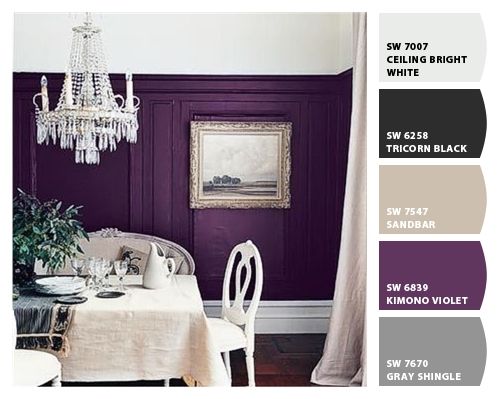 On the other hand, this dining room shows the same concept. As you can see, bright walls and grounded by gray and white to keep the look fun.
ACCENT WALLS
If an entire room of purple is too much for you, then perhaps an accent wall is more to your taste. Painting only one wall in this color has a unique advantage: when the violet craze ends, you can easily Kilz it and update it to the next trendy fashion.
As with painting the entire room keep accessories light and unfussy to keep the look on point.
ACCESSORIES:
I will admit that I love purple. However, I also admit that I am less bold in my use of color in my home. This is because I have always had the philosophy that if I can keep my walls neutral, I can change out accessories often. This keeps me on trend with colors without the fuss of re-painting. I am definitely a neutral wall girl. And I'm okay with that.
For example, keep your walls white or gray and add a comforter set in Ultra Violet for a great way to have your purple but not facing a long-term commitment to it.
Here are a few accessories I love in Ultra Violet:
Kitchen Accessories:
Kitchen tools and towels are a super fun and inexpensive way to add a pop of purple in the kitchen. The pans are a little more of an investment but still affordable. And all are useful items that you will have around to enjoy!
Bathroom Accessories:
Like the kitchen towels and accessories, these are very affordable and useful! I love how the shower curtain has just an elegant touch of purple.
SUMMARY
Don't wonder any longer how on earth you're going to get on the purple trend. It really is an easy color to live with. When used properly, it won't overwhelm the room…or your senses. And it is just a color trend. The Pantone Color of the Year changes annually. So if you don't like it, it will change soon enough.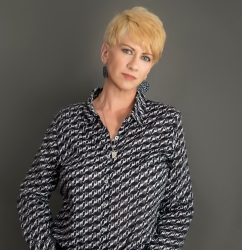 Latest posts by Deborah T
(see all)