When you're selling your home, try these easy home staging tips for newbies. A well-staged home will sell your home faster and for more money. And that's advice you can take to the bank!
RELATED POST: 5 Must Do Tasks Before Listing Your Home
7 (Almost) Effortless DIY Home Staging Hacks
1 – ORGANIZE YOUR STORAGE AREAS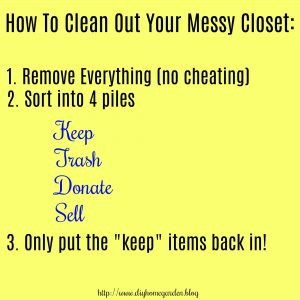 One of the top priorities of every home buyer is ample storage space. So, consider this a home staging priority! Clutter in the kitchen cabinets, closets, or on the basement shelves gives a poor first impression. Indeed, it tells home buyers that there's limited storage in your home.
On the other hand, a clean closet sends the message that a home has a ton of closet space or plenty of kitchen pantry storage. Invest in inexpensive closet organizing systems. Remember if you mount, or affix it to the wall of the closet, it stays in the residence. But, if it's a temporary solution, you might be able to move it with you.
Spend a day or two ruthlessly tackling all your storage spaces. Don't forget the coat closet, the laundry room cabinets, and the linen closets! Store large, bulky items that you don't frequently use (like your Christmas tree, for example) into a storage unit to free up valuable storage space. Donate the things that you can part with to free up even more space.
Last, now that you are organized, pay attention to this detail. Your hangers. Use hangers all the same style and color for a super-organized look! Call me slightly OCD, but I can't stand a closet with non-matching hangers!
2 – SHOW OFF YOUR SQUARE FOOTAGE
Whether your house is large or small, there's a buyer for your home! Your job is to make the most efficient use of the square footage that you do have! Why? Because buyers want to see good value for the cost per square foot in any home that they tour.
You may not be able to make your home larger, per se. What you CAN do is give your humble abode a larger feel through clever home staging.

Here are .5 furniture placement hacks that make your home more spacious in feeling:
Rent a storage unit. Remove one large piece of furniture from each room and store it off-site. This makes the room feel open and less crowded. This is especially effective in small spaces like your bedroom.
Change up the window treatments. Remove heavy draperies and window furnishings. Replace them with inexpensive light-colored window treatments that let in the light and brighten the space. A sunny, light-filled space and a warm but spacious feeling that buyers love.
Take the leaves out of your kitchen or dining room table. This allows buyers to have more room to walk around and visualize their own dinner parties. It makes them feel like there's so much room for entertaining.
Don't shove all the furniture against the walls. Place one piece at an angle, even a small chair, as it tricks the eye and makes the room look more open.
Remove excessive accessories. Like too many shoe boxes in an over-crowded closet, too many accessories or knick-knacks on a shelf of the mantel create a feeling of clutter. Box 'em up and place them in that storage unit!
3 – USE NEUTRAL PAINT COLORS
Yes, it's painful to go to all the trouble of giving the walls a fresh painting for a new person to enjoy. Unfortunately, it's necessary. Buyers want to know they will have a clean slate, a home to make their own. And neutral paint colors are a great starting point.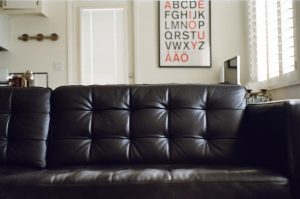 There are a couple reasons why you should choose tasteful, neutral shades during the home staging process.
First of all, is that buyers have specific preferences. Red is my favorite color. My husband hates red walls. If we were a buyer looking at a home with red walls, this could be an object of contention and we'd probably skip on purchasing the home to avoid the argument.
Second, light neutral colors can make a room feel larger. We're back to that maximizing your square footage thing, right? Colors like pale gray, ivory, white, tan, or beige offer the buyer the chance to put their own stamp on a home.
Kilz paint is both durable and affordable. I've used it on many projects and it lasts just as long as the big paint chains.
Finally, don't forget to give your ceilings a fresh, white coat of paint. Recent trends have had us rolling fashion colors onto the ceiling. However, painting a ceiling looks more difficult than it is…especially to those picky home buyers!
I personally use Kilz ceiling paint, because it goes on a light pink and dries white. The light pink indicates where you've already painted so that you don't get streaks…it's a pain to get the ladder back out to touch up the ceiling after the paint has dried!
4 – CLEAR HIGHLY PERSONALIZED ITEMS
Now that you've cleared out the closets, painted, opened up your floor plan, and all those other bigger tasks, it's time to fine-tune the decor.
This is a touchy subject. We all love our dogs and kitties and monogrammed linens. They are what make our home…well, our own home. When you're selling your home, you need to have a ruthless abandon of your own personalized items.
So remove the personal photos from the fireplace mantel and move on!
I'm not suggesting that you trash them. Box them up, store them, and take them to your new home. Here's why.
Buyers want to be able to visualize their own life in their own new home. They want to picture their cat, Fluffy, lying stretched out in front of the fireplace. They need to visualize their own children's trophies on the office bookcase for all to see. In short, they want to imagine what life could be like in your home. That's hard to do when they see little Charlie's spelling bee blue ribbon proudly displayed in his bedroom.
Anything that's custom-personalized, monogrammed, etc. needs to be gone at this point.
5 – FURNITURE ARRANGEMENT & HOME DECOR
Now that you've stored away those bulky furniture pieces and minimized your dining table, look at the rest of the furniture.
Tackle one room at a time.
Living Room: Stage the furniture facing each other to create intimate conversation zones. Buyers will be able to better visualize relaxing with the family in this space. Keep accessories to neutral pieces, not highly personalized items, that add pops of color. Think of the walls as clean and simple, not bare!
Dining Room: Now that you've removed the table leaves, set the table. Break out the nice linens…iron them and put them on the table. Use nice dishes, Grandma's silverware, and nice crystal glassware. Set the table to look like you are about to host a gorgeous dinner party!
Kitchen: Make sure that the fridge is free of magnets. Wipe fingerprints off all appliances. If you skipped cleaning out the junk drawer, do it now! Buyers will look! Add a nice, colorful bowl of fruit to the island and make the kitchen look inviting and attractive. Most importantly, make it look ready-to-cook-in.
Home Office: Take your desk away from the wall and turn it so that it faces the doorway. It takes up more room but makes the room look better. Clear your desk of papers and protect yourself by locking up important personal and banking information! If you have a rusty old file cabinet, give it a quick spray of fresh paint. Keep wall accessories neutral and pretty.
Bedrooms: Master suites sell homes! Give your master suite a spa-like feeling by removing unnecessary accessories and keep simple paintings on the wall. An area rug under the bed goes a long way to give a high-end vibe to the space. Fresh flowers on a dresser add a final touch that makes the room look cared for.
6 – STORE AWAY PET TOYS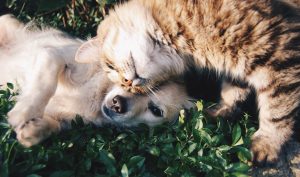 As an avid dog lover, it pains me to give this advice. But, as someone who successfully flipped a home with 3 dogs in it, I have lived this reality.
Buyers may or may not like pets. Shocking, right? And if they do like cats, they may not like dogs. Or vice versa. Or, maybe they are afraid of pets. It doesn't matter, pets are a no-no when your home is being shown.
Remove any pet stains and odors from the floors and carpets. The buyers don't want to think that they will need to put in all new flooring. That's a deal breaker for most buyers! If you have any lingering odors in the carpet, treat it with Nature's Miracle products. This was the only product I used when housetraining any of my pets. These products work amazingly well!
Vacuum up loose pet hair from furniture every couple of days, and use a sticky roller for really quick pet hair pickups. If buyers sit on your furniture, you don't want them covered in pet hair!
Keep pet clothing, toys, bowls, food, and treats stored neatly out of sight.
When possible, remove the pets from the home during showings. What? Yes. That is exactly what I did when I sold my home.
When I had my house listed, I kept the dog toys in a large basket. When people were coming to tour, grabbed the dog bowls and stored them neatly under the kitchen sink with their bin of food. I filled the toy basket up with toys they had played with, loaded it in my car, and loaded the three dogs in the truck. I removed the dogs from the home for a couple of hours and had my realtor call me after the potential buyers left.
Not only does your home look neater… yes, I had to admit that my dogs left toys astray and messy looking…your pets are less stressed out.
Even if your pet likes visitors, he may be stressed out watching strangers poke around every inch of his home and yard. And your home buyers may be annoyed by the barking and whining that's sure to ensue.
Worse yet, what if your pet bites someone due to the stress? That's all just food for thought. And yes, your pets are a part of the staging your home to sell!
7 – AROMATHERAPY
A final thought is to consider the aroma of your home before you show it. Of course, every home has a smell. Mine is like coffee which I drink all day long. But some people may find that offensive.
If you're not sure if you need to do something about the aroma of your home, ask your listing agent for an honest opinion. She wants to sell your home, so trust me, she will give you the honest truth.
While some people swear by baking a batch of sugar cookies before a showing, a bakery-scented candle will also work well. It evokes a feeling of warm, cozy afternoons baking in the kitchen. On the other hand, try a wax melter in a fresh, citrus scent in the bathroom to evoke a feeling of energy and cleanliness.
Final Words on the Urgency of DIY Home Staging
When you're home is on the market, you need to shift your mindset. The house is now an investment. While you're staging your home you will recall memories. Instead of hanging on to those past memories, look forward to the new ones you will make at your new place.
This is the key to successful DIY home staging so you can make the most profit from selling your home.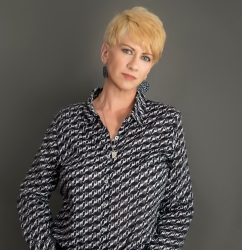 Latest posts by Deborah T
(see all)