Over the last three decades, Dubai has transformed itself into the most luxurious and fascinating place in the entire region. The city is known as one of the few Middle Eastern cities that are welcoming to tourists and is the real melting pot of different cultures. Even though Dubai is the center of luxury and attracts millions of tourists each year, it is still sensitive to the Islamic ways as they are respected across the city. The United Arab Emirates comprises of seven municipalities, and Dubai is their economic and trade hub. Located at the southwest of the Arabian Gulf, this destination is most known for its amazing beaches, heavenly food, luxury living, and safaris, to name a few.
Here are some of the top reasons why you need to visit Dubai!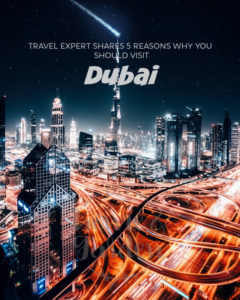 1. Unparalleled Luxury
Dubai is a city where a hot pursuit is carried out on a Lamborghini – no escaping from that! Now imagine dinning in a giant aquarium or heading on a lavish and customized helicopter tour! Also, don't forget to keep an eye on the road as you'll see the latest model of every high-end vehicle on a routine basis. This is what this sumptuous destination has to offer. At times, you experience something so luxurious that you can't even put it into words. The city is basically a desert, but they have hired top-notch designers and engineers to create structures that are unmatched throughout the world. For instance, the human-made Palm Islands is home to several luxury hotels and mansions for those who can afford them.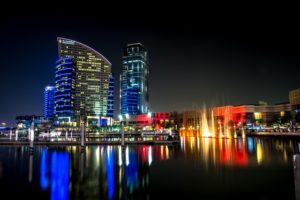 2. Food from Heaven
Well, the food scene in Dubai is so good that you might consider moving there just because of what it does to your taste buds. The city has the highest standards for hotels, and even if you choose to eat from a street vendor, know that it will be delicious and high-quality. The value of money on food in Dubai is also excellent. Plus, the diversity is astounding! You can host any citizen from any part of the world, and you'll find cuisine from their country. The most hyped thing in Dubai is its 1 DHS Chae (Tea), and you'll find people of all ages and cultures cherishing the drink. Lastly, don't forget to try the spicy fries by KFC – that are exclusively available only in Dubai!
3. Amazing Indoor Attractions
Dubai is home to numerous indoor attractions, which makes the city a place for families and seniors. If you wish to awe struck your kids or parents, then this is the place you need to take them. Home to one of the world's biggest aquariums, the Dubai Aquarium, and Underwater Zoo, you can catch different marine life living in harmony. Despite being a desert, it offers Ice Rinks and galleries in the Dubai Mall. Other than that, you can find numerous high-end cinemas, museums, and art galleries that make this city a top choice for moviemakers.
4. Crazy Shopping!
Dubai has the best shopping facilities and options. Period. Here, you can find the best fashion, electronics, and art products cheaper than other tourist cities. The city is famous for its extravagant shopping malls that will make your wallet scream in pain! The Dubai Mall has everything stored within! It has more than 1200 shops, an indoor hotel and a zoo. Then there's the Emirates Mall – with more than 700 stores. If you are looking for relatively cheaper options, you can visit several local vendors and purchase the best quality goods without breaking the bank. If you are interested in jewelry, you can visit the Dubai Gold Souk and buy amazing bangles, rings, and watches.
5. The Desert Safaris
Traveling to Dubai without heading on a desert safari is just like going to a restaurant without eating or drinking! You get into an SUV, where a trained driver takes you on a ride to the desert. After some serious dune bashing, you are greeted in a nomadic setup where you get to enjoy fantastic dance, a fire show followed by good food! During a safari, you get to enjoy a camel ride and experience the Middle Eastern culture and its desert.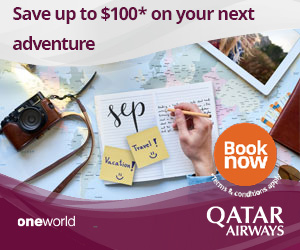 Navigating Through Dubai
Since Dubai encapsulates different experiences, it is good to plan your trip beforehand. Dubai has everything for everyone! So, set your priorities straight before you arrive. Here is a brief guide about the top hotels and attractions in Dubai.
Dubai Hotels
If you are a fan of high-end hotels, then you need to check out the Burj Al Arab. This hotel was the representative of Dubai before it welcomed the Burj Al Khalifa – the tallest building in the world. Even getting inside the place will cost you money as it is a true architectural marvel. Similarly, JW Marriott Marquis Hotel Dubai, Palace Downtown, and Dubai Mall hotel are the best-known ones for foreign tourists. On the other hand, you can find several budget hotels across the city if you like to experience the overall vibe of the city.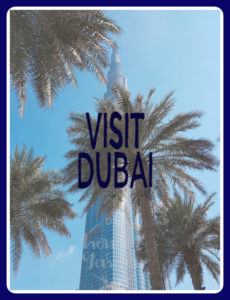 Not to Miss Dubai Attractions
Being the fourth most visited city in the world, Dubai is not short on attractions. With its airport dubbed as the world's busiest airport, there's no surprise that people are flocking to this fun-filled city. Just like any other tourist hotspot, Dubai also has some not to miss attractions. Some of them are as follows.
The Burj Khalifa – Standing 830-metres tall, the Burj Khalifa is the tallest building in the world. It hosts light shows on the weekend that are a pleasure to watch.
The Burj Al Arab – This is the world's tallest and only seven-star hotel! If your pocket allows, this place is worth the hype. The hotel also has private beaches, and its surrounding area is exceptionally posh.
Dubai Mall – This mall has around 1200 shops, an entire game zone, an ice rink, and what not! The mall hosts exclusive annual events such as Dubai Shopping Festival and Dubai Summer Surprise each year.
Sheikh Zayed Road – This is no ordinary road. It runs down the heart of town and offers fantastic views of the skyline. Most of the best hotels and high-end retailers in Dubai can be found on this road.
The JBR Walk – The Beach in the JBR area of public beach with a glorious walking path covered with shops that are full of life.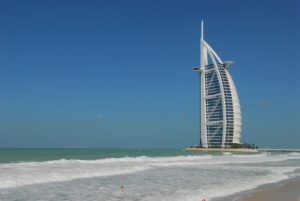 If you are an adventure lover, you should consider sky diving in while on your vacation. Other attractions include luxury yachting, the Mall of Emirates, Parks and Resorts, and the Global Village.
RELATED CONTENT: Cheap Vacations 12 Fabulous Vacations on a Budget
Is Dubai Safe?
Yes! Dubai is as safe as it gets.
Despite being known for luxury and modern high-end living, the city is often an unfamiliar destination for some tourists. Vacationers without any travel history of the Middle East might generalize from the stories they get to hear from different news sources.
With that said, Dubai is one of the safest places for tourists from all over the world. The strict laws and their stern implementations keep crimes to a minimum. Therefore, tourists feel safer as compared to other parts of the globe.
Latest posts by Shahzad Khan
(see all)