I don't know about ya'll but I don't like using the calendar on my smartphone. Call me old-fashioned, but I prefer to write in my appointments on pen and paper. I'm always afraid that I'll accidentally share my calendar to my list of contacts, the screen is small, and it's just hard for me to use in general. Which is why I'm sharing this free printable today.
However, I couldn't find day planner pages that I love using. I have rather large handwriting, and I want a lot of space. On top of all that, I don't want to spend $25 for a pack of pages. Therefore, I came up with my own DIY project today and made day planner pages that suited my own needs. As an added incentive to get me to do this, my store purchased day planner pages are almost gone.
I suspect that my needs are very similar to all of yours. Most of my appointments are in the daytime. I may have an occasional evening meeting but I don't use all the evening slots. In fact, I work until 5 pm and my last appointment is normally at 4:30. Therefore, I needed no lines after 4:30. If something comes up for an evening, I will just make note of it.
In addition, I made the spaces big for big handwriters (I think I just coined a new word) like me. This also means you will have the space include extra information under the line, like a phone number or address. Most of the pre-printed planner pages at the office supply store have tiny little lines and that just makes me frustrated when I'm trying to cram in all the important little details.
I also included a "notes" section so that you can keep up with mileage, telephone calls, the aforementioned evening event, or just when you need someplace to write something down quickly.
Finally, you may think that the day planner pages look off-center. You're right! I shifted them over towards the right-hand margin to allow room to use a plain three-hole punch. You can put these pages in a 1/2 inch binder and have a day planner set up for just a few dollars. The whole thing is basic, simple, colorful, and easy to use. And, I don't need to waste money at the office store!
These day planner pages can be printed out in four fun colors: pink, yellow, and lavender, and of course you know I wouldn't leave out tiffany blue. I think I will mix and match my pages. But then again, you all know that I'm absolutely obsessed with all things tiffany blue.
Please do contact me or comment to let me know how this DIY day planner works for you! I would love to hear how you're using your free printable! Also, please feel free to check out our "free printable" tab to see our growing collection of free printable items which you can download for personal use.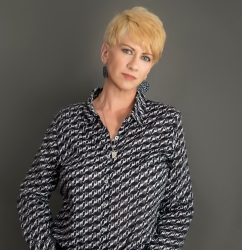 Latest posts by Deborah T
(see all)