Can you help me decide on my next big DIY?
You see, I live in a 50-year-old home. It's a great little house, built solidly, and situated out in the country with a great lot. However, it needs some updates. In fact, it needs a LOT of updates.
RELATED POST: Funding Your Next DIY Project
DH and I love being outside. Thus far, we've spent our energy on projects like screening in the back porch, building raised garden beds, building a brick planter around the front garden, and so on. You've seen many of those projects!
We have also done DIY crown molding in the living room and dining room and installed chair rail in the dining room, painted the living and dining rooms, and re-painted my stepdaughter's room to give it a much-needed boost.
But we have done almost nothing to update either our Master Bedroom or our Kitchen. Both are serviceable but I am, quite honestly, tired of these drab and boring rooms.
My question to you is…which room should I liven up (and feature on DIY Home & Garden)? The kitchen or the master bedroom.
"PINING" FOR A DIY KITCHEN
If I had to summarize the kitchen in one word, it would be "piney." I have solid heart of pine walls (not paneling) that are sturdy but outdated. The kitchen cabinets are very sturdy, hand-crafted, and too expensive to replace! I'm thinking of painting them.
In the photos, the ugly, broken dishwasher has been pulled out and replaced with useful shelving (which doesn't match the cabinets quite right. oops). We have also purchased a new white stove and fridge to help brighten up this dark space.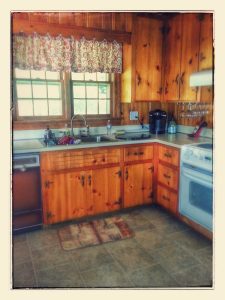 In full, brutally honest disclosure, I used a two-year-old photo because there were too many dirty dishes in my sink today to take a new photo. And I didn't have time before work to wash dishes and write my blog post. lol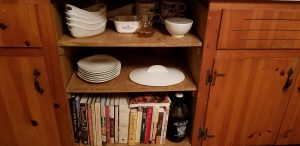 We are looking at a kid going off to college in less than two years, so a full-scale remodel is out of the budget.
We cannot afford things like countertops until about 5 years from now! Rather, I'm looking for a little facelift and a boost of color to make it more cheerful.
My vision for the kitchen is this:
lights under the cabinets to give my workspace more light
re-paint the cabinets (white because the room is dark as the windows are shaded by our screened-in back porch)
paint the heart of pine walls (color undecided…)
replace the laminate flooring (if the budget allows)

MASTERING DIY IN THE MASTER BEDROOM

On to my next option. I'd love to update my master bedroom.

There's no excitement in the decor of my bedroom. It's dull, drab, medium brown. In fact, it's so depressing that in the almost four years we've lived here, I've never even chosen window treatments! I have always known that we'd be re-painting this room and just never bothered.

The room is small. Literally, this photo spans the entire width of the bedroom. I purchased this furniture when I was renting an apartment with a king-sized room. It dominates the room, but it is what it is.

There's a silver lining to this room. A corner of the carpet was coming up in my closet. Before I re-secured it, I peeked and found that I have gorgeous oak 3″ plank hardwood floors that appear to be in wonderful condition.

Here is my plan if we tackle this DIY:

Paint ceiling, trim, and closet doors a bright white (it's currently off-white)
Pull up the carpet and bring those wood floors back to life!
Paint the walls. I am thinking a soft gray with a Tiffany Blue accent wall where the bed is located. I think a lot of Kilz to cover the brown will be needed. smh.
Change out dingy brass doorknobs and hardware for my favorite brushed nickel.

VOTE FOR YOUR FAVORITE!

So please, I encourage your input, advice, and vote! Which DIY project would you like to see me conquer and cover? I am at a crossroads. DH is game for whichever I choose. Please comment DIY

Free banner from copyscape. Protect your work!

Like us on Facebook http://www.facebook.com/diyhomegardenblog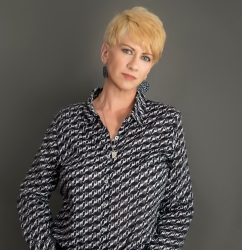 Latest posts by Deborah T
(see all)