Take a plunge into a pool of deep blue in 2018! Sherwin-Williams recently announced "Oceanside" as their 2018 color of the year. This rich blue is saturated with tones of green that make this gorgeous color easy to use in any room of the home.
It's not quite a peacock blue, but not quite a mermaid blue. In fact, it's somewhere perfectly in between!
RELATED POST: Be Creative and Brighten Up Your Home Decor
Not sure if you're quite ready to take the plunge into this pool of blue? Then here are some ideas on how you can incorporate it into your home decor.
MAKE A GRAND ENTRANCE
If you love the look of intense blue, treat your visitors to a grand statement in Oceanside. Here are a couple of front doors done to perfection in this color.

FURNITURE IN OCEANSIDE:
If you're not quite as brave with color, then try painting a select piece or two of furniture in Oceanside. Because it works great with all neutral colors and makes a big, bold, blue statement!


ZEN HOME OFFICE:
Blue is a color that helps people relax, dream, focus, and plan. There's no place that a little calm planning can't help more than a home office, is there?
CREATE ARCHITECTURAL STYLE:
Make an accent wall in any room of the home. Featuring "Oceanside" will keep you on trend. Moreover, making it a focal point will give it a cutting-edge look that's easy to paint over in the future!
KITCHEN CABINETS:
Kitchen cabinets have function with a stylish flair when you paint them in Oceanside.
---
Whether you want to go bold and paint your whole room in Oceanside, or create unique furnishings or accent walls, give it a go! This blue will lend a look that is both rich yet soft. It's dreamy yet bold. You get the idea…
So give Oceanside a try and you'll be on top of one of 2018 hottest home trends!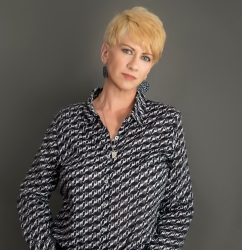 Latest posts by Deborah T
(see all)