Our bedrooms are one of the most important places in our homes. This space is where we can fully relax and let go of the tension of the day. The problem is, if your bedroom isn't well designed, you may find it hard to unwind at the day's end. From soft furnishings to fragrances, mattresses, or color schemes, there are many elements to creating a relaxing bedroom.
10 Smart Tips to Create a Relaxing Bedroom
Read on to learn how to design a cozy retreat you'll enjoy escaping to each evening.
1 . Calming colors
The first rule of creating a relaxing bedroom space is to decorate with calming colors. Take your cue from the natural world, use ocean blue, forest green, or sand white. Green is one of the most calming and pleasing hues to the eye. The shade is often associated with life, harmony, and nature; the perfect color to create a relaxing bedroom space.
Green has more than simply calming effects; a study in the Pacific Standard links the color green to enhanced creativity. When you are choosing your colors, try eco-friendly paint to keep your room free of toxins.
2 – Natural touches
The natural world helps us to feel calm and relaxed; with this in mind, try incorporating natural touches to create a relaxing bedroom. Buy yourself a few plants; Peace Lilies are perfect for the bedroom as they emit oxygen at night. Try a decorative jar of stones and shells, or a bowl of potpourri to give the room a lovely fragrance. As well as this, make the most of natural light to boost your endorphins as you relax here.
3 – Art for ambiance
When you are choosing artwork for your bedroom, choose something that creates an ambient and soothing feel. Try art that depicts mountains, forests, beaches, or boats. If you prefer, artwork featuring animals is another great way to create an earthy and peaceful feel.
4 – Cozy areas
Your bedroom should be as comfortable as it can be, and so it's a good move to create a few cosy areas besides your bed. Use large and floor cushions and rugs to create a nice space for reading. An armchair beside a small bookshelf will work just as well. Design everything for comfort above appearances; there's no use choosing beautiful cushions and armchairs that aren't comfy to relax on!
5 – Update bed & mattress
Your bed and mattress have to be just perfect if you want to create a calming bedroom space. These are the purchases it's worth spending a little more money on to get high-quality. Choose a memory foam mattress that offers your body maximum support. Choose a gorgeous queen bed that matches the rest of your bedroom furniture. With the right bed, you'll improve your night's sleep and achieve a peaceful bedroom.
6 – Go minimal
An overcrowded space can feel chaotic and stop you from being able to relax. Before you do any redecorating, declutter your bedroom. It's best to keep things minimal, using a small collection of items for both furniture and decor. It can be useful to create storage areas underneath your bed to maximize floor space and make your room appear larger.
7 – Light some candles
The right smells can do wonders to help us feel relaxed, which is what the ancient practice of aromatherapy is all about. When it comes to choosing candles, try scents like lavender, rose, or mint to help you to feel calm and comfortable. It's best to look out for soy candles, which are chemical-free and, therefore, better for your health.
8 – Soft materials
Make sure that you choose soft rugs and carpets which feel lovely under your feet when you are spending time in your bedroom. It's essential to go for comfort down to the finest details if you want to create a relaxing space. Wool rugs are beautiful and soft, plus these are easy to clean too.
9 – Make it eco-friendly
We all have a responsibility to practice eco-friendly shopping, ( and it's pretty hard to relax when you're feeling guilty about the environment)! With this in mind, make sure that you choose eco-friendly materials for your room, from your furniture to your fabrics and candles-make sure you keep it all green! When you are choosing your fabrics, look out for hemp, bamboo, or jute.
10 – Add air purifiers
Candles are great, but they do not actually remove harmful substances from the air. An air purifier can eliminate dust, pet odors, and toxins from your indoor air, leaving the air perfectly clean and odor-free.
The Takeaway: You Can Have a Relaxing Bedroom
With these ten tips, you'll be well on your way to a perfectly relaxing bedroom space. Remember to set yourself a budget before you get stuck in, to help you to prioritize the right purchases.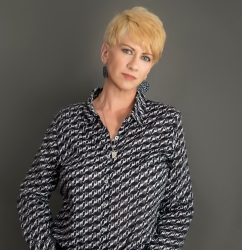 Latest posts by Deborah T
(see all)