I love a succulent container garden, especially when I can find unique pots for the plants. This recycled teapot serves as an ideal planter for a cute little echeveria that I picked up for just a couple of dollars at a Big Box store.
Recycling teapots might not be a new idea altogether, but it was the first time I had thought to give it a try.
One morning last month, I put my teapot on the stove to heat water to make iced tea and walked away to give it time to boil. I came back into the kitchen a few moments later and found a mess.
Not only had it not boiled, but the rolled seam around the bottom rim had sprung a leak! Cleaning up the literal hot mess, I tossed the idea around in my head to recycle it.
I have seen Pinterest ideas about birdhouses, garden containers, and more–all utilizing old teapots. Why not give this a try?
One trip to the Big Box for (another) succulent plant (it's an addiction, I'm afraid!) and I headed out to my She-Shed to work on this project.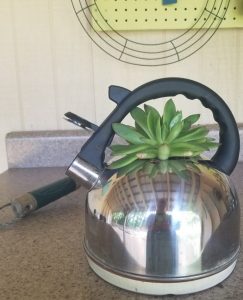 About Succulent Plants
"In the North Carolina summer heat, succulent plants are a gift from Heaven." ~DIY Home & Garden
Once planted, these plants require minimal care or water. Plus, they thrive in our long and hot summers.
Succulent plants have thick and flesh-like stems and leaves and tougher outer skin. Those thickened parts retain moisture efficiently, storing a cache of water for when it's needed.
While some succulents have vigorous root systems, most do not. This fact is why they can grow from seemingly inexplicable places like outcroppings of rocks in almost zero soil.
And, you don't need to grow succulents in a hot climate, necessarily. According to Penn State University, some species can survive winters as cold as -30 degrees. It's all in selecting the right species for you!
Also, don't discount the idea of moving your succulents indoors for the winter. If you grow them as a succulent container garden, you can move the spot to a protected spot on a porch or even inside your home altogether.
"Hardy succulents are a delight to those who consider themselves to have a black thumb." ~Lori A. Reehorst, Penn State Master Gardener
For landscaping, I enjoy using succulents in the yard in locations where my garden hose won't quite reach! I have a rather large yard, and I must deliver water to plants to those far-reaching areas in five-gallon buckets.
Additionally, our soil is very depleted due to the large pine trees which suck all of the nutrients out of the Earth.
Therefore, drought-resistant and naturally robust, unfussy plants are a lifesaver for me!
How I Recycled a Teapot into A Succulent Container
Gather supplies
First, I organized everything that I needed for my project.
I used:
drill
teapot
hand trowel
potting mix
river rocks
a succulent plant (I chose echeveria)
soft cleansing product
clean cotton rag
plant saucer
Prepare the teapot
I started by invading my hubby's workshop, using his power tools (drill), and making some drainage holes in the bottom of the teapot.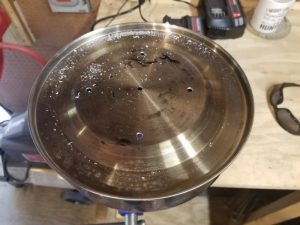 Clean up the outside of the tea kettle
Next, I also used a soft kitchen cleanser product and a clean cotton rag to scrub away any hard water marks from the outside of the pot. It gave it a nice, shiny finish.
In fact, you will see in the rest of the photos–I gave it a mirror shine. I couldn't capture an image without my reflection.
Glad I was wearing my cute flamingo dress!
Layer in some river rocks
Add in a layer of river rocks or large pebbles. This is necessary to ensure proper water drainage. It's especially important if your plant will live outdoors and be subject to rainfall.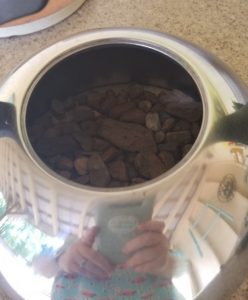 Plant the succulent
Fill the teapot aka succulent container with potting mix. Dampen the soil, as your newly transplanted little guy will need some moisture. Plant your succulent of choice.
Brush away any dirt that's fallen off.
Sit the planter into a plant saucer
I found a terra cotta plant saucer that was the precise size of the bottom of the planter. Just happened to have one that was just the right size. I save the craziest stuff.
My saucer is the exact diameter of the planter. It doesn't catch excess water, but it does prevent the pot from staining my tabletop. And, since my succulent is in a covered area, I'm not worried about rainfall or overwatering.
Choose any saucer that works best for your particular situation.
RELATED CONTENT: How to Create a Beautiful Glass Terrarium
How Will You Use Succulents?
My favorite way is to find unusual objects that would not normally be considered "garden pots" and make quirky succulent container gardens.
How will you use succulents? In the garden as an ornamental plant? As a houseplant? Or, to fill in landscaping in the driest part of your yard? Please join the conversation on Facebook, I'd love to hear!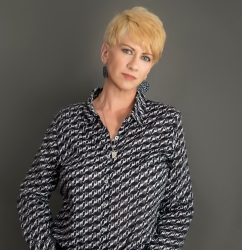 Latest posts by Deborah T
(see all)