The shasta daisy is a tall, leggy beauty that adds height and bright color to any garden. Its classic white petals and sunny center take many back to childhood, when we played the game, "He loves me, he loves me not."
These perennial plants are easy to care for, grow in clumps that can fill in empty spots of the garden beautifully, and spread out if you leave them unchecked. They can grow as high as three feet tall, making them a favorite in planters and containers. The stunning white flowers are gorgeous around the foundation of a dark-toned home, as the white petals pop in contrast.
The shasta daisy will attract helpful pollinators like butterflies and bumblebees to your garden if you love watching wildlife.
Shasta daisy's Latin name is Leucanthemum x superbum.
Shasta Daisy FAQs
Here are answers to some of the most common questions about the shasta daisy.
What does a daisy symbolize?
According to Celtic legend, the shasta daisy signifies purity and innocence. It's a tragic tale. According to the SIDS Families support website, this is the tale:
The Creator looked down. All over the earth He saw parents whose hearts were heavy. They had lost the littlest of His creatures, their precious children. He saw their tears and heard their silent prayers. He sent to earth a special flower… a flower that would be just for them. He scattered this little flower far and wide… in gardens and in fields, along roads and paths, in bright sunlit pastures and into the darkest corners. The Creator sent these saddened parents the daisy, a little flower to be watered with their tears. The daisy symbolized the souls of their children. Its bright white petals represented their purity and innocence; the green of its leaves the promise and hope for brighter days to come.

The daisy thrived everywhere. It stretched its bright face toward the heaven. The special little flower was given to remind each mother and father that their little one rested in the light and beauty of the Creator.

Do daisies come back every year?
Yes, daisies are a perennial plant. So with proper care, your daisies will come back every year. After the season's first frost, cut daisies back to the soil level. Place a heavy layer of mulch or burlap across them for protection. In the early spring, peel back that mulch once the threat of frost passes.
How do you take care of daisies?
The shasta daisy is a hardy, robust plant. However, they need a touch of care from you in the spring. Give them an excellent, healthy feeding with compost and a fresh layer of mulch. Of course, they also want you to keep their area weed-free, so they don't compete for nutrients.
How much water does a shasta daisy need?
They are drought-tolerant, needing only about an inch of water per week.
Do daisies need full sun? Do daisies grow in the shade?
Yes. The shasta daisy loves nothing more than to reach its sunny face up towards the sunshine. If you have a partially sunny spot with a touch of shade, they will probably do okay if they have six hours of sunlight. Otherwise, they will not likely bloom.
When do daisies bloom? And for how long do daisies bloom?
Your shasta daisy flowers will blossom from early June through fall, depending on your growing zone. Deadhead spent blooms by cleanly clipping off spend flowers. This serves to help them to continue giving you a long and colorful growing season.
How do I deadhead daisies?
The term deadhead refers to clipping away the flower as it starts to die or wither. Use sharp, clean pruning shears, and cut the flower and stem back to the first leaf. Doing this allows the plant to stop nourishing a dying flower and feed healthy plant parts instead.
How long will daisies last?
The shasta daisy is a classic cutting flower that looks beautiful harvested and tucked into a vase. After you clip them, put them in a vase of water. Remove leaves or debris from the water as they shed and change it daily. Your hand-crafted daisy bouquet could last as long as seven days if you do this.
Why are my daisies dying?
It's so frustrating to put your heart and soul into gardening only to see your labor withering before your eyes. Daisies are very easy-going flowers, but even that doesn't mean things can't go wrong. The most common cause of the shasta daisy looking a little rough around the edges–a lack of water.
So to revive your daisies, you should start by checking the moisture level. Scrape back your mulch and check out how dry the soil might be. Give the plant a healthy drink of water. While you are at it, you can also add a nice scoop of compost to your shasta daisy plant. Then re-mulch around the plant's base carefully.
You should also inspect the plant for any signs of disease and cut away any damaged foliage.

How to Grow Shasta Daisy
You can start shasta daisy seeds indoor in the wintertime, harden them in the spring, and then plant them. However, they will not likely bloom the first season–or will bloom only a little bit. Thus, most gardeners opt to purchase shasta daisy plants from a garden center or purchase them online.
Wait until after the threat of frost in your growing zone passes, then follow these steps:
Decide where to spot your plants, but remember to space them about 24″ apart. Remember, they will spread!
Make a hole about two times the diameter of the daisy's container.
Amend the soil with compost, or use liquid fertilizer for flowering plants.
Place the plant in the hold, ensure that the soil's surface is about even with the top of the root ball.
Refill the earth around the plant.
Water your shasta daisy plant generously.
After two or three growing seasons, your daisies might grow very crowded. If you must divide them, do so in the springtime and replant them in a new sunny spot or share them with a friend.
The Takeaway: The Shasta Daisy Is an Easy-Going Flower and Adds Height and Color to Your Garden
The shasta daisy is a versatile plant that can add charm to any garden and is easy to grow. You can plant them in containers for a formal look or let them grow like wildflowers for country charm. It is a garden staple, and if you have a sunny spot to fill in your garden, this plant might be precisely what you need. Please share your thoughts with us on social media. We love hearing from you. So until the next time, have a happy DIY day.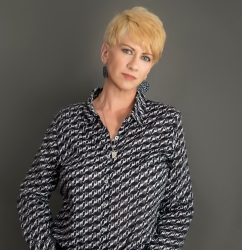 Latest posts by Deborah T
(see all)