There is nothing like burlap bags to ace both functionality and fun. They are particularly known as storage bags for potatoes and other produce. Since burlap is a breathable fabric, which means it is resistant to condensation and durable, it is ideal to use as sacks and bags for shipping.
But that is not all. Whether it is for practical uses or decorative finishes, burlap can be used in many ways in the garden. Since this woven fabric is made of organic material, jute, it is generally safe to use with children or pets around.
Aside from their practicality, burlap bags also have this gorgeous, natural texture from the jute fibers, making them greatly valuable in outdoor craft and decor ideas that the creative in you will surely love.
6 Ways to Use Burlap in Your Garden
We all know you can grow potatoes and tote your harvest in burlap sacks. But what else can you do? The possibilities seem almost endless!
This inexpensive and biodegradable material can be fashioned into a variety of things that can solve your garden woes. Take a look at some of them.
1 – Protect Plants from the Natural Elements
But doing this is a bit tricky. Many people commit the mistake of using burlap for binding the plants tightly. If used the right way, by forming burlap into supported screens and barriers to cover the plants from the harsh winds, burlap can be a winter wonder.
They can also be used as a shield from the scorching summer sun. You only need to hang burlap over your vegetable beds, and you have an instant sunscreen. When nighttime frost becomes a headache for you, try to use the burlap as a cover for your tender crops overnight, and remove it when the sun is up.
2 – Deter Animals from Attacking the Plants
Animals like rabbits, deer, and critters can pose a problem when they wander unchecked in your garden. Since it is impossible to keep an eye on your front yard and backyard at all times, the next logical thing to do is to take precautionary measures to avoid your plant getting trampled on and destroyed.
Use the burlap bags as two-foot-high fences around the plants. This four-sided barricade should be big enough so as to not touch the plants and hinder their growth. You can also wrap some plants in burlap to deter animals from nibbling away on your blueberry bushes.
3 – Keep the Weeds Away in Your New Garden
You have just prepared a brand-new garden, but you don't have the time to plant yet. Your woes must include dealing with weed that will start to grow and dominate your garden. How do you prevent them from growing there?
The answer lies in laying down temporary mulch. The pieces of burlap cloth can be used for this. Put them over the top of the soil to discourage the growth of weed, but make sure to get on with your planting before the weed gets gnarled on your burlap mulch.
4 – Getting Rid of Leaves and Other Yard Waste
Menial tasks like lugging the yard waste can be easier to do if you have the patience and resourcefulness to make the job easier. Get big old pieces of burlap before you rake the leaves.
Once you have raked them, place the leaves on top of the burlap, and drag them away with minimal effort. It need not take several trips for you to completely drag your yard waste away.
5 – Moving the Plants around the Garden
Need to transplant or move large shrubs or trees?
Protect the roots while you move large plants or trees.
Transplanting is one of the many tasks that you should take care of when it comes to gardening. It requires careful skill to replant without damaging the roots, but you can make it easier by following this clever trick when you replant.
Using pieces of a burlap sack, line the container, and place the plant inside. When the time comes for transplanting, you only need to lower the burlap bag into the planting hole before removing the burlap to leave the plant in its place without disturbing its roots.
It is also possible to use the burlap in protecting the root of balls of plants. Wrap the root ball with durable burlap fabric to keep the soil in place. The burlap will keep it safe until the time you can do the replanting, helping it retain moisture and protecting it from the elements.
6 – Embellish the Outdoor Areas with Burlap
Burlap bags and sacks are common in do-it-yourself crafts and decors. Your garden can do with a few finishing touches to make it more appealing. Provide a shaded area in the yard with the use of burlap mounted on poles or frames.
If you have a garden furniture set, you can fashion burlap fabric into a cushion and pillow covers for that rustic charm. You can also add pretty accents to your boring garden walls by making burlap wreaths that you can hang on your fences. Or, you can make a rustic chic table runner or placemats.  So easy with a little bit of creative thinking! It is a perfect mood setter when you have guests coming over for a sunset picnic.
The Takeaway: You Can Find Many Uses for Burlap in the Garden
These practical uses and outdoor decor ideas for burlap can spice up your yard. Just remember to choose the right burlap. For your garden, it is better if you purchase the ones not treated with chemical finishes like bleach or dye. The all-natural fiber can easily break down if buried in the soil, while the better-quality burlap should be saved for your DIY arts and crafts.
Now that you know the many ways you can use burlap bags and fabric, it is time to roll your sleeves, don your wide-brimmed hat, and get dirty in your garden. Make sure to work hard but also have fun.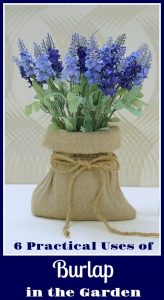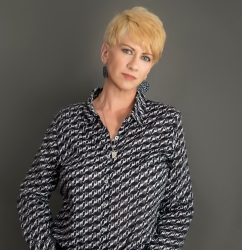 Latest posts by Deborah T
(see all)