Today, I want to share my home canning recipe for Peach Pie Filling made with peaches from the Farmer's Market.
Losing the tree… the main source for my home canned peach pie filling
Firstly, I admit defeat.  This is because I have a peach tree.  So in the spring, it was loaded with blossoms. I then knew I was going to have a tree dripping with peaches.  Visions of peach pies danced in my mind's eye.
However, an unexpected late frost busted up those dreams. As a result, I only had one blossom survive. So one lonely peach is all I harvested this year. But it was juicy, sweet, and as lovely as any Carolina peach. Its photo is below.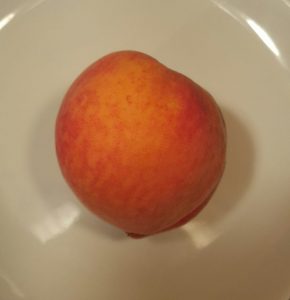 There is good news here. We were able to properly trim the tree without sacrificing fruit. And, because the tree was not nursing fruit, it grew about two feet this summer. So surely that will mean more peaches next year? I'm hoping anyway.
(Update 6.18.19 – This tree never recovered from whatever was wrong with it. We sadly had to cut it down last fall.)
Finding an Alternative
Therefore, I required the purchase of peaches to make my peach pie filling. When I can't grow my own, I prefer a local produce market or Farmer's Market. This ensures the best freshness.
Peach pie filling is a pantry staple in my household.   That's because the husband and I both LOVE peaches.  There is something so refreshing about the fresh peach flavor in the middle of winter.  Also, there is a satisfaction in knowing that I personally selected the fruit, canned it myself, and baked it into a sweet treat.
I admit, it does take some time to make and can this filling.  But I guess that's true of most canning, right?  Ultimately, it is well worth your time!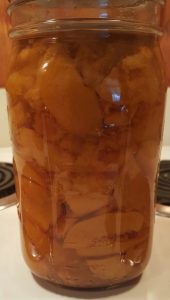 ---
 HOME-CANNED PEACH PIE FILLING (7 or 8 one-quart jars):
6 quarts fresh sliced & skinned peaches – cut into slices
7 cups granulated sugar
1 cup of ClearJel
5 1/4 cups cold water
2 tsp cinnamon
2 tsp ginger
1 tsp pumpkin pie spice
1 tsp vanilla extract (or almond extract, whichever you prefer!)
2 cups of bottled lemon juice
First, gather all your canning supplies. Then sterilize your jars and rings. Get your lids ready to simmer for 10 minutes I actually simmer the lids just after I prepare the peaches and before I prepare the canning liquid then hold them on a very low simmer.
STEP ONE: PREPARE THE PEACHES:    
Peel the peaches easily by boiling them for about sixty seconds, remove them from hot water with a slotted spoon, and place in an ice bath.  Skins pop off fairly easily after this process. Cut them into slices. Stir 1/4 cup of bottled lemon juice into your peaches to ensure bright color.
STEP TWO: PREPARE THE CANNING LIQUID:
Place the sugar and ClearJel in a large pot. Add the cold water and stir vigorously and quickly. This stuff sets quickly. Stir in 1 3/4 cups of bottled lemon juice, spices, and vanilla or almond extract. Do not let this mixture burn! It burns easily due to the sugar content. Also, if it gets too thick simply add a little cold water.
Stir the peaches into this liquid, coating each peach slice.  Be careful not to burn yourself pouring them into the pot!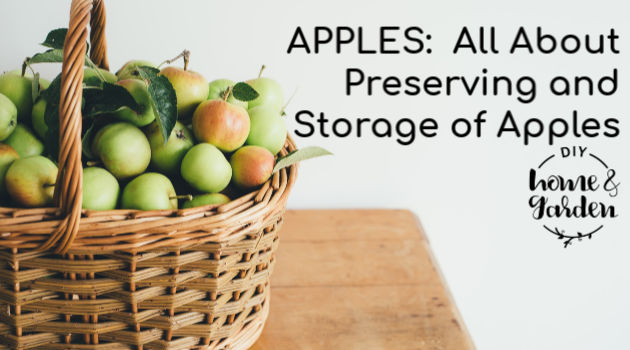 STEP THREE: FILL THE JARS:
Next, use a canning funnel to carefully fill the jars with the peaches. I fill them to about 1/2 inch of the top. Run your air bubble remover tool around the inside to make sure you have no air bubbles. Wipe the rims clean, and put on the lids and rings.
STEP FOUR: PROCESS THE JARS:
Use the boiling water bath method to can. Make sure your canner has at least 1″ boiling water over the jars once they are immersed. Process for 30 minutes. Lift them out using a jar remover tool and leave them undisturbed for 24 hours while they seal.
Save the Leftover Liquid from the Home Canned Peach Pie Filling!
On a side note, I save the remaining canning liquid after I fill the jars.  After I can, I drizzle some of that over vanilla ice cream. Nightly. It's a problem.  This liquid can be saved in a small mason jar in the fridge for five days.
The Takeaway: Peach Pie Filling Is a Delicious Home Canning Project and Worth Your Time.
Once you master this technique, you will have fun making peach pie filling. So keep this on hand and you will always have access to summer fresh peach pies, cobblers, crumbles.
Until the next time, have a happy DIY day!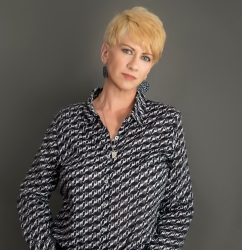 Latest posts by Deborah T
(see all)