Most of us don't feel that we have much privacy in our lives anymore. And our home is usually the only place where we have some form of privacy. But not everybody feels this way. If you go into the garden, you may find that there are nosey neighbors peering over the garden wall on occasion! But it is possible to create a private garden for yourself using tried and tested gardening methods.
Screening Materials
If your garden is pretty big you can use privacy screens. If you have a swimming pool you can incorporate a pool privacy screen to add that extra sense of solitude. But the great thing about using screening materials is that they can hide ugly boundaries. If you've got a wall or a fence and you don't like the look of it you can use certain screen materials to disguise these unsightly edges. Or on the other hand, you could use artificial plant panels to disguise an ugly looking wall.
A See-Through Garden Screening
Many people don't like the idea of a solid fence. If you want to see beyond your garden, you may want to think about a slatted panel. So if you have a swimming pool this can go very well with the design of the pool decking. If you have a smaller garden, a slatted panel gives you what they call a "borrowed view," a design trick that makes the space feel bigger.
Use Hedging and Shrubs to Create a Private Garden
If you are looking for an area where you need a constant sense of privacy, using hard landscaping instead of blocking a boundary can tread the balance between feeling secluded without feeling hemmed in. You could create a garden room area using shrubs or hedges where you can sit down for long periods and enjoy that sense of privacy. As an added bonus, taller hedges will absorb more noise, which is a godsend if you live near a busy road.
Install an Arbor or Pergola
Ideal for smaller gardens. These can provide shelter in a smaller garden and if you are into DIY, you can build one yourself. It's a fantastic way to seclude yourself. Angle it towards the sun and you have a ready-made nook where you can relax with a book or just enjoy the autumn breeze.
A Water Feature
To add an extra layer of privacy you should think about reducing outside noise. A water feature such as a fountain or water bowl won't add to the visual privacy, but if you live near a busy road or have talkative neighbors, having something that creates an ambient noise will help you to feel more private. When it comes to conversations in a garden, you don't want everybody listening to the goss!
And before you begin making over your garden, you need to really look where privacy will benefit you. With a mix of permanent and temporary solutions, you can turn your space into a private garden haven that will help you all year round.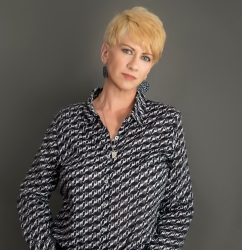 Latest posts by Deborah T
(see all)