So, you don't have a green thumb? No need when you plan effortless gardens that require minimal care. Take a look.
We all want a gorgeous garden. But some of us simply aren't suited to endless days of pruning, mowing, and doing all sorts to ensure the healthiest, greenest glow that we can. With the help of local gardening services, you can keep on top of it. But a few investments could save you a lot of work and money if you're not inclined to do it yourself.
Here are a few recommendations for those without green thumbs. You will see–you don't have to give up your dreams of having a great looking garden.
Automate it
When it comes to lawn care, ensuring that your grass is well moisturized with the right amount of water isn't the only responsibility that you have. But it is the one that's going to cost you the most time. However, with irrigation and misting systems from suppliers like Hoselink, it's easy to automate a lot more of the process. You still have to do weed control, mowing, and otherwise ensuring that the soil is healthy enough to support a law. But making sure that they get the right amount of watering every day is crucial. Thus, you must have lawn care done on schedule.
Forget the lawn
Perhaps you want the bright, green appearance of a healthy lawn, but you're inclined to put the work in to ensure that it maintains that lustre. If that's the case, then synthetic lawns from providers like Synturf might be an option worth considering instead. Synthetic options are getting a lot more lifelike, not just in appearance, but also in the feeling, providing the softness you expect from real grass. Built for longevity, you can expect it to maintain its healthy appearance year on year, all year around as well.
Tame the wilds
Installing a full lawn of synthetic grass might not be an option in the budget for everyone, especially if you have a much larger garden. However, it might be easier to achieve if you have slightly less garden to replace. For those who could use a little more livable space in the garden, then looking at services like Sheppard Steel Patios for the paving slabs, decks, and patios that can decrease the overall amount of lawn you have can make it just as manageable while providing a comfortable space that you're able to lounge, socialize and dine in.
Bring it in
If you end up opting for a more "finished" garden outdoors, with decking or patios taking up more space. But that doesn't mean that you must give up on all signs of green. Besides fitting your new livable space with plenty of potted plants, you can create your own garden room facing the back yard, as well. This gives you a climate-controlled space that makes it much easier to take care of a host of plants of your choice.
With the tips above, anyone can have gorgeous and effortless gardens. You simply decide on whether you want to make the investment now. Or start dedicating yourself to a lot more work down the line.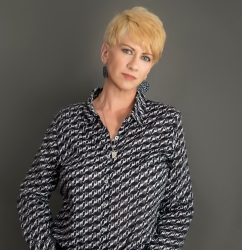 Latest posts by Deborah T
(see all)