If you are thinking of selling your property, you will have a lot on your plate already. Organizing your things and packing up to move is a stressful process but it will make a big difference to people who are viewing your home. They need to see the potential of the property and be able to imagine themselves living there. But how are you going to persuade them in if you haven't given your curb appeal some thought?
Curb appeal is such an important aspect of property sales and yet many people simply don't pay attention to it. You need to make sure that someone walking past is tempted to come in and have a look. An overgrown garden and a broken up driveway aren't going to do that!
So, aside from giving your home exterior a thorough inspection, here are a few simple ideas to help you improve your curb appeal.
Install a New Driveway
You might think that putting in a new driveway is an expensive move. However, the cost to build a new driveway is almost always worth the expense, especially if the driveway you currently have is broken up, a trip hazard or particularly ugly. In other words, if your driveway isn't living up to the standards you have set inside, you need to sort it out.
Have a look at your neighbors for some inspiration to get you started. A simple tarmac drive could be quite cost-effective but if your neighbors have gone for paved driveways, yours might end up standing out like a sore thumb.
Use Lighting
Outdoor lighting might not seem like a priority but you can't predict when someone is going to drive by and see that your property is for sale. Add small lights along your drive and path to light the way to your house. Indeed, it is a lovely touch and will give a real sense of home safety and security.
Uplighting trees can draw attention to your landscaping while string lights can provide a more magical feel. Putting low-level lighting along walkways is a good way to show people, where to step and using solar lighting, will mean that you don't even have to worry about wires everywhere.
Add Flowers
Another real basic of curb appeal is adding color and showing that you have taken care of your property. A simple flower display, such as a couple of small plant pots either side of your front door will seriously add to your curb appeal and won't be expensive either. Plus, once your house is sold, you can still take your flowers with you to the next place.
Final Words on Boosting Your Curb Appeal
Curb appeal is so vital to selling your home but you don't have to spend a fortune.
To recap, you can ramp up the beauty of your property by:
Redoing your driveway

The addition of some clever lighting

Adding a bit of color with some seasonal flowers to greet visitors.
All of this hard work will really help to encourage people to come and view your house. Once the outside reflects the inside, you'll definitely see an increase in interest. So, pack up those boxes!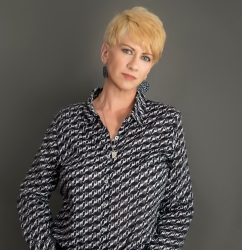 Latest posts by Deborah T
(see all)